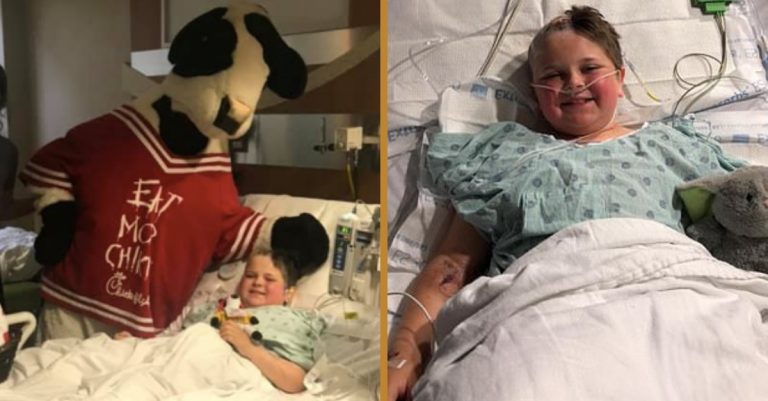 If you're a Chick-fil-A fan, you know that our favorite chicken-filled place is sadly closed on Sundays. However, one Texas location made a special Sunday delivery on Easter Sunday for a boy who is battling a brain tumor in the hospital.
Danny Agee expressed a craving for Chick-fil-A nuggets when he was waiting to go into surgery for his brain tumor and the Temple, Texas location did not let him down. The location even sent the famous "Eat Mor Chickin" mascot cow to deliver the nuggets to Danny right in his hospital room!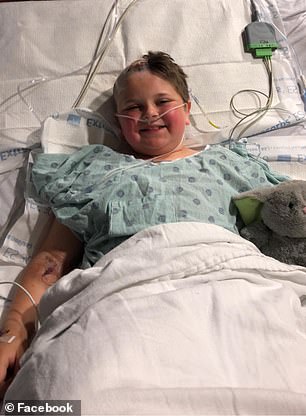 Joey Agee, Danny's father, posted a video of the Chick-fil-A visit to Facebook. Somehow a nurse at the hospital was able to pull a few strings and have some Chick-fil-A delivered, exempting the no-Sunday rule.
"Now I don't fully know what connection she has, but God is so good to us that somehow through Jenny (the restaurant manager) and the amazing leadership at North 31st St Chick-fil-A my son Danny got Nuggets delivered not only on a Sunday but on Easter Sunday by a manager and the eat more chicken Cow. His reaction was priceless! Hugs for everyone," Joey explained as part of the Facebook post.
https://www.facebook.com/photo.php?fbid=1247103128779651&set=pcb.1247104922112805&type=3&theater
Danny's father updated the public on just how amazing and caring the hospital staff has been towards his son in the same Facebook post. He detailed what was done for his son and family aside from the courteous Chick-fil-A visit.
"The medical staff has been unbelievable and they pulled Danny's breathing tube, allowing us the ability to have a conversation with Danny about what is going on. He didn't want all the details but was so happy that they want to fix his headaches. A prayer vigil happened for Danny and all of us from family to doctors to everyone. Worship happened in a small chapel with more people than I could count right here in the hospital." Amazing!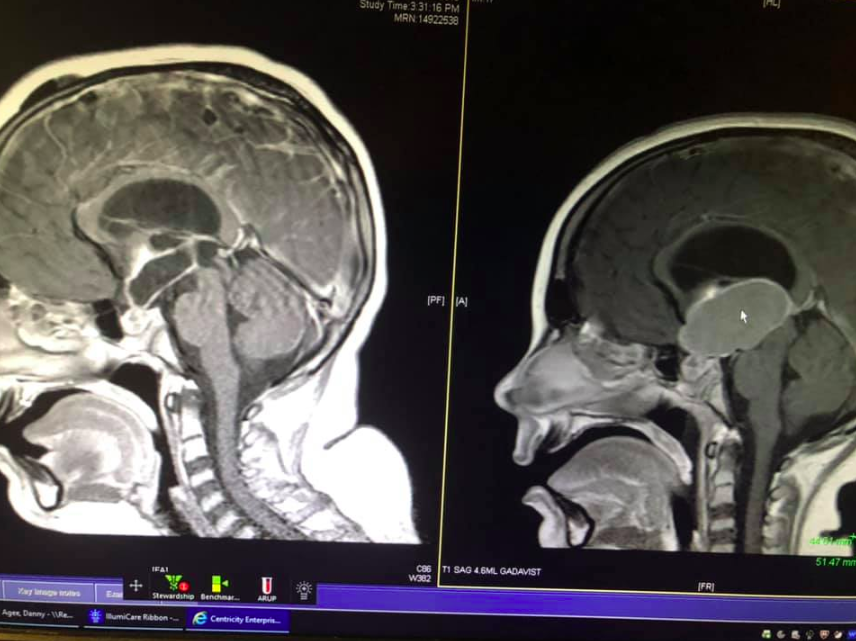 According to Joey Agee's Facebook page, his son has gone through the wringer with his brain tumor and brain surgery, but it ended up in complete success! The young boy is finally home and recuperating with his family. His hair is even starting to grow back after being shaved off!
We're so happy to see this family go through a much-needed miracle.
https://www.facebook.com/photo.php?fbid=1249885931834704&set=pcb.1249885978501366&type=3&theater
Be sure to SHARE this article if you loved what Chick-fil-A did for this young boy!
Check out the full video of Danny Agee's visit from Chick-fil-A below (and grab the tissues, his reaction will give you all the emotions):
https://www.facebook.com/cross.eyed.98/videos/pcb.1247104922112805/1247101802113117/?type=3&theater