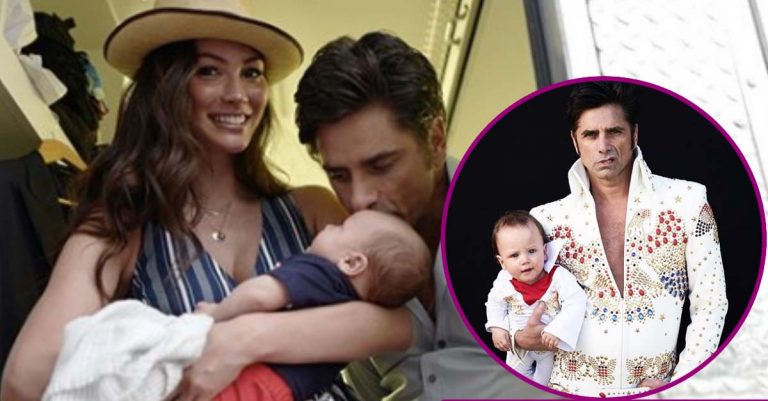 I think it goes without saying that nothing about labor and actually giving birth goes as planned when you're an expecting parent. The same stands true for John Stamos and his wife, Caitlin McHugh. Their first son together, Billy, was actually born premature, and while there's tons of technology available today to help premature babies, it's something that no parent ever expects.
Stamos recently shared the details about his wife going into labor and giving birth to a premature Billy. Now, the family is totally healthy and happy together, but the new father reveals that parts of the experience were downright scary.
https://www.instagram.com/p/Bk4Farehek6/?utm_source=ig_embed
"It's not ready, why don't you go home and have a glass of wine?" Stamos recalls to PEOPLE magazine. The couple visited the hospital with false contractions, only to head right back in when Caitlin actually did go into labor. Caitlin actually had a glass of wine after abstaining completely from alcohol for nine months, which must have gotten the baby moving!
"It was really funny. I get to the hospital and I said, 'I already had a glass of wine, now it's a party!' Then they gave me the epidural and I was laughing all over the place," Caitlin explained.
https://www.instagram.com/p/BsHrzwxBZHx/
Billy was delivered six weeks early, which was terrifying to the new parents. "He wasn't fully baked, so that was very scary in the beginning," the new mom explained, "He was very, very small … fragile, little. Every time (he) fell asleep, you're like, 'Please wake up.' (We were) constantly checking to make sure he was still breathing."
Despite this scary time in their lives, Billy, of course, bounced right back and is a perfectly healthy baby boy! He actually just celebrated his first birthday, paired in matching Elvis outfits with his father!
https://www.instagram.com/p/BwGeuXEBGQ0/
Stamos says he is enjoying fatherhood. He even enjoys changing diapers and playing around with his son. The Fuller House star says, "I waited a long time for a kid… I just had to meet the right person to do it with, and to straighten my life out. I was always meant to be a father, I think."
At 55 years old, the actor (and perfect Elvis Presley impersonator) has shown that he is definitely ready to be a father and he's handling all the ups and downs like a pro. We wish nothing but the best to their family!
https://www.instagram.com/p/Br1y2gLBl0L/
Be sure to SHARE this article if you love the Stamos family and their bundle of joy, Billy!
Check out the video below of John Stamos talking about his newborn son on Live with Kelly and Ryan in October 2018 (he also shares some details about trying for baby #2):