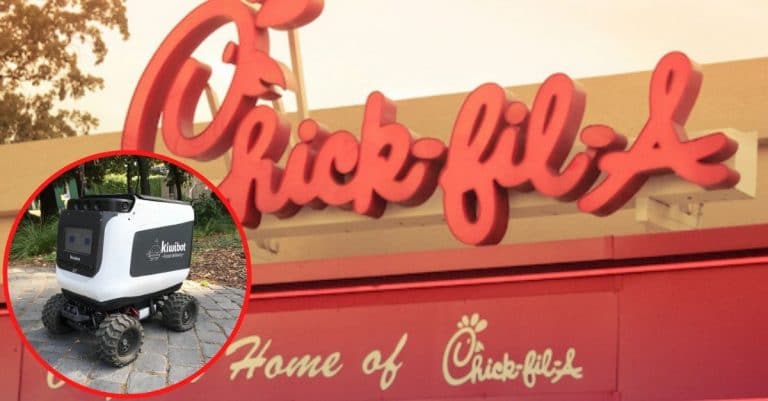 Chick-fil-A is officially rolling out a new robotic delivery service amid the COVID-19 pandemic. Delivery services have become the backbone of hospitality during the pandemic as many people have been opting to order out through Uber Eats, DoorDash, and more. Chick-fil-A is now experimenting with a literal robot called the Kiwibot who will be able to bring your chicken sandwich directly to you.
Kiwibot COO Diego Varela Prada recently talked to Restaurant Business about the new, exciting venture. "What we promise is to at least halve the time it takes for all orders a mile or closer, and more than half the cost." The question is, can this robot actually move more quickly and more efficiently than the average human?
Will this robotic delivery service be better than actual, human delivery drivers?
Four years ago, Kiwibot embarked on a journey to reimagine the future of the last-mile delivery, today we are proud to show you our new Kiwibot 4.0.

Today, we reveal our robot to the world.#KiwibotKeynote #Kiwibot4 #Kiwibot pic.twitter.com/6QHM7lDkMQ

— Kiwibot (@gokiwibot) April 13, 2021
Santa Monica, CA is already experiencing the power of the Kiwibot. Part of the reason might be a few things, proven by research. The slow drive-thru and the sheer willpower to actually leave your house and physically go to a restaurant. However, one of the reasons Chick-fil-A is one of the top restaurants in the U.S. is because of their humanity.
RELATED: Chick-Fil-A Worker Gifts New Car She Won In Surprising Act Of Kindness
There's nothing like being greeted in the drive-thru with a sincere, kind customer service worker and leaving with a, "My pleasure," before receiving your meal that Chick-fil-A just gets right every time. Some might argue that it's more worth it to wait in a long drive-thru line to be able to experience that humanity, accuracy, and delightful customer service.
View this post on Instagram
This isn't the only robotic experimentation going on. Domino's is also launching its own robotic delivery boxes in Houston, TX. In Chick-fil-A's case, it costs a mere $1.99 to order your delivery with Kiwibot. What we don't know is if the entire order will ONLY cost $1.99 or if this is in addition to the food you order (i.e. the $1.99 being the delivery fee). Only time will tell when we get to see the eventual success, or failure, of the robotic delivery service.