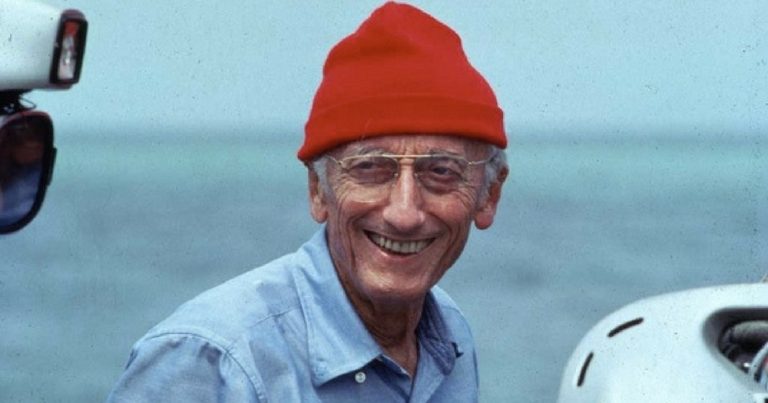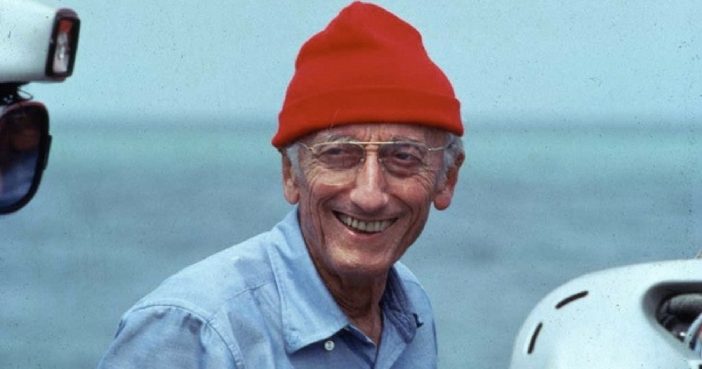 French naval officer, explorer, and filmmaker Jacques-Yves Cousteau helped millions of people learn about what goes on under the ocean's surface. How well do you know the man in the wetsuit, though? Let's take a look at five things you might not have known about the master of the deep.
1. He Originally Wanted to Fly
When Cousteau was a young man he joined the French Navy, but he never had any intention of going underwater as part of his service. Instead, Cousteau planned on becoming a naval aviator, but that dream died when Cousteau was in a serious auto accident in 1936. The young pilot borrowed his father's Salmson sports car to attend a wedding and had a horrific crash when the headlights shorted out on a dark road. Cousteau was so severely injured in the accident that it seemed like resuming his pilot's training was impossible.
Cousteau needed a way to rehab and strengthen his broken arms, though, so he took to swimming in the ocean. Later that year, Cousteau made his first underwater swim in goggles, and he realized that he'd found his calling.
2. He Had a Secret Family
Soon after Cousteau discovered his love of the undersea world, he also declared his love for Simone Melchior. The couple married in 1937, and Simone was never in the shadows of Jacques' life. She went along on expeditions on his ship Calypso, helped him secure financing for his projects, and even sold her family jewels to help buy fuel for the ship. Simone took such good care of Calypso's crew that they nicknamed her "La Bergere," or "the Shepherdess."
Quite a storybook romance, right? You can imagine how surprising it was when Jacques announced in 1991 that he not only had a mistress, he had an entire secret family. One year after Simone's death from cancer, Cousteau told the world that he had been having a long affair with Francine Triplet, who was over thirty years his junior. Cousteau also announced he had two secret children from the affair. He later married Triplet.
3. He Probably Wanted You to Drink Guinness
Cousteau's famed ship Calypso got its start as a British minesweeper during World War II, and after the conflict ended she became a ferry in Malta. In 1950 Irish millionaire Thomas Loel Guinness, a descendant of the storied brewing family, bought the ship. Guinness didn't hang onto the ship for long, though. He leased her to Cousteau for a pretty sweet deal: one franc a year.
The ship has had a bit of a rough time since Cousteau made it famous. In January 1996, Calypso was in Singapore when a barge accidentally rammed her. The ship sank and had to be pulled from the water by crane for extensive restoration. Following Cousteau's 1997 death, the two wings of his family fought a bitter battle over the future of the ship. At the moment, it's still being restored, a pricey endeavor.
4. He Buddied Up with Castro
In 1985, Cousteau and his crew ventured to Cuba to research the country's unique system for managing its lobster population. While there, Cousteau received Fidel Castro on his ship for dinner. Castro seemed to take a liking to Cousteau; the dictator allowed the diver to liberate 80 political prisoners. Cousteau and his team also received another unique honor: they became the first non-Cubans to pass through the gate of the U.S. Navy's Guantanamo Bay installation since the Cuban missile crisis 24 years earlier.
5. He Wanted Waterworld to Become a Reality
Cousteau may have co-invented the Aqua-Lung and become one of the history's most famous divers, but he dreamed of his creation one day becoming optional. In a 1960 interview with Time, Cousteau predicted that in the future, medical science would advance to the point where men could surgically be given gills that would enable them to live underwater. Cousteau figured if that surgery could be perfected, so could a follow-up procedure that would remove the gills and enable normal life back on land. He told the magazine, "Everything that has been done on the surface will sooner or later be done under water. It will be the conquest of a whole new world."
Click here to read FULL Mentalfloss article: 5 Things You Didn't Know About Jacques Cousteau
OTHER NOTEWORTHY NEWS:
Gene Wilder: The Man Who Introduced us to a World of Pure Imagination
Sad News Adam West, TV's 'Batman,' Dies at 88
The Amazing Facts About Gene Wilder
Glenne Headly, 'Dick Tracy' And 'Mr. Holland's Opus' Star, Dies At 63
America's Favorite Cowboy Has A New Role Written Just For Him