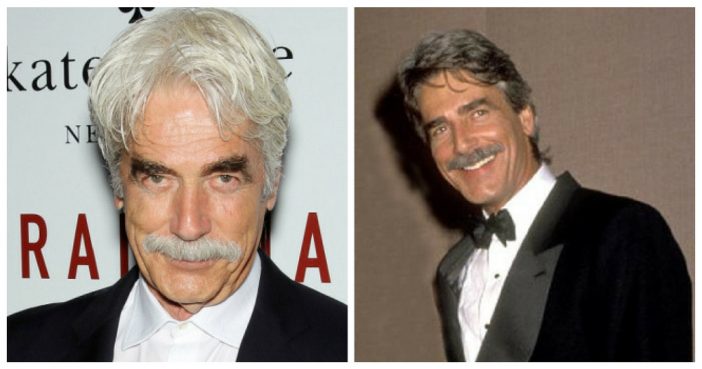 He's been in nearly 100 films and TV shows, but "I've never had anybody write a screenplay for me," actor Sam Elliott, America's Favorite Cowboy, tells Kathie Lee and Hoda – until his latest film, "The Hero," in which he plays an aging Western actor forced to reflect on his career. Hoda is a bit starstruck: "Doesn't he have great hair?" she asks Kathie Lee.
Fox News reports:  By (Blanche Johnson 
Sam Elliott, Brett Haley talk Cowboys in 'The Hero'
"Always the bridesmaid, never the bride" could sum up the career of Lee Hayden, the fictional fading cowboy star suddenly facing his mortality in Bret Haley's new film, "The Hero."
It also could sum up the career of the film's real-life star, Sam Elliott, whose rugged, handsome face and deep, resonant voice have graced the silver screen for almost half a century. As film editor Brent Lang wrote in Variety, "Elliott must have been made out of John Wayne's rib, so fully does he ooze cowpoke charm."
He's oozed that charm since 1969, when he played Card Player #2 in "Butch Cassidy and the Sundance Kid." He oozed more of it 29 years later, when he played The Stranger in "The Big Lebowski." And we've felt that charm recently on the small screen, where he plays Phil in HBO's "Grace and Frankie."
But Elliott's always been relegated to second fiddle. The lead role has slipped through his grasp — until now.
"I've spent my entire career on horseback or on a motorcycle," Elliott once said. "It boxes you in, the way people perceive you. I read a lot of scripts. Most of 'em go to other actors."
Now that's changed. After 36 films spanning nearly half a century, Elliott is the marquee name.
In "The Hero," which opens in selected theaters on Friday, he plays Hayden, a man whose best performances, according to the film's synopsis, "are decades behind him. He spends his days reliving old glories and smoking too much weed with his former-co-star-turned-dealer, Jeremy, until a surprise cancer diagnosis brings his priorities into sharp focus." Elliott's co-stars include Nick Offerman (Jeremy), Laura Prepon and Krysten Ritter.
"It's a story about a guy that has been in pursuit of an acting career for 40 or maybe 50 years, has fallen short and paid the price," Elliott, 72, told Fox News. "He's at a certain point in his life where he is looking back and taking stock, and what it's cost him, and trying to make amends before it all comes to an end."
Elliot said there were times in his career where he struggled as an actor.
"It was always a struggle on some level, particularly in the beginning. I think it's work and it's always a struggle. We make choices along the way.
"I wanted to do this since I was a kid and I knew there were certain things I was willing to give up to get there, and certain things I wasn't interested in giving up at all. I also think I discovered early on, if I was going to have longevity in my career, that I shouldn't do everything that came my way."
Offerman said, "The Hero" is especially relevant today.
"It occurred to me that there is a timeliness to this film that I only realized today, given what is going on in the world and our global notions of masculinity," he told Fox News.
"When you look at earlier iconic performers, I am reminded of the vigilante justice of films of the '70s, where if somebody came into your house and wronged your daughter, you could justify taking a large stick and beating them to death, and the audience would cheer."
"We have come to learn that being masculine is not taking a stick to people, slowly having to learn as a society that even the Mount Rushmore of cowboys has feelings and is a human being, and that he can't solve them by punching people, but instead he has to apologize to them and be human."
"The Hero" will open in select theaters on June 9.
(Sources: Today.com & Fox News)
RELATED NEWS:
Sam Elliott – America's Favorite Cowboy