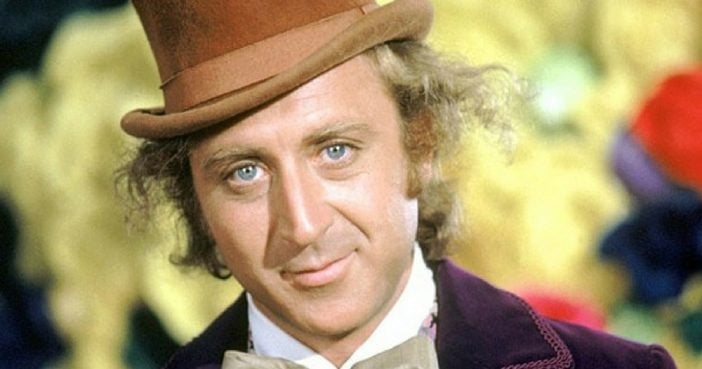 "I can't go on forever. And…I don't really want to try."
Those famous words were spoken by Gene Wilder in the iconic film Willy Wonka & The Chocolate Factory which came out in 1971, and they are perhaps never more fitting as the world mourned his tragic passing.
Wilder helped bring the character of Wonka to life but sadly on April 29th, 2016 Wilder passed away after suffering from complications related to Alzheimer's disease.
Gene Wilder : The Man Who Introduced us to a World of Pure Imagination (RIP)
Wilder had an outstanding life that was filled with countless moments that will leave you smiling and feeling inspired by the actions and life that he was able to lead. These moments below aren't all positive, but they help paint a complete picture on just who Jerome Silberman (…I mean Gene) was. You'll get some behind the scenes information on some of his most iconic movies and relationships (such as why he took on the role of Wonka) and why he decided to step out of the spotlight. Have a friend that was a huge Wilder fan? Feel free to share the list on social media.
Good day, sir. We all lose with your tragic passing. Let's hope you enjoy the land of pure imagination.
15

.

 Why His Family Concealed Wilder's Disease
It was with great shock that many people learned of Wilder's passing. The star had health problems in the past, but he had appeared at the very least to be in good health. One of the facts that the family of Wilder chose to divulge at the time of his passing, was why they chose to hide his disease, saying "[It] wasn't vanity, but more so that the countless young children that would smile or call out to him 'There's Willy Wonka,' would not have to be then exposed to an adult referencing illness or trouble and causing delight to travel to worry, disappointment or confusion. He simply couldn't bear the idea of one less smile in the world."
The family also went on to say that Wilder was listening to Ella Fitzgerald's version of "Somewhere Over The Rainbow" when he passed.
14

.

 Gene Is Not His Real Name
While you'll always know him as Gene, he was born Jerome Silberman and took on the name of Gene Wilder at the age of 26. When he was asked why he chose Wilder, he said "I had always liked Gene because of Thomas Wolfe's character Eugene Gant in Look Homeward, Angel and Of Time and the River. And I was always a great admirer of Thornton Wilder."
He was particularly convinced after studying acting for several years and feeling like "Jerry Silberman in Macbeth" didn't exactly have a nice ring to it. There was also a distant relative in his family who was a World War 2 Bomber that was named Gene who looked fantastic in a leather jacket (according to Gene), so I mean, how could you not want to take that on?
13

.

 How He Got Cast On Blazing Saddles
When talking to Larry King, Wilder spoke about how originally he really wanted to play Wako Kid, but Mel Brooks wanted an older "over-the-hill-alcoholic" to play the role, so he cast Dan Dailey. Instead, Brooks wanted to cast Wilder as Hedley Lamarr (who was played by Harvey Korman), but Wilder was not digging it.
Dailey then asked to be released from his contract because he had just finished doing some directing work. Instead of Wilder, they called up Gig Young, but on the way to filming (even after makeup went on!), he started withdrawing (seemingly from drugs) and passed out. Brooks was then cast in the movie.
As an added fun bonus, Brooks was scheduled to start working on The Little Prince but was able to get his scheduling re-arranged. This was the first time that Wilder worked alongside Richard Pryor.
12

.

 His First Improvisation Was With Richard Pryor
Wilder also wrote the last two movies they worked on together, See No Evil, Hear No Evil (1989) and Another You (1991).
Improvisation is definitely a huge skill to develop as a comedic actor, and it's huge that he was able to develop this skill alongside Pryor.
11

.

 He Would Have Been In Trading Places
The two lead roles were supposed to go to Richard Pryor and Gene Wilder, but by 1983, Pryor's drug addiction had caused him to get burned out.
Pryor and Wilder worked together on Stir Crazy, which came out in 1980, but at the time Pryor was heavy into his addiction. The most famous incident occurred on June 9th, 1980 when Pryor poured 151-rum all over his body and lit himself on fire after doing too much freebasing cocaine.
While the movie was a huge financial success (earning $101 million on a $10 million budget), Pryor's addictions definitely hindered the end of Wilder's career and made filming incredibly difficult.
10

.

 Why He Took The Role Of Willy Wonka
When Gene Wilder got the offer to play Willie Wonka, there are a few things that he wanted to alter about the character. The one thing that he was absolutely insistent on was that his entrance (which you can see above) be what it was.
When talking about the experience, Wilder said:
"I'd like to come out of the door carrying a cane and then walk toward the crowd with a limp. After the crowd sees Willy Wonka is a cripple, they all whisper to themselves and then become deathly quiet. As I walk toward them, my cane sinks into one of the cobblestones I'm walking on and stands straight up, by itself… but I keep on walking, until I realize that I no longer have my cane. I start to fall forward, and just before I hit the ground, I do a beautiful forward somersault and bounce back up, to great applause."
He went on to explain that by entering in such a way, that nobody in the movie would be able to discern if he was telling the truth or not.
Wilder was also influential in creating the iconic look of the character. After receiving costume sketches from director Mel Stuart, Wilder wrote back with several suggestions (adjusting the hat, pants color, changing the style of pants etc…) many of which were implemented in the final product.
9

.

 He Wrote Several Books
Gene Wilder was known for not only being a talented actor but also an incredibly gifted writer. Along with the screenplays that he's contributed to the world, Wilder also published several literary works. The most prominent was his memoir Kiss Me Like a Stranger: My Search for Love and Art, but he also published My French Whore, The Woman Who Wouldn't, What Is This Thing Called Love?, Something To Remember You and Gilda's Disease: Sharing Personal Experiences and a Medical Perspective on Ovarian Cancer.
My French Whore was his novel and was described as a humorous spy romance that was set in 1918. Overall the book was well received.
8

.

 His Relationship With Gilda Radner
Gene Wilder has had several wives in his life, but we need to pay special attention to Gilda Radner who he met in 1981. Radner was appearing on Saturday Night Live and also started working on Hanky Panky with Wilder.
Radner was married at the time to musician G.E. Smith, but after they got divorced in 1982, Wilder and Radner grew closer. They were married in 1984, but sadly Radner suffered several miscarriages. When Radner later sought medical treatment after suffering from fatigue and pain in her legs, it was determined that she had Stage 4 Ovarian cancer.
Radner was diagnosed in 1986 and despite having a brief period of remission, passed away on May 20th, 1989. Her death caused Wilder to take a huge step back from the spotlight and started promoting cancer awareness, founding the Gilda Radner Ovarian Cancer Detection Center, as well as co-founding Gilda's Club which is a support group that helps raise awareness.
Wilder has talked to Larry King about the experience, saying "I was so incredibly dumb, it was hard to believe because I thought she was going to pull through until three weeks before she died. Two-and-three-quarters years, I thought that she would make it."
7

.

 He Did Not Have A Good Relationship With His Daughter
Gene Wilder never had any biological children of his own, but when he got married to Mary Joan Schutz (his 2ndwife) in 1967 she had a daughter Katharine from a previous marriage. Part of the reason for Wilder's decision to marry Schutz came because Katharine was calling him Dad. But when their marriage fell apart seven years later, Wilder became estranged from the family, something his daughter did not forgive him for.
In 2005 after his autobiography came out which mentioned his daughter, he said she cut off all ties with him and that if she reads his book he hoped it would "explain some things she didn't want to understand."
Sadly, his daughter passed away when she was in her early twenties. When asked about it by Larry King, Wilder said it was too sad of a story to divulge to the public. Wilder had a very close relationship with his nephew Jordan Walker-Pearlman, who entered his life after his marriage to Karen Boyer in 1991.
6

.

 He Was In The U.S. Army
In 1956 while Wilder was still trying to get his footing as an actor, he got drafted into the army. Assigned to the medical corps, he was then sent out to Fort Sam Houston. After training, he was allowed to choose where he wanted to be stationed so he chose New York because it was close to an acting studio.
He also spent time as a paramedic in the Department of Psychiatry and Neurology at Valley Forget Army Hospital that was located in Phoenixville, Pennsylvania. Wilder was discharged from the army in 1957 after his Mother sadly passed away from ovarian cancer.
5

.

 Why He Started Acting
Wilder went into acting when he was 8 years old after his mother was diagnosed with rheumatic fever. Wilder has mentioned in the past about how he remembers her doctor coming up to him and telling him that it would be very important if he would be able to make his mother laugh. He recalls that this is the first time that he ever had an active effort to put on an act, but that he was so successful in doing so, that it was where a lot of his confidence came from.
Wilder was emphatic that he wanted to be an actor, not just a funny man. His relationship with his mother was incredibly important to him, but sadly as you read above, she passed away from cancer. Wilder has admitted that it was hard for him to enjoy his own life while she was suffering so badly.
In 2002 when recapping his love of acting to Larry King, Wilder said "I love creating a character in a fantastical situation, like Dr. Frankenstein, like Leo Bloom, a little caterpillar who blossoms into a butterfly. I love that. I love the art of acting, and I love film because you always have another chance if you want it."
4

.

 There Were No Good Movies For Him The Last Few Years
Part of why Gene Wilder stepped out of the spotlight was because he wanted to spend more time with his 4thwife, Karen. But in 2013 Wilder was asked if there was any project, in particular, that would cause him to return. Wilder responded, "I'm tired of watching the bombing, shooting, killing, swearing, and 3-D. I get 52 movies a year sent to me, and maybe there are three good [ones]. That's why I went into writing. It's not that I wouldn't act again. I'd say, 'Give me the script. If it's something wonderful, I'll do it.' But I don't get anything like that."
Definitely disconcerting that towards the latter stages of his life that there was nothing coming across his desk that he cared about enough to act in, but hard to blame the man for spending time with his loved ones as he got older.
Wilder also admitted that he much prefers staying at home as a writer, as opposed to acting saying "I like writing. I like being at home. I write in my study, get up at 12:30 or 1pm, have a cup of tea, give my wife a little kiss, come back in and write some more, and then at 3:30 or 4 say, 'That's enough.' I come back before dinner and see what I did and say, 'No, no. Why did you write that?' And then I rewrite it. I believe honestly that there's no such thing as writing—there's only rewriting."
3

.

 Why He Was Leery of Hollywood and His Failed Sitcom
There were plenty of successes in Gene Wilder's career, but one of the flops came in 1994 with the NBC series Something Wilder. The show starred Wilder and Hillary Bailey Smith and their raising of 4-year-old fraternal twin sons. The show was supposed to allow Wilder a platform to express his wit and charm, but it ended up being the project that made him really cautious of Hollywood.
Wilder talked about the experience saying that he would go and give his input, only to be told "No, you can't come to listen to what [we're] talking about with NBC."
Wilder went on to explain, "I said, 'What do you mean, I can't come? You said this is Something Wilder.' [They said], 'Yeah, but you can't come and tell them how you think it should be.' Well, if I'd known that, I would have said, 'Well, I'll go home and when you're ready for me, call me and I'll come back.' But I didn't know enough to say it. I didn't have the guts enough."
The show was dropped after 4 episodes, only to be brought back a few months later where it ran for 3 months and then was canceled entirely. Three unaired episodes still remain.
2

.

 His Relationship With Mel Brooks
Like Richard Pryor, it is clear that Wilder's career would not have been what it was if not for the involvement of Mel Brooks. The two worked together on several projects, the first of which was Springtime for Hitler, which was the original title for The Producers. Brooks and Wilder met, talked about the play and Brooks made the promise not to cast anyone until he talked to Wilder. Three years went before Brooks and producer Sidney Glazier tracks down Wilder who was signed after approval from co-star Zero Mostel, who greeted Wilder the next day with a huge kiss on the lips which Wilder said removed all of his nerves.
It was Brooks' first directorial effort, and he also took home an Academy Award for Best Original Screenplay. Wilder was also nominated for an Academy Award for Best Supporting Actor for his performance in the movie.
Brooks took to Twitter on the day of Wilder's passing to say "Gene Wilder – One of the truly great talents of our time. He blessed eery film we did with his magic & he blessed me with his friendship."
1

.

 He Never Regretted Turning Down A Role
There are a lot of actors out there who are always going to have roles that they wish they had said yes to. But for Gene Wilder, he admitted to Larry King that there was never any doubt in his past, saying "Never. I've turned down lots of movies, but none that I felt sorry about. Some that I wish I had done, that I wasn't offered. I wanted to do — there was this film called 'Magic' that Anthony Hopkins did," that he wanted to do, but Joe Levine (the producer) turned him down.
He also revealed to King that he would have loved to do a comedy with Emma Thompson.
(SOURCE: The Richest (written by Alex Keobke Most Influential))
READ THE FULL STORY HERE: Amazing Facts About Gene Wilder