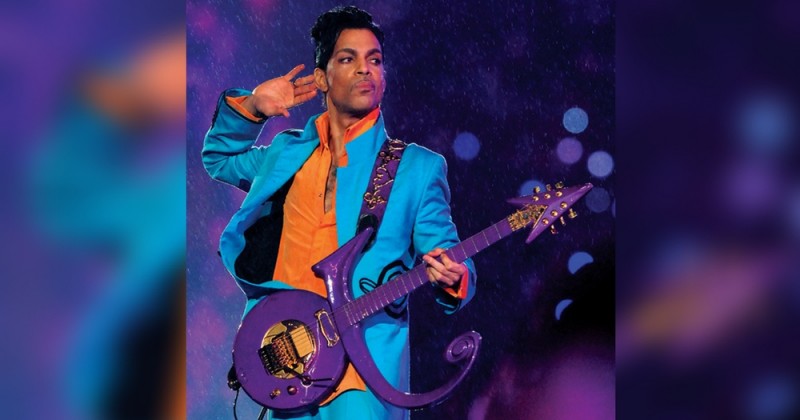 It was one year ago today that the purple rocker Prince passed away at the age of 57. While most people know about the singer's cuss box that he made for his fellow musicians, here is a list of other fun facts that you might not have never known about The Artist Formerly Known as Prince.
He had numerous nicknames including "Skipper" growing up, however his real name was Prince. Born to two musically talented parents on June 7, 1958, Prince Rogers Nelson was named after his father's jazz combo.
He loved playing Ping-Pong. His most famous match took place on his favorite television show, The New Girl where he taught Zooey Deschanel how to play.
When he was ten-years-old, Prince danced on stage with James Brown after his dad pushed him on stage, forcing him to dance.  He inadvertently danced a little bit until he was removed from the stage by a bodyguard. Coincidentally, Prince would eventually dance with the godfather of soul again along with Michael Jackson. B.B. King was onstage as well.
Prince was a Jehovah's Witness. He stopped writing sexually-themed songs after conforming. Prince wanted the Clerks director Kevin Smith to make a movie based on the album, The Rainbow Children – HOWEVER, the director dropped out of the film project after realizing that the film, which included messages like "Jesus Christ is the son of God" flashing on screen — was actually intended to be a brainwashing recruitment film for Jehovah's Witnesses!
His symbol had an actual name. Even though the whole world referred to him as "The Artist Formerly Known as Prince," that weird symbol Prince used was actually known as "Love Symbol #2." It was copyrighted in 1997, but when Prince's contract with Warner Brothers expired at midnight on December 31st, 1999, he announced that he was recovering his given name.
Prince is the reason why parental advisory stickers were conceived in music. After purchasing Purple Rain for her then eleven-year-old daughter, Tipper Gore, Al Gore's ex-wife became extremely angry when she heard "Nikki Darling" which referenced sexual connotations and explicit language. She then co-founded "Parents Music Resource Center (PMRC)."
The first song he wrote was "Funk Machine" at age seven.
He played guitar on Madonna's track "Like a Prayer"

And, Kate Bush's "Why Should I Love You?"
Prince was the only one to ever drop the "F" bomb on Saturday Night Live
Prince was proficient on at least 27 instruments.
Prince was multi-talented. He not only was a musician, but he was also a music producer, songwriter, and singer. According to the For You album notes, He produced, arranged, composed and played all the instruments on the recording.
He was the only artist next to The Beatles to have a number one movie, album and single in the U.S. at the same time with Purple Rain and When Doves Cry.
In 2006 14 purple tickets were hidden inside Prince's album, "3121" and the winners got to attend a private concert inside his L.A. home.
Prince was supposed to be a part of Michael Jackson's "Bad" but Prince backed out after finding out that the first lyrics were "Your butt is mine…"
Pat Smear from Nirvana and The Foo Fighters was an extra in the music video for "Raspberry Beret."
https://www.youtube.com/watch?v=tSwOO76zp7A
He developed a female alter-ego, Camille, and used that persona on the single, "If I Was Your Girlfriend."
At the age of nineteen, Prince was the youngest producer Warner Brothers ever signed.
Prince's half sister, Lorna Nelson sued him, stating she was the original lyricist for for "U Got the Look," but she lost the battle after the judge sided with Prince.
Prince hid a message in the video for "Alphabet Street" that appears on the screen for a quick second before the chorus. The message says, "Don't Buy the Black Album. I'm Sorry."
Prince wrote a lot of songs for other artists including:
"Manic Monday" for The Bangles
"Round and Round" for Tevin Campbell
 "I Feel For You" for Chaka Khan
"Sugar Walls" for Sheena Easton
"When You Were Mine" for Cyndi Lauper
The Family's "Nothing Compares to You" but Sinead O'Connor made it a world-wide hit.
When Prince changed his name to "O{+>" to get back at Warner Brothers who he blamed for low sales of his nineties materials.
Albert Magnoli, the director of Purple Rain said that one of Prince's favorite meals at the time of the making of the film was spaghetti and orange juice.

Team Jimmy Joe

Refused to let journalists record his voice for interviews but also disapproved of them taking any notes.
Prince was a HUGE Joni Mitchell fan. Joni states in New York Magazine, "Prince used to write me fan mail with all of the U's and hearts that way that he writes."
SEE:
Beautiful HANDMADE PRINTED 'PRINCE' T-SHIRTS by talented artist: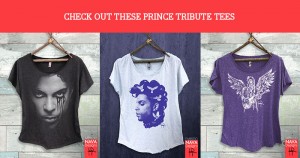 RELATED STORIES:
RIP Prince
Time After Time
The Greatest Concert of the 80s
If You Grew Up in the Eighties
Michael Jackson; Rare Footage!
Michael Jackson Thriller Release