Sylvester Stallone found himself getting all choked up while with his wife and daughters recently – perhaps a little too literally. Stallone, 76, almost divorced his wife of 26 years, 54-year-old Jennifer Flavin. Fortunately, that recent tension seems to have melted away into something teasing, as Flavin playfully choked Stallone during the family's big red carpet event.
The Stallone clan gathered for the premiere of their new reality television series, The Family Stallone. The event kicked off on Thursday and saw Stallone and Flavin accompanied by their three daughters, Sistine, 24, Sophia, 26, and Scarlet, 20. Here's how it unfolded.
Jennifer Flavin playfully choked Sylvester Stallone at their reality show premiere
Inside Sly's 26-year marriage with former model Jennifer Flavin https://t.co/3OnTNg6Mzr pic.twitter.com/5kURC8w8fo

— John W. Blackman (@ifpainpersists1) May 13, 2023
With The Family Stallone releasing on May 17, the titular quintet attended its premiere on Thursday and set time aside for some family photos. Sistine, Sophia, and Scarlet took pictures among just the three of them at one point, each sporting an elegant outfit for the occasion, from an elegant white pantsuit, to sleek, vibrant dresses perfect for the fast-approaching summer.
There were also photos of just mom and dad. The couple matched in sharp black attire, with Flavin sporting subtle but sultry makeup. At one point, Flavin pretended she choked Stallone, while Stallone had his hand raised as if midway through saying something Flavin did not want to hear. It's that pose that's circulated most, in terms of photos of the couple from that night.
This at once reminds fans – and the Stallone family – how close Stallone and Flavin were from separating, and how far away that decision is now.
The Family Stallone remains a family
Sylvester Stallone had a family night out with wife Jennifer Flavin and their 3 daughters as they celebrated the premiere of their new show https://t.co/P7ofPTazZO pic.twitter.com/1ABOe9C9Re

— HollywoodLife (@HollywoodLife) May 12, 2023
The photoshoot also included a family photo featuring all five members lined up, arm in arm, and most notably, together, even if Flavin choked Stallone moments before the camera caught it. Moments like this very nearly didn't happen. Less than a year ago saw the two file for divorce. Why? Different sources had different reasons, with some theorizing that dog ownership played a huge role in the proceedings.
The couple dismissed this, with Stallone saying, "We did not end the relationship on such a trivial argument." Flavin, meanwhile, assured, "While we will no longer be married, I will always cherish the more than 30-year relationship that we shared, and I know we are both committed to our beautiful daughters."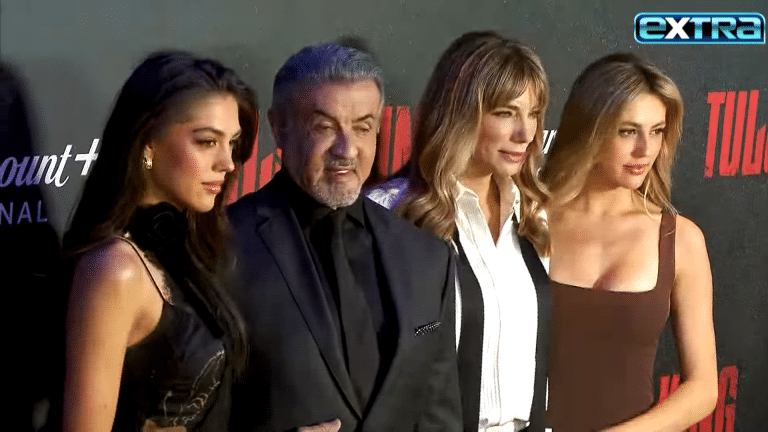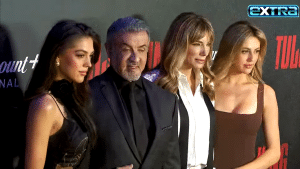 However, today, the two remain together, with Stallone calling the whole thing a "reawakening."
"Let's just say that it was a very tumultuous time," he mused. "There was a reawakening of what was more valuable than anything, which is my love for my family. It takes precedence over my work, and that was a hard lesson to learn."
May marks the release of The Family Stallone and the couple's 26th wedding anniversary. Congratulations!