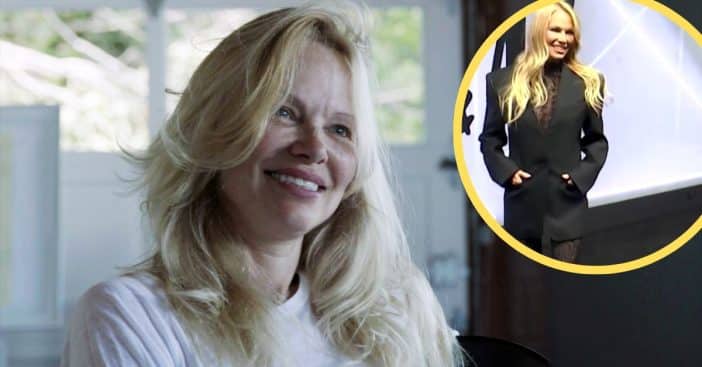 Pamela Anderson is back in the spotlight with gusto. Anderson, 55, has been active as a model and actress since '88, and she's enjoying a resurgence of activity, thanks in part to some very personal projects. Recently, Anderson attended an event in New York and rocked a sheer black bodysuit that showed off her figure.
Anderson's very first foray into modeling was purely serendipitous, after she was shown on the Jumbotron of a football game wearing a Labatt's Beer T-shirt; the company hired her as a spokesperson. From there, life has taken her to the global launch of an H&M and Mugler collaboration, where she turned heads more than ever.
Pamela Anderson stuns in a sheer black bodysuit and blazer
Pamela Anderson stuns during an outing in New York City. pic.twitter.com/FVs93gZZvu

— Entertainment Tonight (@etnow) April 20, 2023
Anderson showed off her curves with Wednesday's outfit, which was a sheer bodysuit that featured a lacy pattern of stars and swirling lines, starting from the neck of her outfit all the way down to her feet. Over this, Anderson wore only a black blazer with a deep plunge, plus a pair of pointed black heels. Anderson kept her signature blonde hair untied and in very gentle waves framing her face, which was done up with subtle makeup and striking eyeliner.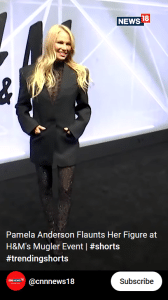 The number was entirely Mugler, reports People, and it's this theme Anderson carried with her as she walked the event's red carpet that night. In fact, the star emblem all over the outfit is the unmistakable icon of Mugler. Both outlets shared photos on Instagram from the event, and "sheer and black" defined most of the outfits on the runway that day.
Anderson continues spreading her wings
View this post on Instagram
For Anderson, continued growth is the name of the game. It's why she's telling her story in a Netflix docuseries – in contrast to the unauthorized one of the past – and why she's part of this collaboration. Trying new things is even part of what both fashion houses – especially Mugler – are pursuing with this collaboration together.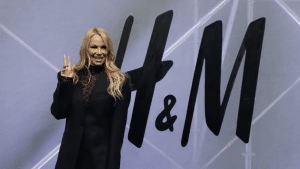 Mugler creative director Casey Cadwallader even feels there are "some things at H&M that [they] can't do at Mugler," adding, "I really wanted to do tailoring because it is the most iconic thing in the house, black sculpted shoulder, thin waist. That sort of formal, I thought, was really interesting to bring to everyone." There is also a section dedicated to denim and that special dress perfect for feeling fancy and comfortable.