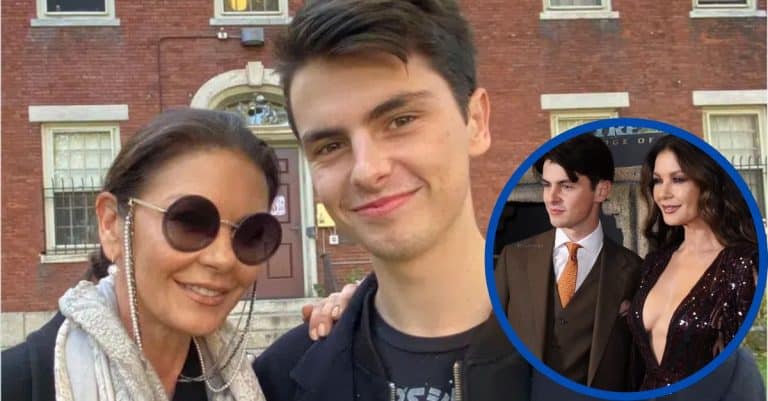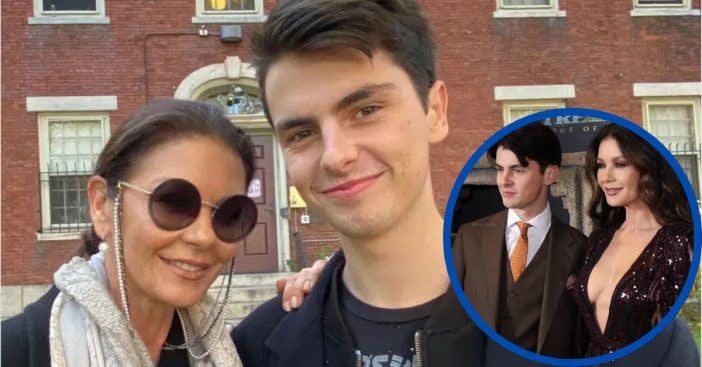 Catherine Zeta-Jones, 53, has been busy as ever working on the new series National Treasure: Edge of History. This Monday, therefore, was doubly celebratory, since she attended the show's premiere in Los Angeles and brought along her son Dylan, who achieved the huge accomplishment of graduating college back in May.
Dylan Michael Douglas, 22, is Catherine's eldest child with Michael Douglas; he is older brother to little sister Carys Zeta Douglas, who herself is 19. Dylan attended Brown University, where he majored in political science. Majored, past tense, because he is officially a Brunonians, one of the nicknames for official graduates of the Rhode Island university. Get a look into this particularly celebratory Monday here.
Catherine Zeta-Jones and Dylan Douglas are dressed sharp for the red carpet premiere of 'National Treasure'
Catherine Zeta-Jones' Son Dylan Is Her Perfect Red Carpet Plus-One pic.twitter.com/0W0jD4q0D0

— FIM-TV (@fastinfomagtv) December 6, 2022
Catherine sparkled as she stepped out on the red carpet in a shimmering, wine-colored dress. Stripes of dark fabric covered her arms down to the wrists while the front plunged down to near her waist. and she wore a proud smile beneath her curtain of hair left to hang free in elegant dark waves. Beside her, Dylan was dressed up in a brown suit and deep orange tie, a sharp outfit befitting a recent graduate.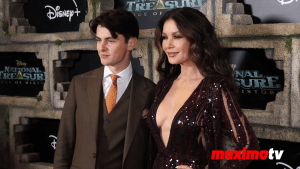 This is a huge milestone for Dylan on multiple levels. In 2010, it was revealed to The Guardian that Dylan suffers from dyslexia. He attended the premier school Windward School, which caters to students with language-based learning difficulties. This required the family to move from Bermuda to New York.
The hard work to graduate is a national treasure for Dylan and Catherine

View this post on Instagram
Building an environment that leveled the playing field was exactly the right choice. Catherine was one proud mother when she shared a video of Dylan at the age of 15 presenting a speech about his dyslexia. Catherine attributed his success to "Hard work with good teachers." With both her kids showing an interest in getting into entertainment, she has voiced her support, explaining, "They know what celebritydom is. They know the good, the bad, warts and all of that."
Catherine herself has still been hard at work too, now set to appear in National Treasure: Edge of History. It is a continuation of the National Treasure film series starring Nicolas Cage. Though Cage is not in the first season, he will be reprising his role of Ben Gates in season two.
Season one will drop on Disney+ on December 14, 2022.