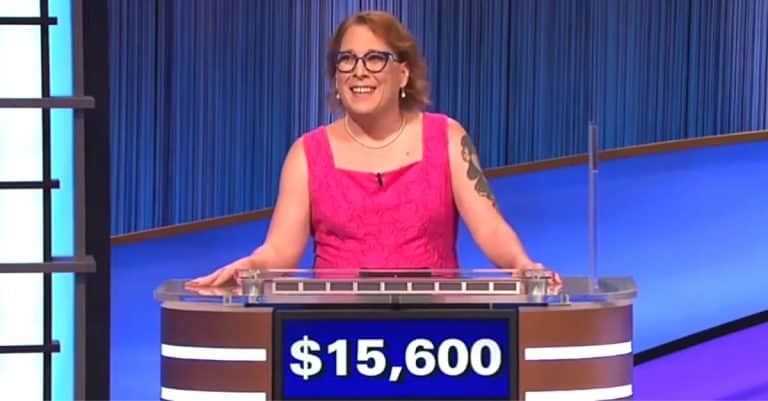 What do you do after beating the best of the best? Jeopardy! contestant Amy Schneider has proven multiple times she's a contender for big victory and she proved that by winning the Tournament of Champions, solidifying Schneider as a trivia master. In a tweet, Schneider revealed she got up to some bar trivia after her big victory and events unfolded in a hilarious, perfect way.
Schneider, 43, enjoyed a winning streak of 40 consecutive games, from November 2021 to January 2022. Her first victory saw her topple then-reigning champion Andrew He, who she crossed paths with again during the tournament. After a hard-fought battle, Schneider cooled things down with a beverage – and a bit more trivia, but that last part didn't go down as smooth.
Amy Schneider tried her hand at bar trivia with mixed results
Tonight I went out to bar trivia for the first time since my first Jeopardy appearance!

My team came in third

— Amy Schneider (@Jeopardamy) November 22, 2022
To put things into perspective, it's important to understand that a person qualifies for the Tournament of Champions by winning five games in a row. Having just one victory of the game show is a feat in and of itself. Schneider has dozens of victories. So, when the dust settled, she went out for a night of fun, according to her tweet.
On November 22, Schneider shared a post that reads, "Tonight I went out to bar trivia for the first time since my first Jeopardy appearance!" Then, the champion of champions revealed, "My team came in third." Isn't that how it always is?
Remember Amy Schneider as part of 'Jeopardy!' history and trivia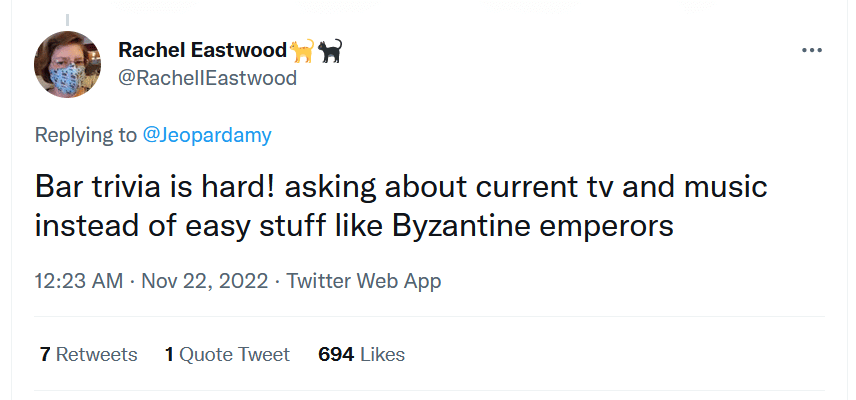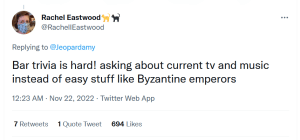 This champion has the second-longest winning streak of all Jeopardy! winners, only behind Ken Jennings. Who is Amy Schneider? The software engineer-turned-writer could not have imagined just how far her journey would take her. In fact, she shared, "Earlier in the finals, I had this sudden moment of seeing myself and being like 'I'm on stage in the Tournament of Champions finals,' and that was crazy," adding, "And I won! It's a great feeling." 74 victories later, her Jeopardy! journey has seen Schenider win $1.6 million. Between this and her marriage to girlfriend Genevieve Davis, this has been Schneider's year!
Schneider is familiar both with trivia victories and building bridges between people. Her post-victory tweet was deemed too relatable by her followers, with one writing, "This makes me feel so much better about my losses at bar trivia," while another pondered, "Imagine beating a Jeopardy champion in Bar Trivia. My ego would never shut up." But as the first open transgender woman to compete and win, she also provides a platform for others with a similar gender identity to see themselves victorious and celebrated. Schneider may not have won that round of bar trivia, but she certainly has had a lot of wins already!