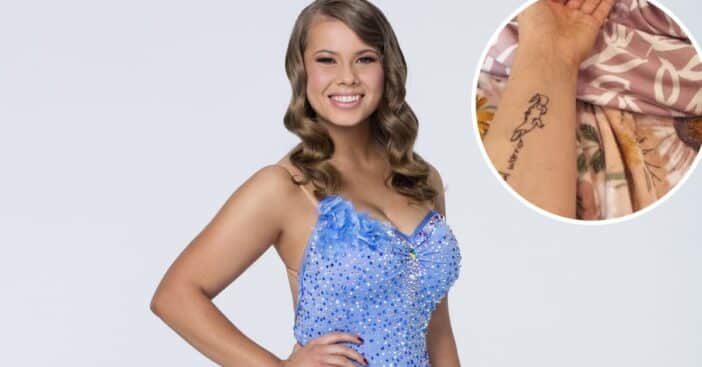 Bindi Irwin just got a new tattoo that has a very touching meaning behind it. Not only does the tattoo honor her 10-month-old daughter Grace but her late father, Steve Irwin. The tattoo reads, "My graceful warrior," with an alligator drawn next to it.
Bindi shared a photo of her tattoos on her Instagram page and opened up about how much they mean to her. Of course, the tattoo mentions her daughter, Grace Warrior. She revealed that the script is her father's handwriting. The alligator represents their alligator named Daisy and the family's work with animal conservation.
Bindi Irwin's new tattoos leave fans stunned
View this post on Instagram
Use the arrow to scroll to see both photos…
Bindi also shared a photo of her wedding ring finger which now holds a floral ring tattoo. She captioned the photos, "The words I spoke to our daughter as I held her for the first time in my arms were, "My graceful warrior". That's how her name was born. This is my dad's handwriting to keep him with me, always. Our dear alligator, Daisy, is next to these words to represent our conservation work as Wildlife Warriors. And my beautiful wedding ring in bloom."
She added, "Validation every day of the three most important things in my life: family, purpose and unconditional love. ❤️ Since Grace's breastfeeding journey ended, now felt like the perfect time for this empowering artwork." Fans flocked to the comments section to share how much they loved the tattoos and how proud Steve would be of Bindi these days.
Bindi's husband Chandler also commented on the photos, reminding fans of his Florida background. He wrote, "Such gorgeous artwork❤️ You amaze me every day. Each one is meaningful to mark this special time in our life together. Also, the Florida in me loves the alligator. 🐊 Love you so much."
What a special tribute! Those are truly some beautiful tattoos.