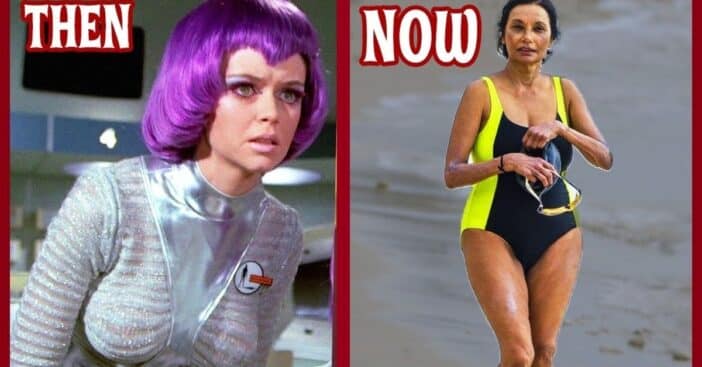 UPDATED 6/26/2023
Today's topic can be found within the skies and the snow — the digital kind, that is, as we carefully watch these windows that might just overlook…a UFO. The 1970 British sci-fi series UFO was created by Gerry Anderson and Sylvia Anderson, the talented husband and wife duo behind the mid-'60s series Thunderbirds, which was also very popular. On the other hand, in 1969, the Andersons wrote the underrated sci-fi movie Journey To The Far Side of the Sun, which had Ed Bishop in the cast, so when the Andersons were putting the pieces together for  UFO, Bishop was primed to star.
The show follows the exploits of the Earth Defence Directorate, a secret organization in the United Kingdom responsible for defending against alien invasion. Originally a space exploration program with an emphasis on scientific accuracy and technical detail, the show made sure to hit light-speed, becoming an action-adventure sci-fi saga. And what was created? A single series of 26 episodes, including the pilot, was filmed over the course of more than a year. UFO was wildly ambitious, darker than the Star Trek program dominating in the States, and employed all the tricks, models, hardware, and special effects to bring to life one heck of a far-out series. And just as the series did, it's time to take off and catch up with the crew of this techy show.
Ed Bishop (Commander Ed Straker)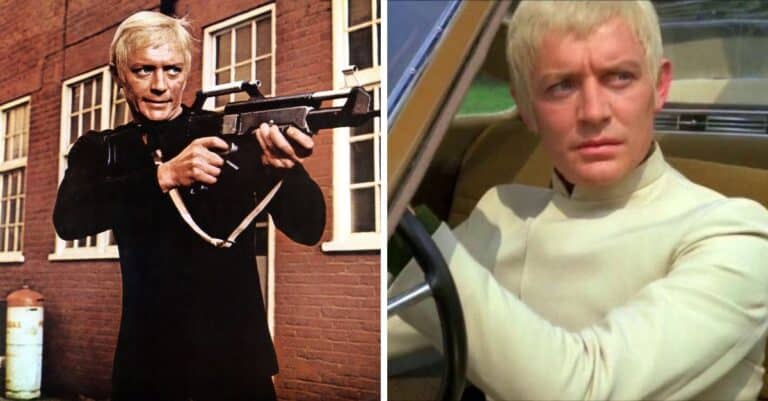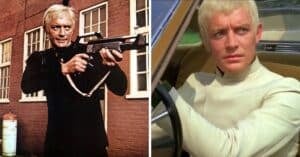 Commander Ed Straker is a former American Air Force colonel and astronaut who organized SHADO after a series of UFO attacks in 1970. Initially, Bishop's hair was dyed blonde, but over time they transitioned to a wig to avoid damaging his follicles. Bishop owned this wig and would bring it with him to sci-fi conventions. As it turned out, there were actually a lot of wigs in space.  Bishop played Straker as the quintessential cool guy, and Anderson anticipated this role catapulting him into even better roles, but this didn't exactly happen.
Ed began acting as an ambulance driver in Stanley Kubrick's 1962 movie Lolita, and he worked constantly until he finally hooked up with Gerry and Sylvia Anderson for the late '60s series Captain Scarlet and the Mysterons, which was basically like watching old-school GI Joe action figures come to life. For that project, he voiced Captain Blue and provided the show's narration.
This led to UFO in 1970. He continued acting throughout the '80s, making several appearances on shows like The Kenny Everett Television Show and Whoops Apocalypse. In 1980 he provided his voice for the sci-fi film Saturn 3, which starred Kirk Douglas and Farrah Fawcett.
He acted into the early 2000s, but sadly in 2005, at the age of 72, and just three days before his 73rd birthday, Ed Bishop passed away from a chest infection contracted while undergoing treatment for leukemia. His death came five days after the death of his UFO co-star Michael Billington.
Gerry Anderson made a statement following Bishop's death, saying, "Ed Bishop is one of the most talented people I've ever worked with, and my only sadness was that he didn't go on to become an international star. I would have loved him to have perhaps been James Bond."
Michael Billington (Colonel Paul Foster)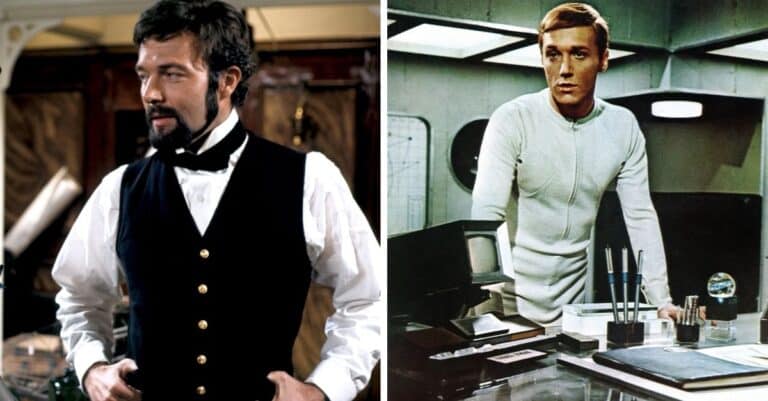 Colonel Paul Foster is a former test pilot whose plane was critically damaged when SHADO's Sky One intercepted and destroyed a UFO. His persistent investigation of the incident threatened to expose SHADO's existence, so Straker offered him a position within the organization. Anderson may have wished Bishop would've been played Bond, but Billington actually tested for the famed 007 role and was a heavy consideration to replace Sean Connery.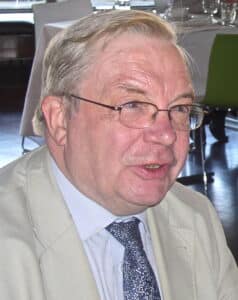 Michael stepped onto the scene in 1964. He started off pretty strong, and by 1966 he booked a 23-episode arc on the show United! In 1986, he headlined the BBC drama The Collectors, but this would be his final prominent acting gig, retired and taught at Lee Strasberg's acting school in London throughout the 1990s.
As mentioned before, Billington sadly died of cancer at the age of 63 in 2005, shortly before Ed Bishop passed.
Dolores Mantez (Lieutenant Nina Berry)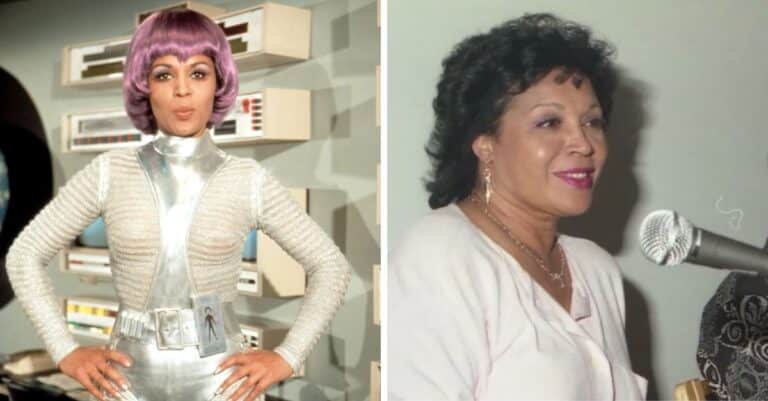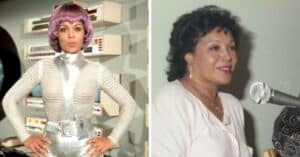 Lt. Nina Berry is one of Straker's first recruits into SHADO. She also works as a space tracker at Moonbase and later replaces Lieutenant Ellis as its commanding officer. And Dolores rocked that purple wig the best, managing to pull off that truly unique hue.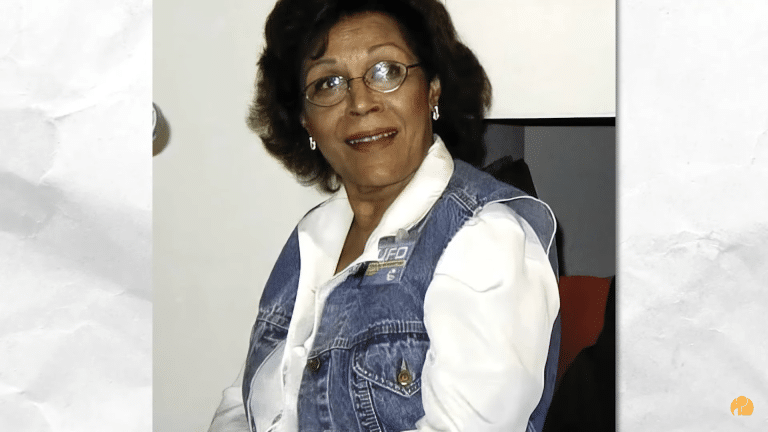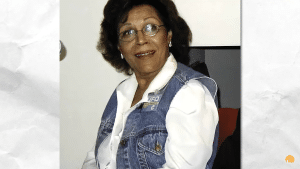 Dolores Mantez began singing early in her career, when a chance encounter landed her a small part in the 1959 film Sapphire. She then nabbed small roles in big shows, like The Avengers, which famously starred Diana Rigg, and even performed on the show, Secret Agent.
But she is best remembered for her Lt. Barry, because shortly thereafter  she met a businessman named Robert Harding in a pub and they got married soon afterward. Dolores left show business after the birth of their son. She kept a pretty low profile before she, too, sadly passed away in 2012 at the age of 76.
Ayshea Brough (Lieutenant Ayshea Johnson)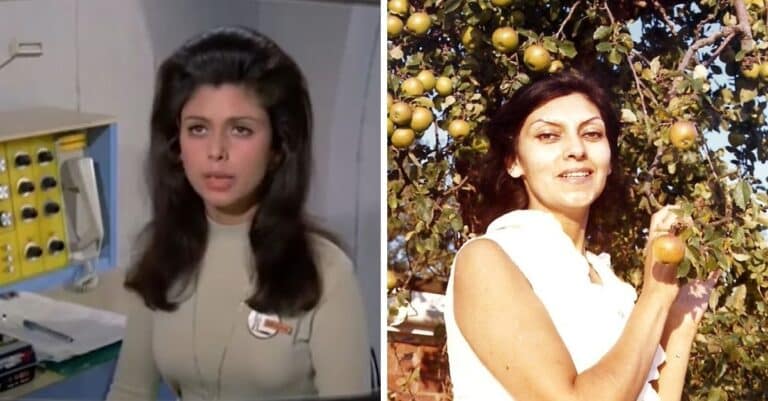 Lt. Ayshea Johnson is a SHADO headquarters officer, She mainly wanders around holding a clipboard and looking beautiful.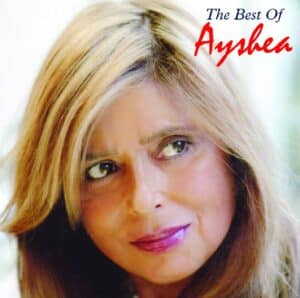 Ayshea began acting in 1958. Her biggest role certainly was UFO, but she made several appearances as herself, including on her own pop show, Lift Off with Ayshea, in 1969 which ran for six years. That's because she's more of a pop singer than an actress, consistently releasing singles throughout the '60s and '70s. She also was a regular on quiz shows such as The Golden Shot and Celebrity Squares.
Ayseha built up a pretty large following for her live cabaret performances, and even represented Great Britain at the World Popular Song Festival in Tokyo with a song written for her by Elton John, called "The Flowers Will Never Die." Ayshea moved to Los Angeles and appeared in movies like Gotcha in 1985, and she married CBS Sportsline founder Mike Levy. Beverly Hills became her home for many years and she became a Beverly Hills socialite as well as ran a property development and interior design business.
But in 2000, Ayshea moved back to the UK to be close to her mother, Rose. Today 74 and living a much quieter life, which she certainly deserves.
George Sewell (Colonel Alec Freeman)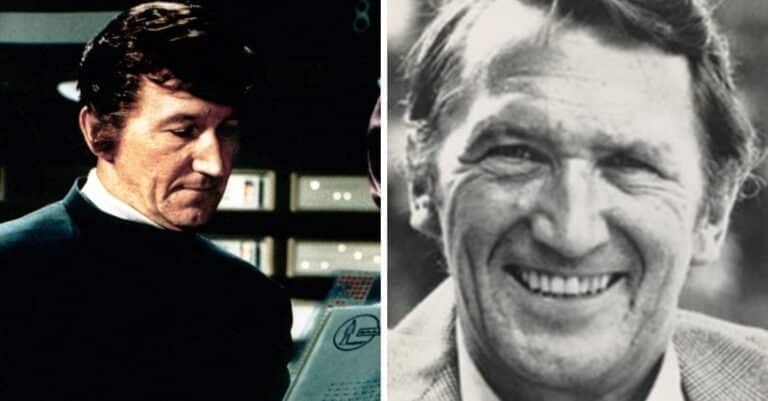 Colonel Alec Freeman is a former pilot and intelligence officer, acting as Straker's closest friend and right-hand man. He was laid back and was great in charge until the more aesthetically pleasing Col. Lake takes over, a change done without any explanation whatsoever.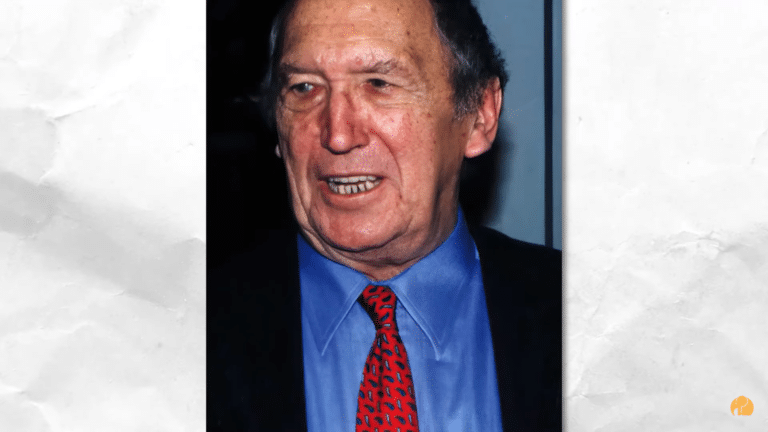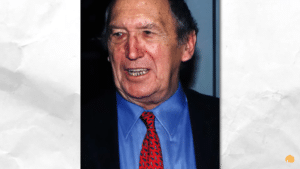 George Sewell didn't even consider acting until he was 35 years old when he met actor Dudley Sutton by chance in a pub. Sutton recommended that Sewell audition for a production by Joan Littlewood's Theatre Workshop and ended up being cast as a policeman in the show both at the Theatre Royal, Stratford East, and in the West End production. His stage experience would eventually lead to TV and film work. Some notable projects include several episodes of The Power Game in 1965, and in the long-running gritty drama Z Cars in '67.
Following UFO, he went on to star in the detective show Special Branch as Detective Chief Craven. He kept up his detective work in the '90s show The Detectives as well… Might there be a theme at play? He had a major role in the wonderfully done 1979 mini-series Tinker Tailor Soldier Spy, and was last seen in 2006 in an episode of the show Casualty. George sadly died the following year at the age of 82 from cancer.
Gabrielle Drake (Lieutenant Ellis)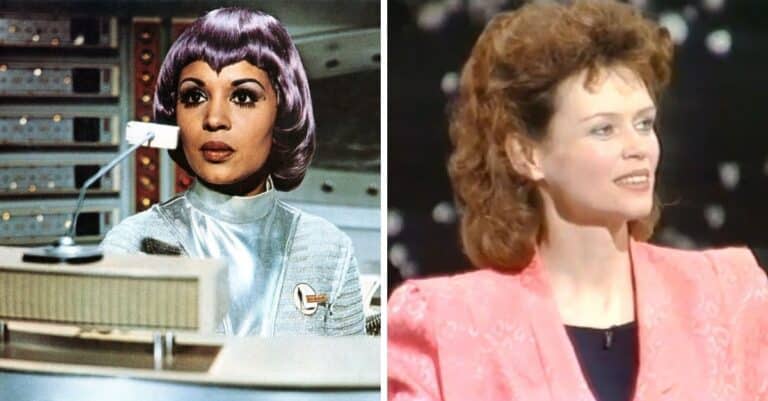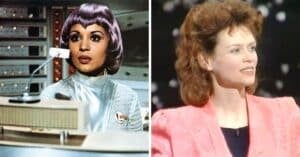 Lt. Ellis is occasionally portrayed as lacking self-confidence, and at other times as a no-nonsense take-charge kind of officer. She is briefly reassigned to SHADO HQ when it is suggested that she may be romantically involved with interceptor pilot Mark Bradley. But it just got Drake off of the cast of UFO for her own endeavors, which is too bad, because she was stunningly beautiful in that silver jumpsuit.
Gabrielle Drake began taking off in the showbiz world in 1963 and had a lot of smaller roles before landing her big break in UFO in 1970. Then she made her feature film debut co-starring in 1969's Crossplot, as well as appearing in Connecting Rooms the following year.
Drake fulfilled the fantasies of most male UFO fans by starring in a series of British sexploitation movies that gained a lot popularity at the time. She appeared fully nude or topless in several scenes, most notably in Au Pair Girls in 1972. That same year, she was a big part of the show The Brothers for its first four seasons. This was Drake's most well-known role since the show was quite popular.
Drake was actually on the show Coronation Street back in 1967 and then appeared again 40 years later in 2009. She always had a pretty big presence in stage work, too, appearing in her own one-woman show throughout the 2000s. You also may know her brother from the stage as well, being the musician Nick Drake, whose work she has consistently helped to promote after his death in 1974. She can be heard accompanying her brother in a number of songs that he recorded privately, and which have since been released on the album Family Tree.
Today, Drake is 79 years old and currently lives in Wenlock Abbey in a house she bought in 1983 with her husband. It also happens to be a medieval castle that they renovated. What else, for the beautiful Gabrielle Drake?
The cast of UFO helped create one of the denser approaches to sci-fi entertainment. The look and the sound of the show are still its strongest points, perfectly encapsulating the '70s. So, tell us, who was your favorite character from the UFO cast? Did you watch any of the spin-off movies from the seventies? It's time to remember this ambitious sci-fi adventure.