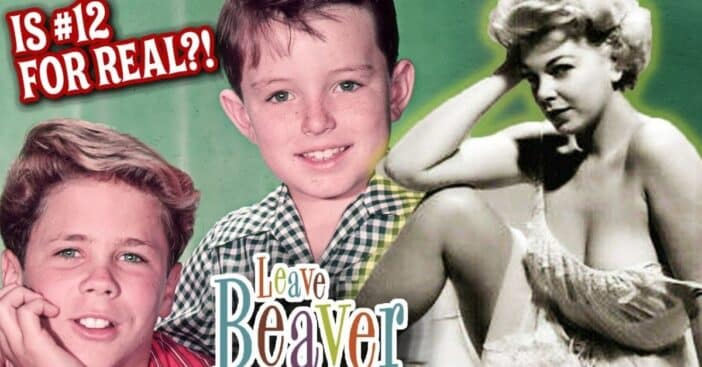 Gee whiz, Mrs. Cleaver, it's just about time for another episode of Leave It to Beaver! There were few shows quite as relatable and inspiring as that of Beaver Cleaver's; the characters were people we felt like we knew. But there's plenty we don't know, so let's get to it.
What's the horrible secret behind Mrs. Cleaver's pearl jewelry? What kind of jokes did this wholesome coming-of-age series have to cut? Today we're revisiting one of the most prominent programs in American television history. Without further ado, let's go back to Mayfield one more time.
Small world of beavers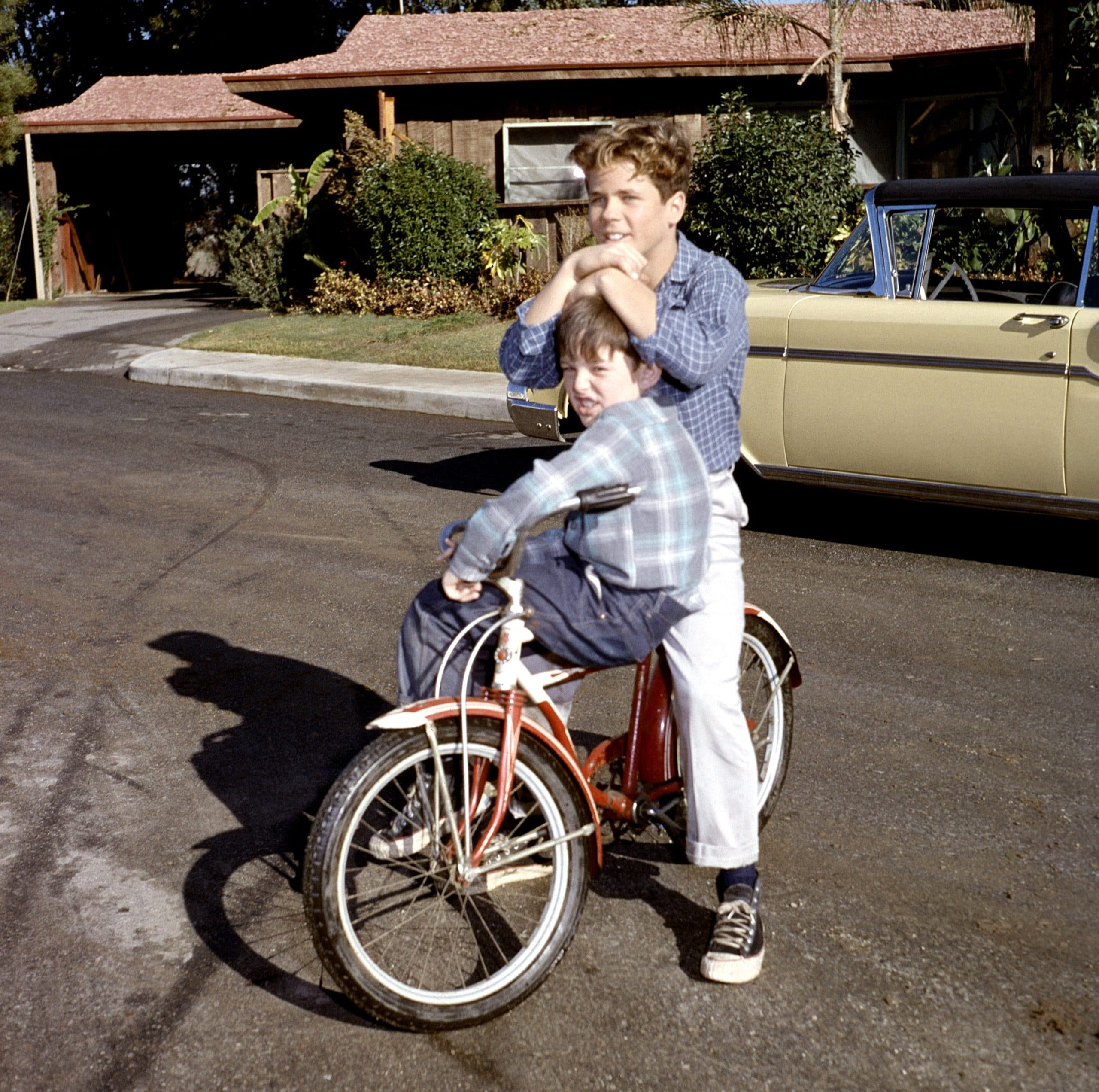 Three names stick out in the holy trinity of shows focused on suburban middle-class American boyhood: Lassie, My Three Sons, and Leave It to Beaver. But it was almost a different name there, as, in the early days of today's sitcom, it was titled Wally And The Beaver. But the show's sponsors and creators thought people would hear the name and expect an actual beaver in some kind of nature documentary.
RELATED: Celebrating 73 Years Of 'Leave It To Beaver's Jerry Mathers
Then it was nearly titled It's a Small World, which ended up being the name of the pilot. This episode even ended up in the anthology series Heinz Studio 57, which featured the future SNL star Harry Shearer, aka Mr. Burns from The Simpsons. In Leave It to Beaver, his credit was just called Bicycle Punk. Oh how far they've come…
Creative costumes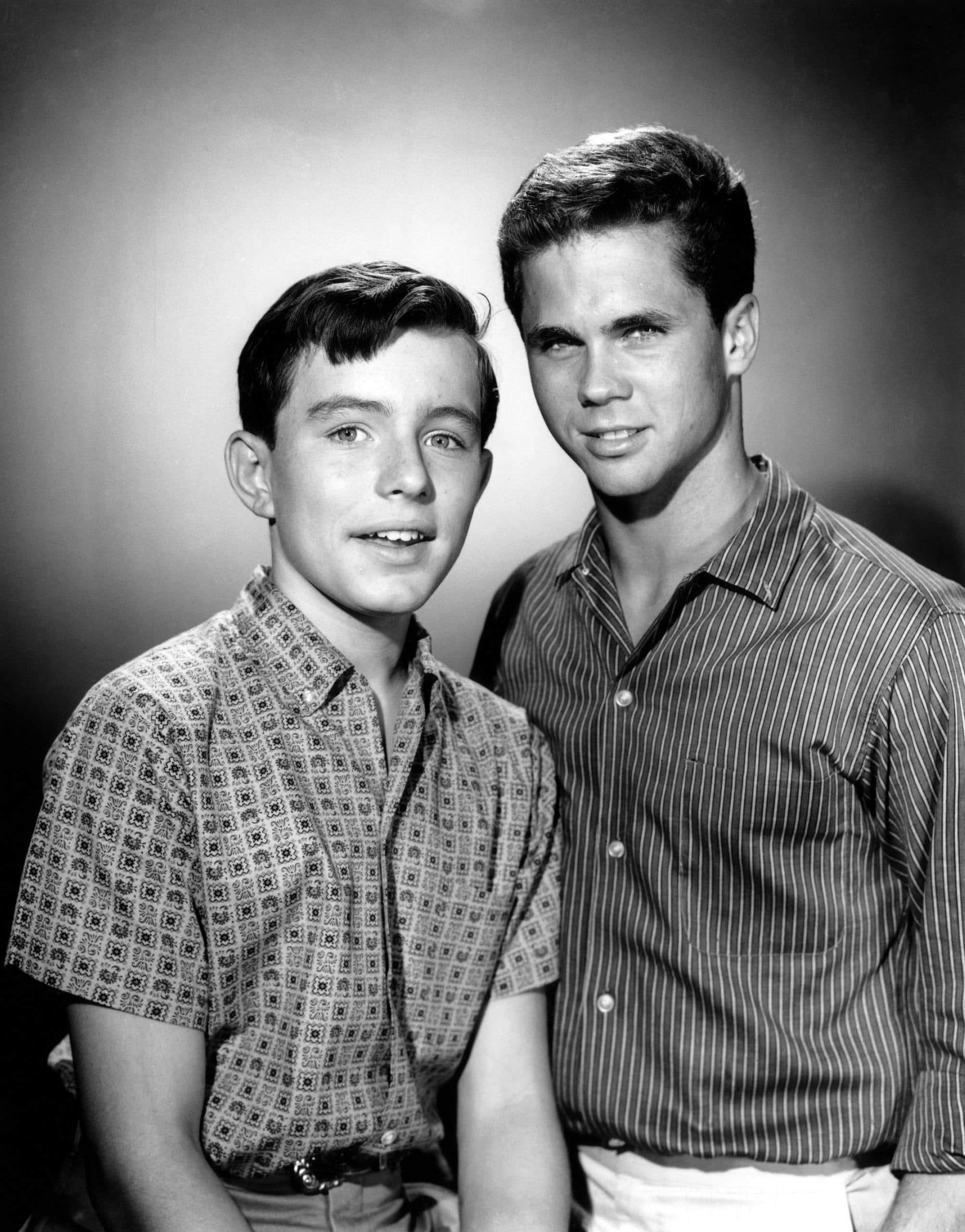 A picture is worth a thousand words, so a good outfit should be just as much, right? And if you're Jerry Mathers, it can help land you a pretty iconic TV role, too! During casting, Mathers made a strong impression because everything about him was just candid and earnest – right down to his outfit. By the time he auditioned, Mathers had a pretty busy schedule, between commercials and Cub Scouts, and he did NOT want to miss any of it. So, he turned up at auditions wearing his Cub Scouts uniform so he moseys on over to that meeting after.
But that's not the only way clothes shaped the beloved cast. Barbara Billingsley was everyone's mom for six seasons of Beaver, with an iconic outfit exemplary of the time. A typical housewife look, but the accessories were where the character shined. In early seasons Billingsley took to wearing flats for comfortability. Then the character transitioned to heels, even when doing chores. Fashion statement? Of course not. It was to stay taller than her on-screen sons. Mathers and Dow hit growth spurts, so Mrs. Cleaver had to step up her shoe game to keep up with the growing boys.
Then of course there's the ever-present pearl jewelry. The classic look of pearls, but why pearls… well, Billingsley had received surgery on her neck, and the surgical scar left a hollow that created a noticeable shadow. So, Mrs. Cleaver's treasured pearl necklace perfectly covered the actress's scar.
Rocky starts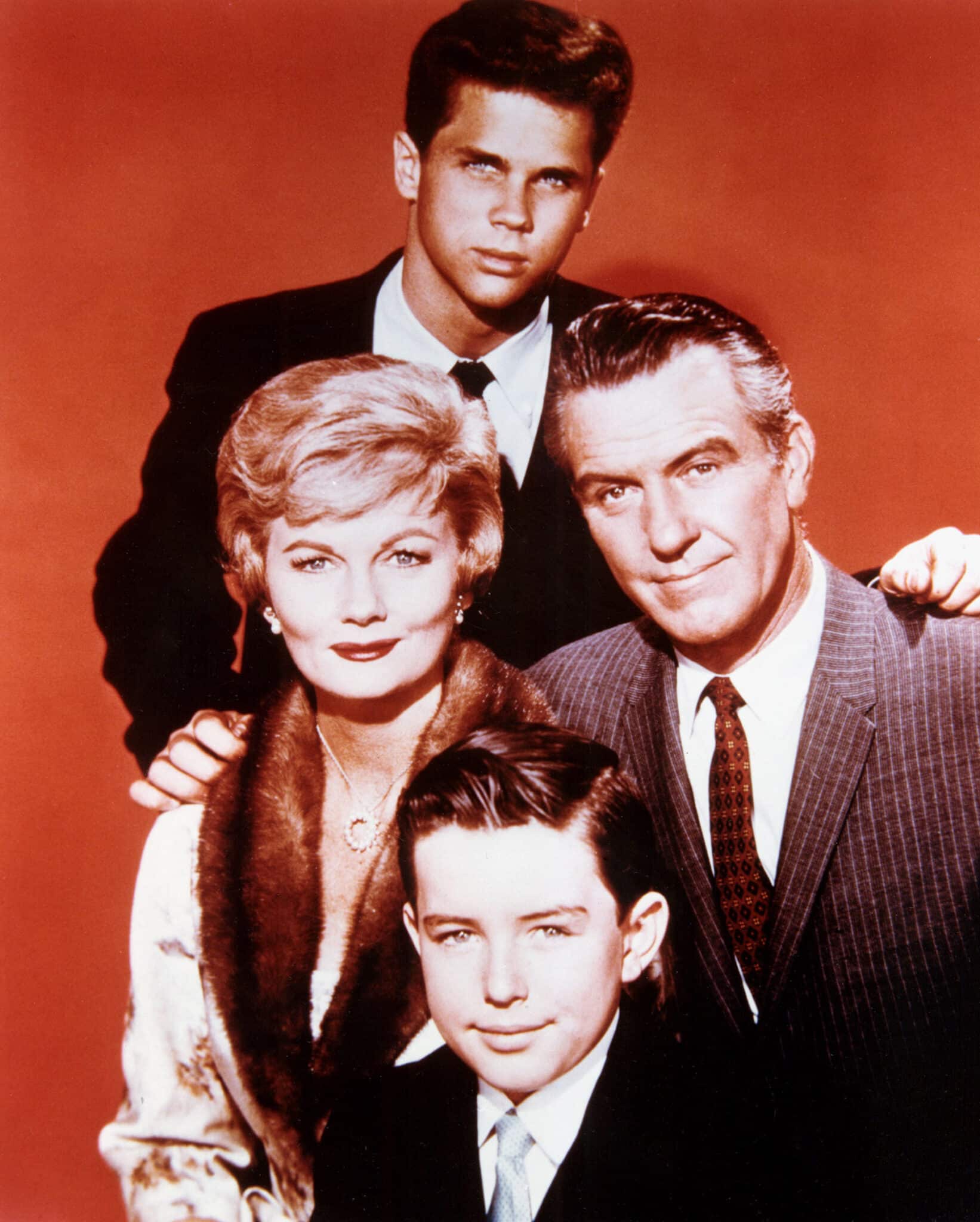 The year is 1958 and Leave It to Beaver just wrapped up a successful first season—and was canceled. What…? One of the most enduring and quotable shows to this day had a rough start, to the point that CBS canceled it after just one season. But thankfully ABC came to the rescue, picking up the show for the remainder of its upbringing.
Even after its second chance, though, Leave It to Beaver still didn't get quite the hype you'd expect. In fact, it never broke the Top 30 in the Nielsen ratings. Hard to believe, but it did have some steep competition.
Down the toilet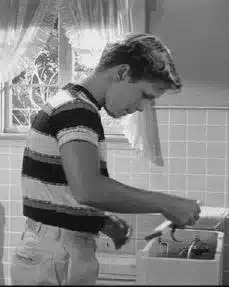 The '50s and '60s avoided some very specific trends and situations. Take I Love Lucy or I Dream of Jeannie's fear of showing a pregnancy belly bump, or married couples in the same bed. There was also an area of the house that had never shown up before: the toilet.
On top of spawning praise, merchandise, and sequels, Leave It to Beaver also has the esteemed title of first-ever toilet seen on TV! Watch the episode "Captain Jack." The scene where Wally puts an alligator in the toilet tank. You just witnessed the first time a toilet appeared in a TV show. Well, some of the toilet. They didn't actually show the toilet pedestal or seat, but did show the toilet tank and flush handle. Progress.
Location, location, general location
The suburban setting of Leave It to Beaver was beloved and intentionally universal. Show creators wanted it to appear as if anyone's home could be the Cleaver's. But there were some hints, like when Wally mentioned the governor living in Madison; some fans thought maybe they lived in Wisconsin. But then you have the time Beaver asks for a surfboard, suggesting beach access. But the show itself deliberately never tells.
The scenery was still rooted in reality. The show creators used actual photos of Skokie, Illinois to depict the otherwise fictional Mayfield, the better to make this look like a living, breathing place.
Fiction and reality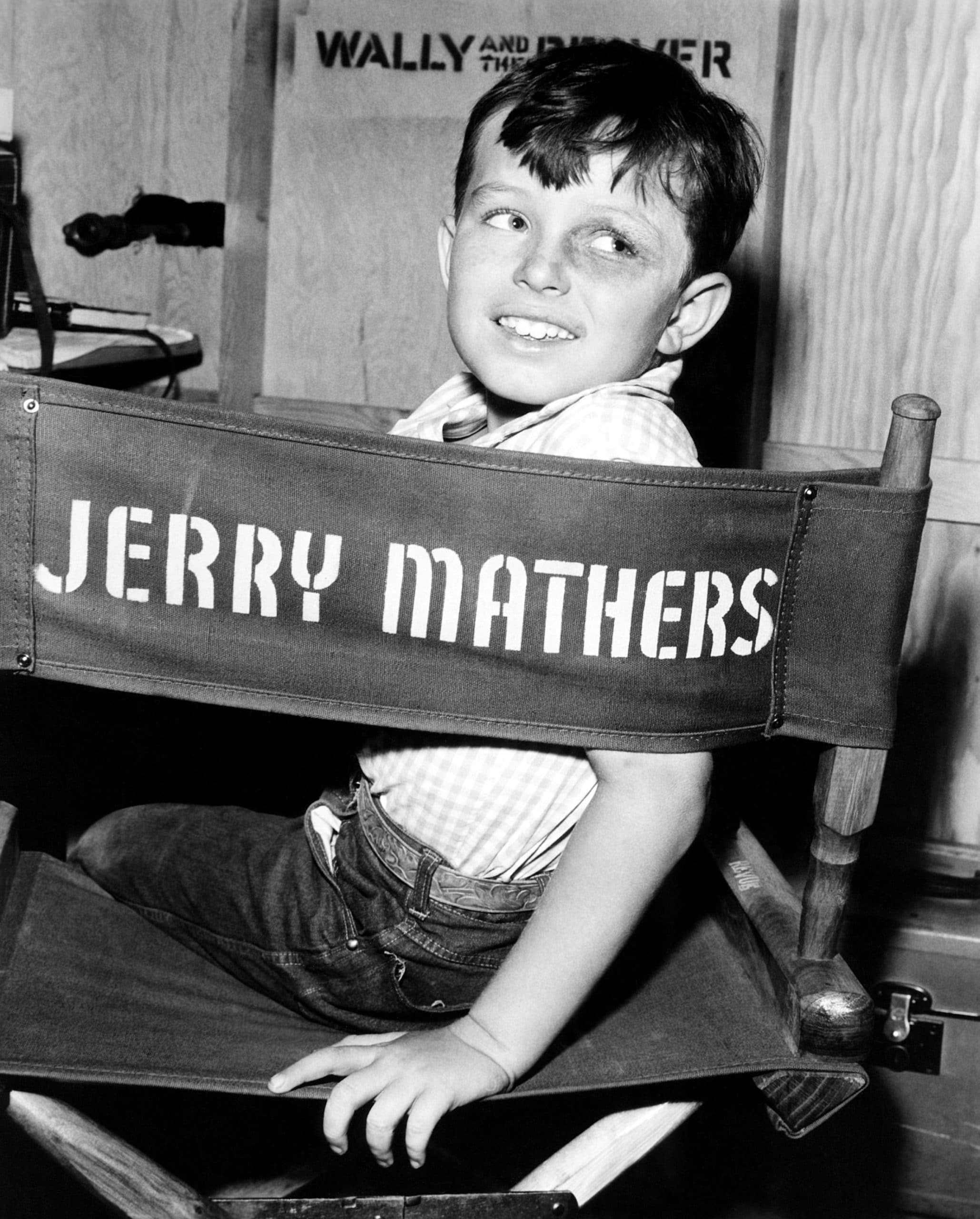 Spending six years as a character, on top of balancing real life, stuff bleeds together. For one thing, the ideas behind Leave It to Beaver episodes, characters, lines were all based on show writers Joe Connelly and Bob Mosher's own childhoods. This grounded inspiration was ideal to unabashedly show the world through the eyes of a young child.
They got some help from Mrs. Cleaver herself, as Billingsley was a mother of two sons. Which gave her firsthand experience with how a mom should react to the Cleaver boys' antics, and whenever they got into mischief, she'd go to the writers and say, quote, "I don't see why June is so mad over what Beaver's done." She actually told the writers to make the troublemaking a bit larger scale, to justify Mrs. Cleaver's reactions. It certainly made for some great shenanigans!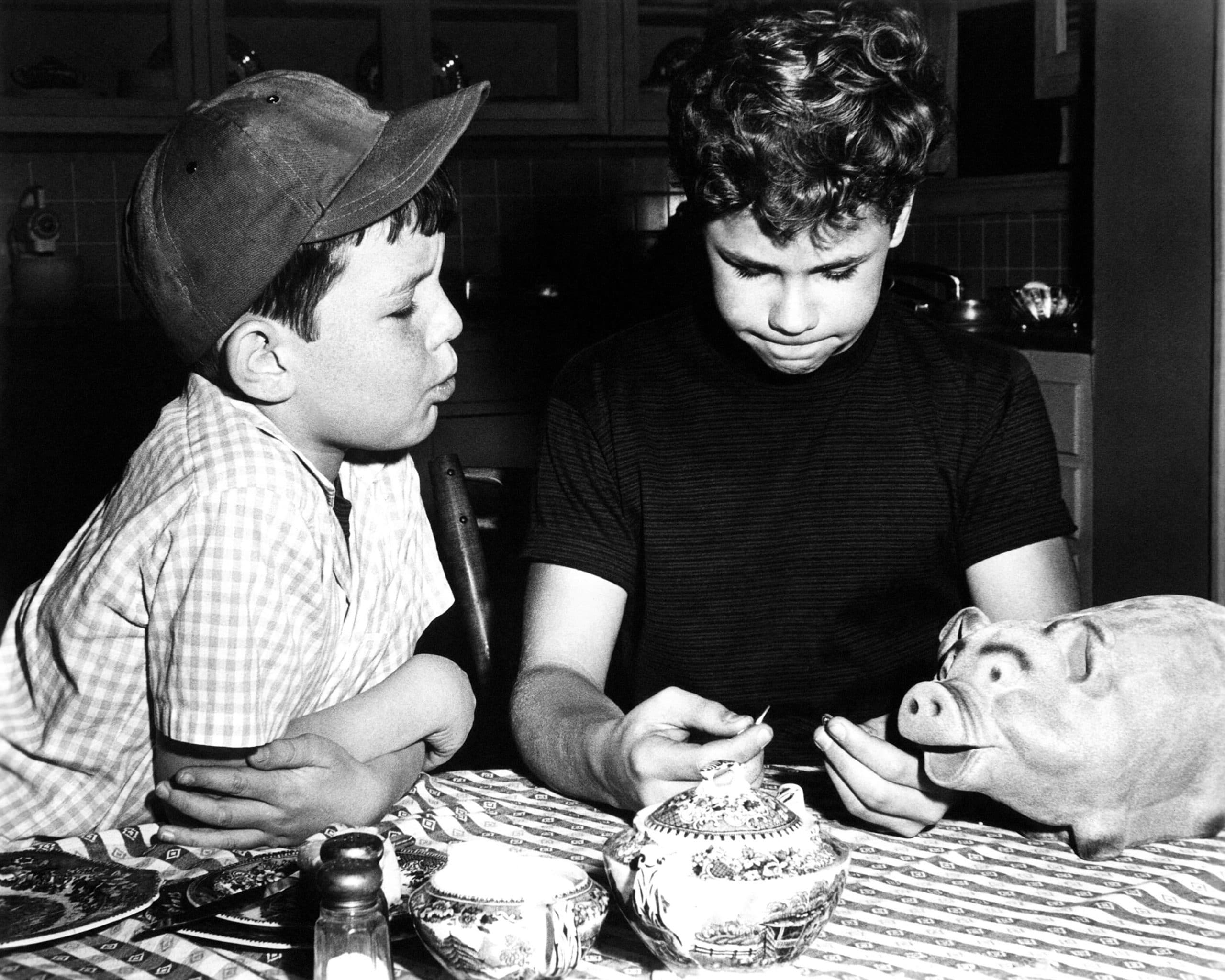 And what would an episode be without Mr. Cleaver giving the family – and, really, the nation- a valuable moral lesson? Well, Hugh Beaumont didn't need a script for that; he was an ordained minister, and only took up acting because the community he served couldn't pay him a living wage. Otherwise, he was deeply committed to helping and inspiring others with powerful words. And I hope he listened to his own wise words, because when Beaver got fast-tracked into production, Hugh was required to fly to LA immediately, leaving his older son to drive Mrs. Beaumont as well as Hugh's mother-in-law to California from Minnesota. But during the long drive, His son lost control of the car, crashed, and The mother of Beaumont's wife did not survive the wreck. The actor took the loss of his mother-in-law extremely hard and resented the show for the ill effects that occurred. 
As famous as Hugh got, wouldn't even touch the fame and publicity thrust onto the child actor. Well, show creators wanted to keep overexposure from happening, and so instructed Mathers and Dow to NOT watch their own show, hoping it would keep them from getting full of themselves and changing for the worse.
The plan worked because Mathers became a treasured American icon. So much so that no one wanted to risk him getting hurt. After Beaver ended, Mathers wanted to enlist in the Marines, but fresh off a story of a famous NFL player being killed in action. The Marine Corps turned him down because they didn't want more negative press about another American icon dying. God forbid Beaver Cleaver dies in Vietnam. SO Jerry Mathers joined the Air National Guard instead.
Time changes everything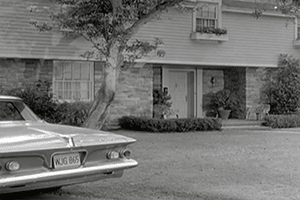 The Cleavers' city and state isn't ever specified, but they did have a known address. Actually, they had two. At first, their home of 485 Mapleton Drive was filmed in the Republic Studios. But after Some bureaucracy, the family ended up at 211 Pine Street, a.k.a. the Universal lot.
Keep a close eye out, and you might see the Pine Street house in Marcus Welby, M.D. as well as the 2000s hit series, Desperate Housewives.
Too much of a good thing
According to Tony Dow, who was fantastic as Wally Cleaver, Leave It to Beaver aimed for a very specific level of humor. I Love Lucy enjoyed the longest laugh of any sitcom, but Leave It to Beaver's writers wanted something a LOT more tame. So, if a joke went over too well and got too large of a reaction, they'd cut the joke for the final taping.
Dow explained, quote, "They didn't want a big laugh; they wanted chuckles." Guess there's such thing as being too good at your job!
Tweedor-Cleaver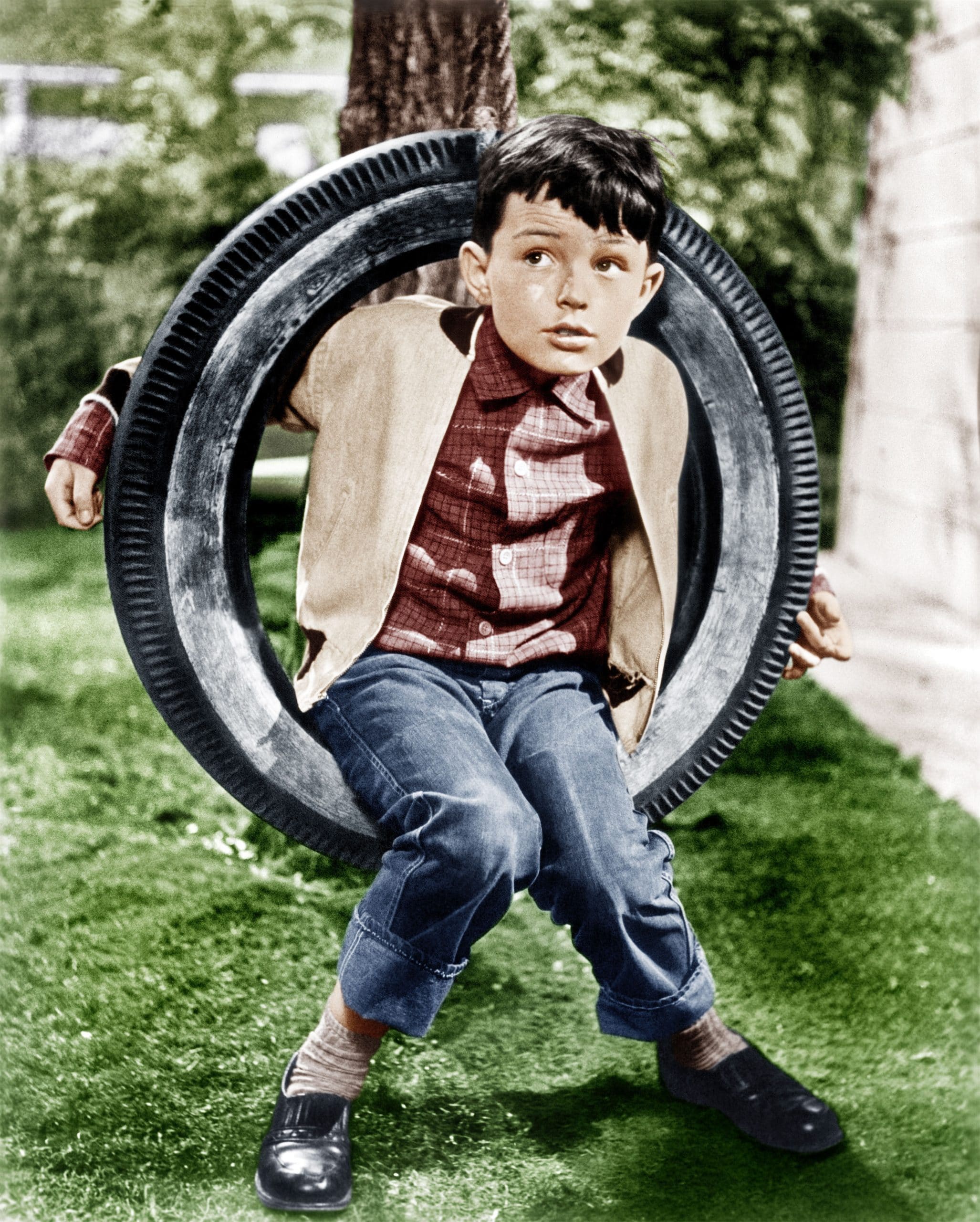 The best plots keep up the anticipation of some we just have to know the answer to. Leave It to Beaver's was simple, but one the show didn't fully explain until the very end. Why is Theodore Cleaver called "Beaver"?
Blink and you might miss Wally talking about his little brother, but he can't quite say Theodore, so it comes out as Tweedor. So, our young protagonist needed a different name his brother could pull off. Show co-creator Joe Connelly was thumbing through a list of his own old acquaintances, family, friends, even military comrades. There, he found a fellow Marine who'd been nicknamed Beaver. It even rhymed and that was that.
A plan comes together
Not every show gets a well-rounded timely ending. Take Lost in Space, where the cast suddenly heard they wouldn't work together anymore. Leave It to Beaver thankfully didn't suffer that fate, and stood above the rest!
The young cast was growing up, and Mathers himself wanted to focus on his high school education. They had told their coming-of-age story and were off to cross some more milestones of their own. The writers knew they were primed to end on a strong note, and so gave us the episode "Family Scrapbook," a touching, nostalgic tribute to all our fondest memories of the show.
To this day, it stands out as one of the first – and at the time, only – primetime formal, deliberate finale. And it was so touching and appropriate because it was championed by Ward Cleaver himself, as Hugh wrote some, and directed 23 episodes, including this final, retrospective episode in 1963. His portrayal of Ward Cleaver ranked #28 in TV Guide's list of the "50 Greatest TV Dads of All Time. More than appropriate. 
Gee, Wally, what a fantastic wholesome series that everyone should watch, even today, as all the characters were finely developed and the tender moments make this series enduring. So, what's a great episode of Leave it to Beaver you recall? Did you ever visit Universal's Tour and see The Cleaver House? Share some Beaver memories in the comments below, we wanna hear from you!