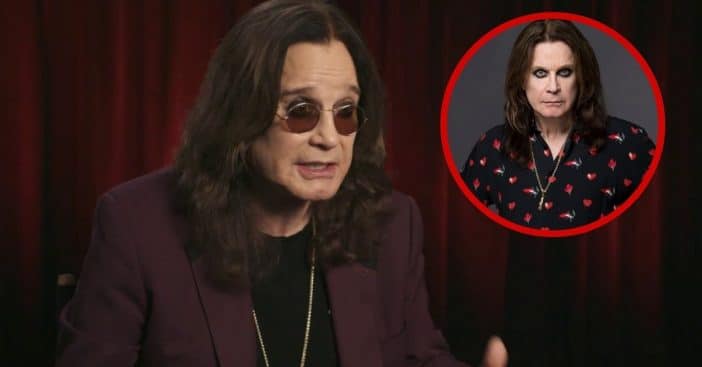 72-year-old singer-songwriter Ozzy Osbourne rose to fame in the 1970s as the lead singer of Black Sabbath, famously heavy metal in its work. Today, he's a TV personality, but during his Black Sabbath days, he became known as the Prince of Darkness.
Osbourne leaned into this persona even after he was fired from Black Sabbath through the March 2005 release of a box set entitled Prince of Darkness. Recently, he reminded fans who he is with a photo shared to social media really leaning into the grim visage.
Ozzy Osbourne reminds fans he is still the Prince of Darkness
📸: @RossHalfin pic.twitter.com/KgWBlimkLg

— Ozzy Osbourne (@OzzyOsbourne) August 23, 2021
On August 23, Osbourne took to social media and shared a photo of himself clad in black pants and a black shirt bearing alternating red and white patterns. A delicate chain hangs down his neck and jewelry bedecks his wrists and fingers.
RELATED: Ozzy Osbourne's First Iconic Solo Song Still Has 'Mistake' In It
He simply captions the post "@RossHalfin," the Twitter handle of a photographer with 47.4k followers. The picture has already received 2,000 likes from his 8.3 million followers, as well as 191 retweets without comment, and dozens of shares with comments on the shot. He truly is embracing his regal title.
What's to come?
Beginning his career in 1967, the Prince of Darkness is ready to retire, suggested by his upcoming tour, "No More Tours 2." Osbourne actually announced it back in 2018, but it faced major delays, first from metal discs in Osbourne's back coming unlodged after an accident, then from the COVID-19 pandemic hitting by the time Osbourne recovered.
The "No More Tours 2" tour is instead set to kick off in January of 2022 and will span Spain, Italy, Germany, and Sweden. Outsider also anticipates him touring in the U.K. Osbourne is joined by longtime partner Zakk Wylde, who revealed, "Ozz is getting himself back healthy, and then we'll be back out on the road."