For over 200 episodes, Dynasty followed the intrigues of warring oil-owning families, with Linda Evans playing Blake Carrington's betrothed, Krystle Jennings. She stood out as an outsider to the cutthroat world Blake inhabited, but Evans says she would not have ended up on the show were it not for her notoriously difficult split from spouse John Derek.
Evans met Derek back in 1965, before the two began dating, finally tying the knot in 1968. However, on Christmas day, 1973, they ended up splitting. The separation was wrought with betrayal and tension, but in Evans' views, it also put her on the path to one of her most famous roles.
Linda Evans and John Derek split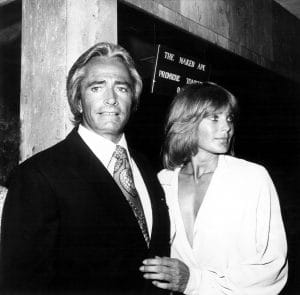 Derek and Evans ended up officially divorced by 1974 because the former revealed he was engaged in an affair with Bo Derek, who was 17 at the time and 30 years younger than him. By 1976, Bo and John Derek ended up a couple.
RELATED: Linda Evans From 'Dynasty' Opens Up About Leaving The Series Early
By the time of this turbulent series of revelations and changes, Evans was done with her last big credit, that of Audra Barkley in The Big Valley, which ended in 1969. So, by that point, Evans herself was ready for some changes for the better. "John and I broke up nine years after we met – he fell in love with Bo," she outlined. "And then I called my agent and said, 'I want to work again,' and he said, 'You've been away for so long. How are we going to pull this off? Everyone's forgotten about you.'"
So she made them remember
Evans was insistent, even in the wake of her split with Derek. "I said, 'I don't know, but I just got to do it,'" she pressed. Confronting the actual aftermath of her breakup, however, was daunting. "I thought, 'Oh, my God. I think I should die rather than have to go through this,'" Evans admitted. "I mean, he was… it was just perfection that I was in love with him, that I told my sister when I was a teenager, I would marry him and then I did. I thought, 'This is [a] God-given gift here, right? It's not supposed to go away like that. What is this? My dream is not supposed to end like this.'"
"It was horrible," Evans called the ordeal with Derek. "It was one of the hardest things I've ever experienced. [But] sometimes when the worst things happen to you in your life, it's actually the best thing that ever happened to you in your life and that has been the truth my entire life. If I had stayed married to John, who didn't want me to work, I could never have done Dynasty. I would never have known all the magic that followed that show or that experience, which to me is just like, one of the most beautiful things anyone could ever hope to experience in a lifetime."