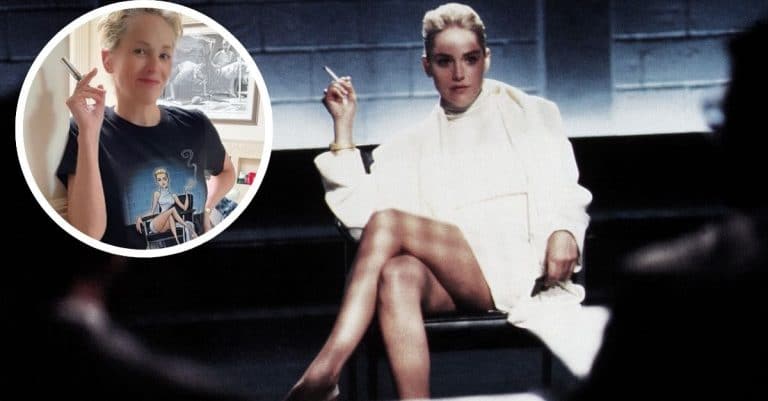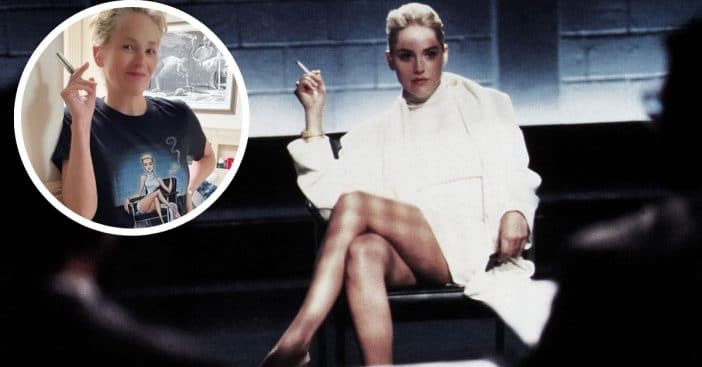 There are a lot of layers to the newest Instagram post by Sharon Stone, featuring the 63-year-old actress in just a shirt. But it's her pose, the props, and the design on that shirt that make this such a fun, layered reference to her hit film Basic Instinct.
The shirt in question is mostly black, save the design across much of the front. That illuminates one of the most famous scenes from the film, the "most paused moment in movies," starring Stone and her character.
Sharon Stone posts a layered 'Basic Instinct' reference on Instagram
View this post on Instagram
Movie fans will appreciate Stone's Instagram post from the end of June. The shirt Stone wears features a cartoonishly stylized drawing of Stone's Basic Instinct character, murder suspect Catherine Tramell. It captures a moment during the most famous and infamous scene where the femme fatale crosses and un-crosses her legs while wearing a dress and nothing else underneath.
RELATED: Sharon Stone Recalls How She Got Bigger Breast Implants Without Her Consent
In the picture, Catherine holds a cigarette and sure enough, Stone has equipped one as well – sort of, in the form of a repurposed bit of makeup. Stone completes the post with the caption, "Been there, done that," before crediting the shirt art, "got the T-Shirt @groovyshelly."
Reclaiming a divisive decision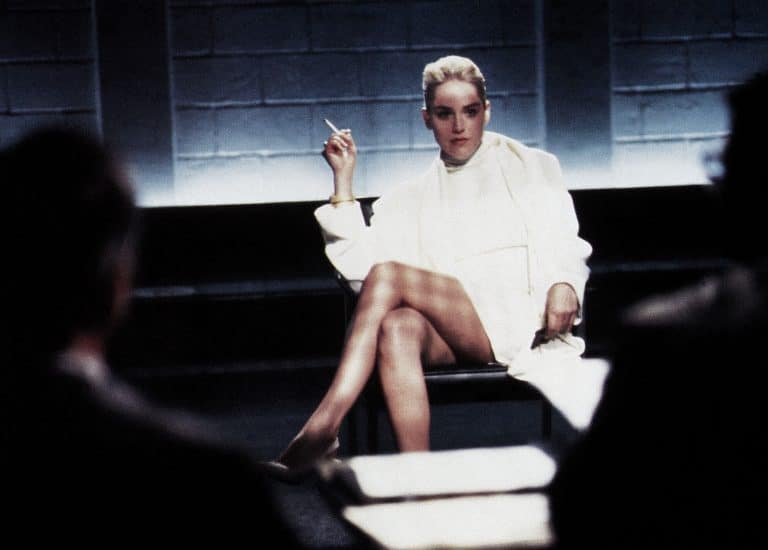 The leg-crossing scene did not exist to gain such notoriety by Stone's choice. In fact, she would go on to insist she'd been misled, told to take her underwear off, and assured that area would not be visible in the shot. When she learned of the XXX-rated version that did, in fact, show her privates, she "went to the projection booth, slapped Paul [Verhoeven, the director] across the face" before calling her lawyer. However, she then gave the issue a lot of thought and decided to let the scene remain.
"Why? Because it was correct for the film and for the character; and because, after all, I did it," she explained. Stone also now feels no regrets for her choices surrounding Basic Instinct, adding, "Regrets are like farts: You can't get them back. Once they're out, they're stinky and gone." Now, though, there are Screen Actors Guild rules in place for situations like hers, though Stone added, "they were made after I, as a young lady, made this film, and so they don't apply to me."