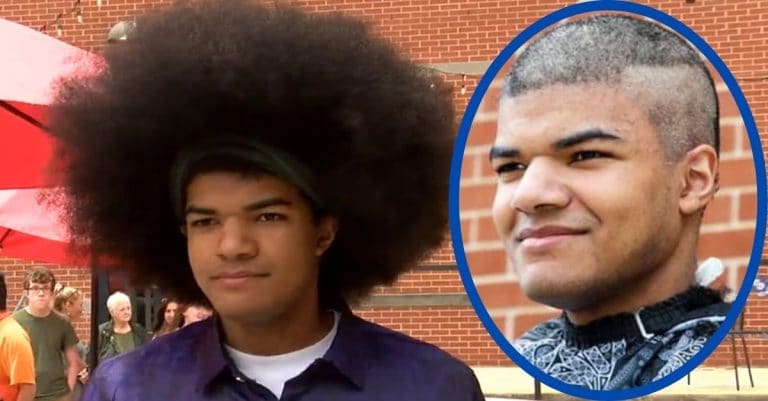 Each year, Memorial Day falls on the final Monday in May, with a long weekend available to reflect and honor those in America's armed services who died. Everyone celebrates differently to acknowledge this sacrifice, and one teen, Kieran Moise, himself ready to join the Air Force, celebrated by giving back and donating his hair.
At 17 years of age, Moise has some major plans already figured out for himself. In the long term sense, he fully intends on joining the military. But he also made the choice to cut his hair with the very specific goal that the hair goes to children battling cancer.
Meet future Air Force member Kieran Moise
17-year-old Kieran Moise is heading to the US Air Force Academy in the fall, and decided he wanted to donate his hair to be used for wigs for children battling cancer. In addition to donating 19 inches of hair, he also raised $20,000 for St. Jude.​ https://t.co/jsbgvp4QYa

— FOX 11 Los Angeles (@FOXLA) June 1, 2021
Huntsville, Alabama resident Kieran Moise had not had a haircut in six years. As a result, he'd grown an afro measuring some 19 inches in length. Though the Air Force allows for natural hair, it does list some guidelines for length, namely, "the hair must not touch eyebrows when groomed, and it may not protrude below the front band of properly worn headgear."
🎥 Kieran Moise no se cortaba el pelo desde hace 6 años, sin embargo, debido a que perdió a un amigo por el cáncer decidió donar su abundante cabellera. https://t.co/CNJzrZDmec

— Univision Noticias (@UniNoticias) June 2, 2021
RELATED: WATCH: Delivery Driver Shows Respect To Home Of U.S. Air Force Member
With this in mind, Moise headed in for his haircut. But, he knew, "I'm going into the military and I didn't want to just cut it off and drop it on the floor." So, on Saturday, he got his haircut knowing, "I wanted to give back because there are lots of people that need help."
Kieran's Curls for Cancer
Kieran Moise gave back in a big way over the Memorial Day Weekend. https://t.co/DGdJOd394E

— WDBJ7 (@WDBJ7) May 31, 2021
Moise's goals don't end there. Sadly, Moise lost a friend of his to cancer while just in middle school. This loss and his friend both inspired Moise to start a St. Jude fundraising page entitled Kieran's Curls for Cancer. He set the goal of raising $1,000 per inch of his cut afro, feeling the funds "will do so much good to help families dealing with cancer."
At just the age of 17, Kieran Moise has graduated New Century Technology School and, thanks to his dedication and care, raised $30,000 as of Wednesday, June 2. He "really hopes this inspires others to do something great on your own" and that his cut hair will "also help make some really good wigs for kids." Aim high, fly, fight, win, Kieran Moise!