1991 saw the introduction of an enduring cultural centerpiece of the decade and ages passed with Thelma & Louise. As of 2016, it entered the Library of Congress for preservation with the National Film Registry for being culturally significant. Everything about it became iconic and powerful, even the unplanned moments – including that totally improvised kiss between Susan Sarandon and Geena Davis.
Thelma & Louise had everything that would define the '90s, from strong female leads to natural messages of strength, wholesome companionship, a thrilling premise, and lots of hot controversy. And, fittingly, it still flourished in spite of all the pushback. Learn how the two leads really made the film their own and one for the ages.
'Thelma & Louise' proved a cultural touchstone
During a 2014 interview with Yahoo! Entertainment, Susan Sarandon explored just what she and Geena Davis accomplished with the impactful movie. "We were two gals in the middle of what was basically like a cowboy movie," she outlined. "We didn't understand that it was going to be taken as any kind of iconic movie. Ridley [Scott] took this little thing and placed it in this heroic landscape."
RELATED: This Scene In 'Mrs. Doubtfire' Was Totally Improvised By Robin Williams
Upon its release, Thelma & Louise received pushback against what critics thought was an exclusively negative portrayal of men. However, in the history of women's liberation, the 1991 film became a milestone point of worship for flipping the script in gender roles, calling out sexism, and overall providing a refreshing and lovable female-led road trip film women could enjoy.
Geena Davis and Susan Sarandon share an unscripted kiss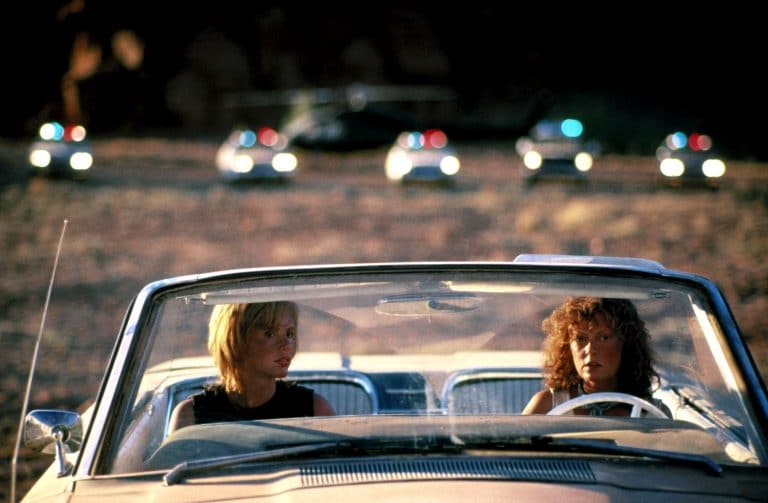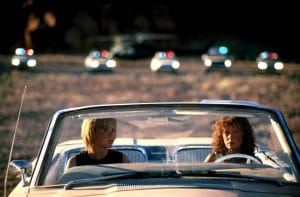 The film ultimately ends just how epic heroines Thelma Dickinson and Louise Sawyer would want: with an epic heroic bang. The two unabashedly drive off of the Grand Canyon rather than fall into police custody, Louise briefly giving Thelma the parting gift of a kiss as they go.
This was actually an invention totally made by Sarandon, as the script did not call for her kissing Davis. "We did the end of the movie actually in like one take," Sarandon shared, "because we spent the whole day doing helicopter shots and all the other stuff that had to happen on the last day of shooting. We had one take and I just told Ridley I'm going to grab her and kiss her, and he said, 'OK.'"