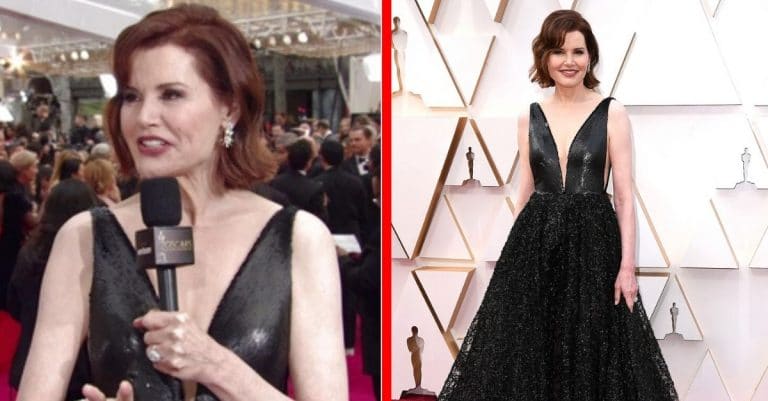 The Oscars took place last night and we all celebrated from home watching the immense talent in the room be awarded for their stellar work. We also couldn't help but watch intently at the red carpet arrivals as all actors and actresses arrived looking their best. One of them was 64-year-old Geena Davis who looked incredible in a plunging gown.
While at the Oscars, she receives the honor of the Jean Hersholt Humanitarian Award. She earns recognition for her work in promoting gender equality in the film industry, paving the way the future female actors. The Oscar, according to the Academy, "is given to an individual in the motion picture arts and sciences whose humanitarian efforts have brought credit to the industry."
Geena Davis rocks a plunging gown at 64 years old
The actress founded the Geena Davis Institute on Gender in Media. This is a nonprofit organization dedicated to educating and influencing industry leaders on eliminating gender bias. "What I always say is, this is not controversial," she tells the Washington Post just last week. "We're asking that the on-screen population reflect real life. That's all you've got to do. Reflect real life. Don't make it worse." This alone makes her a great candidate for the award she ultimately receives.
RELATED: Singer Janelle Monáe Serenades Tom Hanks With 'Won't You Be My Neighbor?' At 2020 Oscars
Geena received her Award last October. Others that also earned honorary Oscars for their work include filmmaker David Lynch, Cherokee-American actor Wes Studi, and director Lina Wertmüller.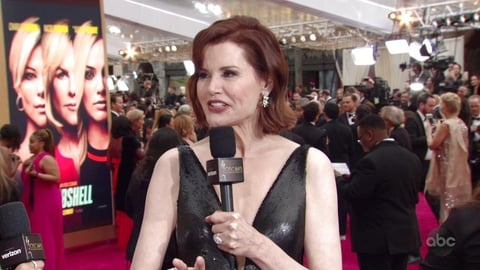 Davis would win her first Oscar back in 1988 for her supporting performance in The Accidental Tourist. She went on to earn a second nod in 1992 for Thelma & Louise. We were happy to see Geena Davis working the red carpet and also on stage at the Oscars last night! In conclusion, check out the footage below from the red carpet.