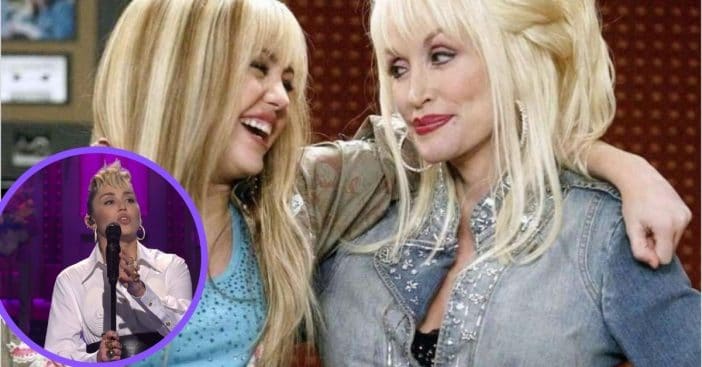 This past weekend, SNL's latest episode fell on Mother's Day weekend. Instead of the usual cold open with a skit, stars came out into the spotlight to honor their mothers. Miley Cyrus provided very meaningful background music throughout the scene, singing a cover of "Light of a Clear Blue Morning" by her very own godmother Dolly Parton.
The song originally came out in 1977 with Parton's usual country flair for an appropriately country-themed album. Goddaughter Cyrus put a modern edge to it and incorporated rock 'n' roll into her particular rendition used during SNL.
Miley Cyrus celebrates her godmother Dolly Parton with a special cover for Mother's Day
View this post on Instagram
Live from New York, it's the moms of Saturday Night Live! SNL began with less a focus purely on timely comedy and more an emphasis on the women who made all of everything possible: mothers, just in time for Mother's Day not hours later.
View this post on Instagram
RELATED: Dolly Parton Honored By Music Greats In New Netflix Special
Parton originally penned "Light of a Clear Blue Morning" after she'd parted ways with her longtime partner Porter Wagoner. The lyrics in both Parton's original and Cyrus' cover promise "a brand new day a dawning," something parents and children alike can feel especially eager for in light of the COVID-19 pandemic. Cyrus provided a musical backdrop as one by one SNL cast members introduced their mothers and what made each strong woman in their life so special. Then, Cyrus' own mother Trish joined her at the end, and Cyrus wished Parton a very happy Mother's Day.
Keeping it country
View this post on Instagram
It can be easy to think Miley Cyrus and Dolly Parton are directly related by blood. They may not be genetically linked, but they have a close bond that proves family is something you can forge over the years. Parton worked closely with fellow country star Billy Ray Cyrus in the early '90s. This friendship led to Parton becoming godmother to Miley Cyrus.
View this post on Instagram
For years, the two "gelled" as fellow country kids, Parton recalled, "And then when Miley came along, I said, 'She's got to be my fairy goddaughter.'" As for her godparenting style, Parton explained, "I've told her some things that I think are valuable and that she uses, but I'd rather live an example. [I'd rather] be an example rather than just try to tell somebody to do this, do that because I don't think that's right. Everybody's different. You've got your own journey. And some people are going to help you along the way and they can kick a few rocks out of the road for you, but you got to walk it."