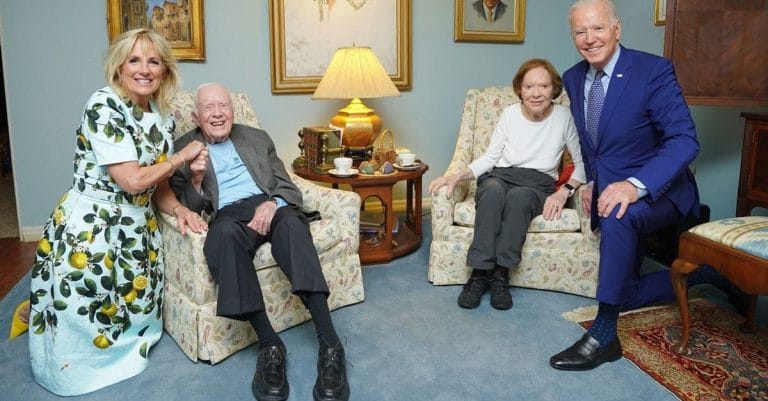 Presidential paths often cross one another, so it was no surprise the Carters would end up in a new picture with the Bidens. The photo, released by the Carter Center, gave people pause, but not for partisan debates.
Viewers actually wanted to know what was causing the shocking height difference between the 39th and 46th presidential couples. Presidents and first ladies swapped places and partners, so each Carter was seated and each Biden stood beside them. But even then, the ratios seemed off. Here's why.
The world reacts to the surprising height difference between Carters and Bidens
There. I fixed it. pic.twitter.com/dmjLiX3oXk

— 🌊 Deonardo La Vinci 🌊 (@DeonardoLeVinci) May 4, 2021
On May 3, the Carter Center featured a picture featuring the Carters and the Bidens posed together. The president and first lady had visited Jimmy and Rosalynn Carter in their Plains, Georgia home. Each Carter sat in a pale-colored armchair while a Biden knelt beside them.
Joe and Jill Biden this afternoon pic.twitter.com/tPngeKaB7V

— Mike Scollins (@mikescollins) May 4, 2021
RELATED: This Crazy Optical Illusion From The 1800s Can Reveal Your Age
Viewers quickly noted how shockingly tall the Carters looked compared to the Bidens. Even seated, the proportions looked off. Late Night with Seth Meyers writer Mike Scollins shared a picture from Honey I Shrunk the Kids with the caption "Joe and Jill Biden this afternoon." Katie Couric, former TODAY host and the first woman to host Jeopardy! shared the picture on Instagram and wrote, "The Carters look so tiny. That's all." Twitter user DeonardoLeVinci tapped into their (scrambled) artistic namesake and shared a picture with the Carters made especially bigger.
What's really going on
We're pleased to share this wonderful photo from the @POTUS and @FLOTUS visit to see the Carters in Plains, Ga.!

Thank you President and Mrs. Biden! pic.twitter.com/QcA33iUev4

— The Carter Center (@CarterCenter) May 4, 2021
Jonathan Alter, who penned a biography about Jimmy Carter, explained the optical illusion to The Washington Post. He explained the Carters "aren't tiny people, but they are in the medium-to-smaller size among presidents and first ladies." Specifically, Jimmy Carter stands at five-foot-ten while his wife is five-foot-five-inches. Meanwhile, the Bidens are the opposite: average-to-tall-leaning. Biden himself is just under six feet tall, while "the first lady is about half a foot shorter."
Additionally, angles and optics further distort the way the two couples look compared to one another. Senior TODAY studio photographer Nathan Congleton further outlined, "Wide-angle lenses get you closer to your subject and fit more of the scene into the frame, but in the frame, objects closest to you and on the outer edges begin to warp." Ultimately, the photographer didn't have a very wide frame to take the picture in, which makes group shots like this one difficult to keep from getting warped.