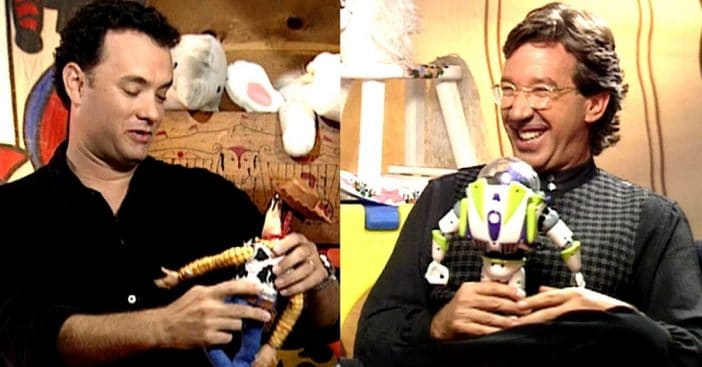 Ride like the wind, Bullseye, to infinity and beyond! The Toy Story movie series produced memorable characters, enduring quotes, and awe-inspiring feats in animation. Even the stars get to enjoy these marvels and now you can see Tom Hanks and Tim Allen become kids again with their Toy Story figures.
Tom Hanks lent his voice to Woody, the prized cowboy doll of young Andy. Woody was used to being the only sheriff in town until the shiny, advanced Buzz Lightyear, brave space ranger, flew in, voiced by Tim Allen.
'Toy Story' toys come to life with their figures presented to the actors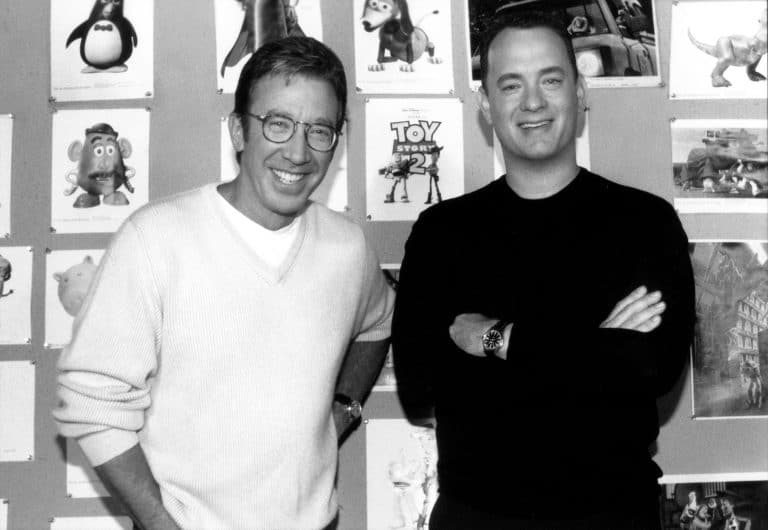 Entertainment Tonight shared a video from its vault. The video features Tom Hanks and Tim Allen enjoying some lighthearted meta with Toy Story figures of the characters they voiced. Because humans were watching, the toys didn't move in suspicious ways. But the duo certainly filled in the blanks themselves.
RELATED: Tom Hanks Takes The Hit For Son Chet In New Scandal
After voicing the sheriff and space ranger for a whole movie – and eventually, four whole installments – Hanks and Allen know their characters well – their strengths, quirks, and faults. That made them the most qualified to poke fun at all of those traits with each other, falling in and out of character, channeling their former roles and each others.
Spontaneous 'Toy Story 5,' sort of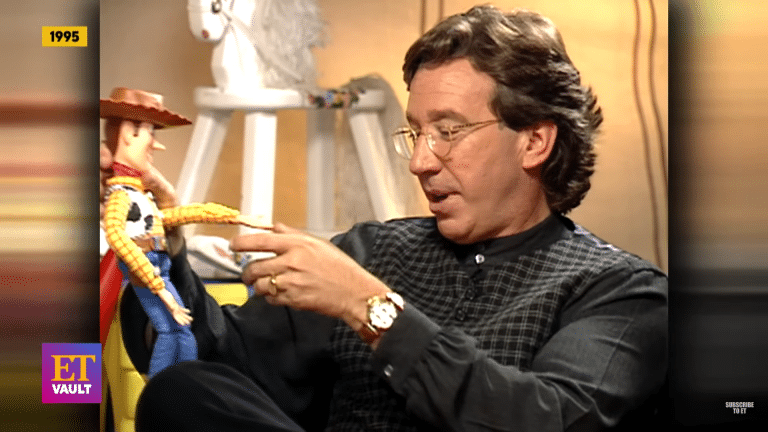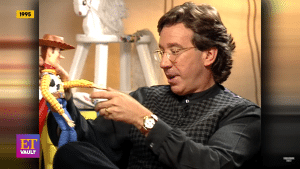 The reunion did not have Bo Peep, Etch-a-Sketch, Slink, or any of the other familiar members of Andy's toy collection. Indeed, when Entertainment Tonight conducted the fun-filled interview, some members of the group hadn't yet joined, such as Jessie and Bullseye. As of November 2020, the interview in question occurred 25 years ago; indeed, it marked the 25th anniversary of the very first film releasing in 1995.
The two wasted no time bringing the comedy. Noting Woody's floppy, lanky body, Tim Allen claimed, "The body of Woody was actually modeled after Tom Hank's body. So this is exactly what Tom Hanks looks like." With Buzz, Hanks simply said, "I won't even start with how this guy is built." Meanwhile, Allen mused profoundly, "This is a toy that comes out and tells us civilization is coming to an end. The apocalypse is upon us when this is a form of entertainment." He accentuated his claim by pressing buttons on Buzz's spacesuit. Then, they both celebrate the occasion by flat-out opening Buzz's helmet, an occasion that greatly alarmed the action figure at the start of Toy Story.
As the two gave movie-watchers of all ages, the duo feels glad for their involvement. Their gratitude extends to their ability to participate in something that grew so great and for the joy it granted their families. Tom Hanks' own 30-year-old daughter reportedly admitted to growing tearful upon seeing Woody at Disneyland. The costumed mascot showed that some part of Hanks would live on at the happiest place on earth for ages even whenever Hanks himself is gone. In this way, these two stars really do have a legacy that goes to infinity and beyond.