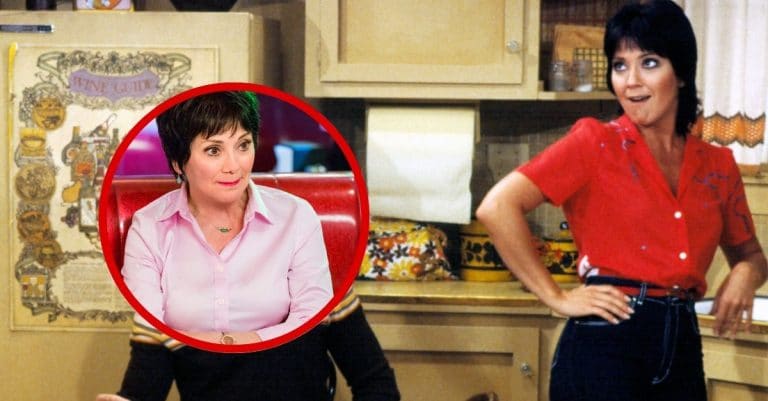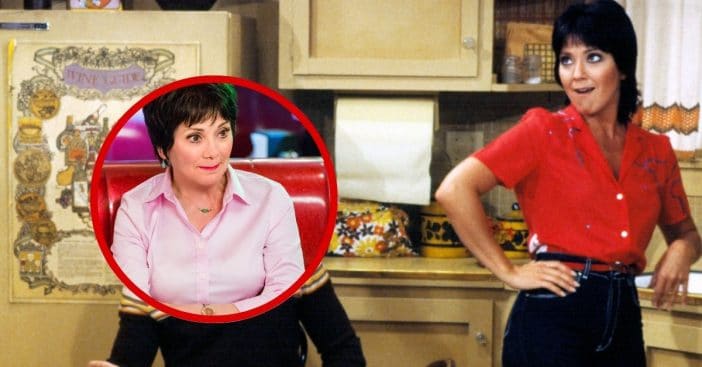 UPDATED 12/14/2021
Come and knock on their door. Why hello there, It's Janet Wood! After all, ABC provided the perfect invitation to do so with Three's Company, the door in question belonging to the roommates of apartment 201. And among that trio was the reliable Janet Wood, played by Joyce DeWitt on the 1977 to 1984 beloved sitcom. But what did she do before and after leaving the security of this wildly popular show?
Born April 23, 1949 in West Virginia, Joyce DeWitt called Speedway, Indiana home, a fact she'd eventually have in common with the Janet character years later. Even by the time she was in high school, Joyce exhibited a quick wit and charisma through her participation in speech and debate activities. She received a bachelor's degree in theater from Ball State University, and then, after moving to California, a master's degree from the University of California, which she graduated from in 1974. Her filmography began in the mid '70s with episodes of Baretta and Most Wanted, before she landed her most famous role.
Joining the cast of 'Three's Company' as Janet Wood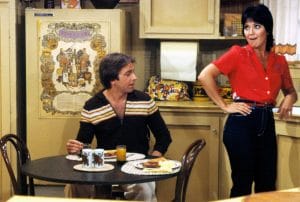 Joyce DeWitt began rooming with Suzanne Somers and John Ritter in Three's Company starting in 1977. Janet, a character with an eye for pretty things, started things as an aspiring dancer, but ended up creating a career for herself as a florist. She was the perfect straight-man to Jack's eccentricity and the Indiana native brought a calming influence to the chaotic apartment. And, yes, her Italian background came from DeWitt herself.
RELATED: Catching Up With The Cast Of 'Three's Company' Then And Now 2021
DeWitt, like Ritter and Somers, approached the show and the fame that accompanied it, in a very distinct way. Chris Mann, author of Come and Knock on Our Door: A Hers and Hers and His Guide to Three's Company, explains, "John had done The Waltons for four years. He was a face that was popping up on all the MTM shows like Rhoda, Newhart and The Mary Tyler Moore Show. So he was a face people were pretty familiar with, but because he grew up in showbiz with his dad, Tex Ritter, being this huge Western star, he was instilled with these sort of heartland values and took everything in stride."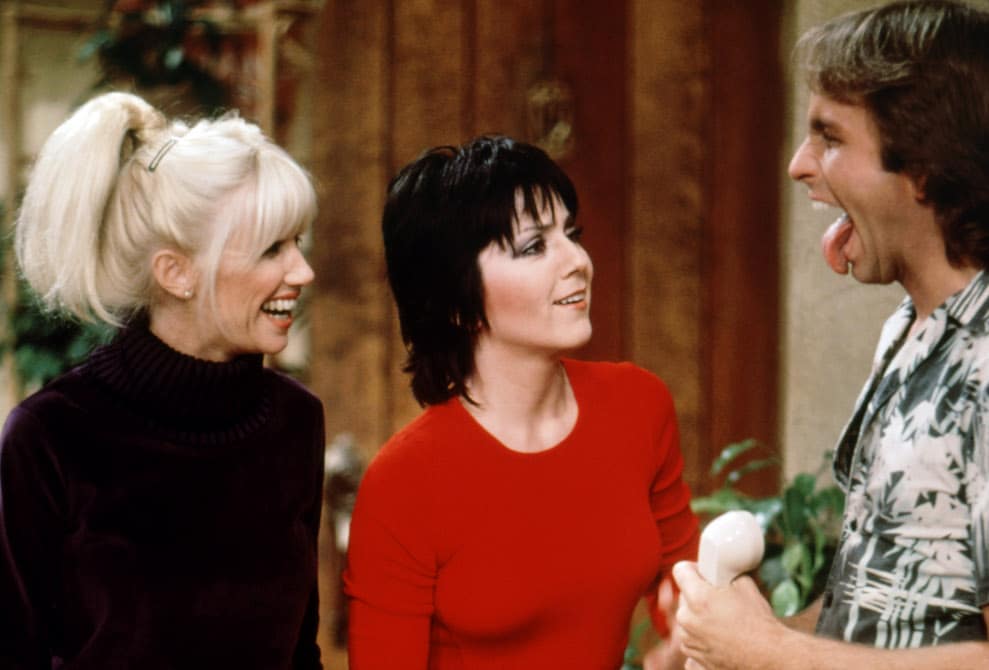 Somers, he notes, was business savvy and, having grown up poor at times and, as a single mother, approached the show as "Suzanne, Inc.," which worked to her benefit. In the beginning. "But contractually John Ritter was the star and the show was designed around him," Mann points out. "Suzanne broke out as Chrissy, but the show was always going to be about a guy and two girls. And that created some tension when the media started to portray it more like Suzanne was the star."
And then there was DeWitt, who, Chris emphasizes, "was a theater actor. She, I don't think, was prepared for the machinations of Hollywood at all. I don't think she was ready for the publicity machine either, and she pulled back when she decided not to put herself out there. It was not an easy experience for her. So those were the three reactions. On the one hand, you had John; on the other, you had Suzanne either cultivating celebrity or adjusting to it, and then you had Joyce in the middle, having a lot of conflict about how to navigate."
"Joyce," he elaborates, "wanted to be known as an actor and not a celebrity, and a lot of that feeling grew out of a Newsweek cover story. Suzanne had her own photo shoot before or after the shoot of the trio, which John and Joyce were very uncomfortable with, having Suzanne being featured. Apparently one of those shots was superimposed over the image that Newsweek had of the three of them, and that created a lot of tension behind the scenes. It also further conflicted Joyce about doing publicity, because she felt lied to."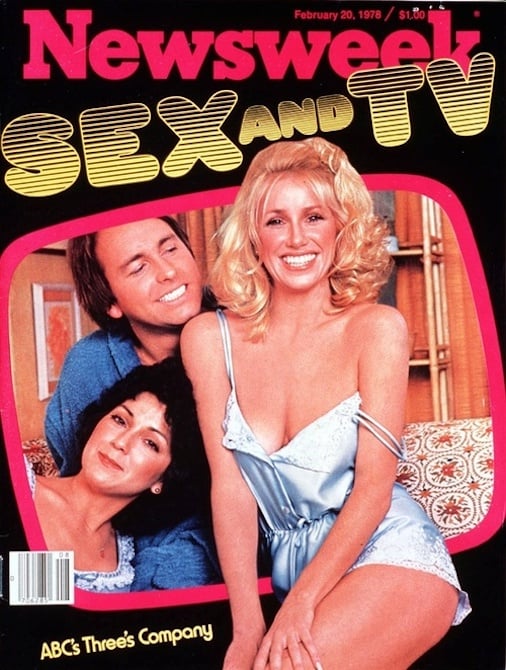 The cast experienced a bit of a falling out when Suzanne Somers disputed her pay due to her belief that she was a primary reason viewers were tuning in. This would result in her departing the show, leaving the former cast fractured, though, thankfully, they reconciled on Somers' online series Breaking Through.
What does Joyce DeWitt do now?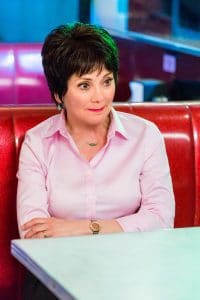 During the show's runtime, DeWitt refused to be shown bare-legged. Though producers protested, she held her ground, which proved rather beneficial since she later earned an endorsement deal with L'eggs brand pantyhose. Following the show, she more or less stepped away from acting, traveled the world and settled for a time in New Mexico. Dipping back into the world of acting, she made guest appearances on such series as Cybill, Living Single, Twitch City and Hope Island, as well as the feature films Call of the Wild (2009), Failing Better Now (2010), The Great Fight (2011), Snapshot (2014), Rock Story (2015) and The Savant (2018). In between all of that, there have been multiple stage appearances.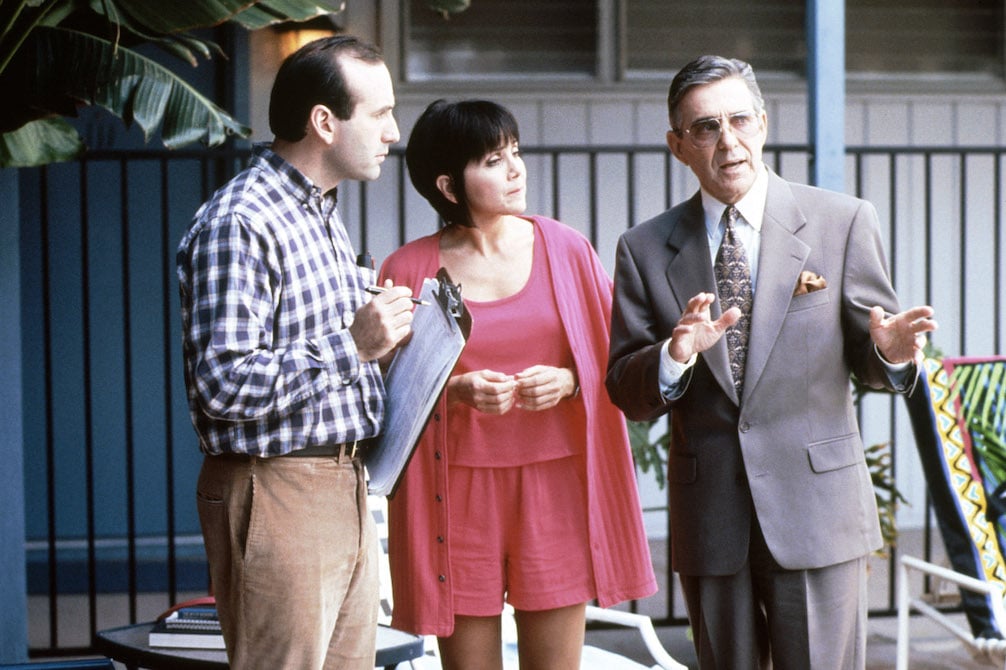 In her private life, in 2009 DeWitt was arrested for drunken driving in California. Today, at the age of 72, she lends her efforts to charities helping the homeless and hungry. But through everything, it is undoubtedly Three's Company for which she will be most remembered. As to her own feelings about it, Mann, who interviewed all three actors for his book, comments, "My overall impression is that John was very grateful for the opportunity and overall looked back at it fondly. Suzanne, I think, looked back with some resentment, because she felt she brought the show to number one, and was terribly mistreated at the end.
"And Joyce," he closes, "looked back with mixed feelings that this was a very special experience that left her broken-hearted." Enjoy our cast rewind and get reacquainted with Janet Wood and all the Three's Company characters!
For more of these throwback videos, check out our YouTube Channel!