Not all soap opera drama occurs in hospitals. Some take place between feuding families in a bid for power over oil possession. Dynasty brought this specific type of drama and part of its success stems directly from the cast itself, including Alexis Colby, played by Joan Collins. But what's happening with the esteemed actress today?
Though famous today, Dynasty had a bumpy start throughout season one. But it can thank season two – and Joan Collins for helping it rank at #5 across all networks soon thereafter. Collins got a powerful start to her acting career first in her native England then in America's Hollywood thanks to Howard Hawk's Land of the Pharaohs. Actress and film enjoyed such success that 20th Century Fox recruited her for more big roles like in The Bravados (1958). This trend continued even as she started pursuing television roles.
Joan Collins cements a dynasty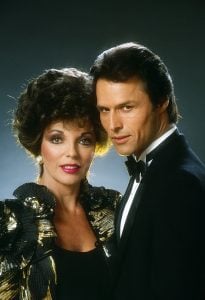 In Dynasty, Joan Collins played Alexis Colby, the vengeful ex-wife of Blake Carrington. Thanks to Collins' own skill and the character herself, Dynasty could change things up and add a new element to the drama. In this role, Collins wowed audiences and her castmates. Al Corley outright felt she "just flew" naturally in the role, which Corley considered "tailor-made…just spot on."
RELATED: The Cast Of 'Dynasty' Then And Now 2020
As if that wasn't enough, Collins didn't focus solely on Dynasty while part of the cast. In fact, she worke don other projects while filming the soap opera. Most include movies and TV movies like Nutcracker (1982) and Paper Dolls. But Collins also worked on other television shows and series. That allowed her to appear on The Love Boat. She also enjoyed the role of co-host on an ABC feature literally made for her: Blondes vs. Brunettes.
What age is Joan Collins?
Born on May 23, 1933, Joan Collins turned 87 this summer. At this age, she's still working! From the '90s and well into the 2000s, she's been in numerous titles, including Guiding Light, The Royals, and even American Horror Story. Her pre-production film Unforgettable sees her acting alongside Tippi Hedren, making for a bombshell duo.
The 2020 coronavirus pandemic inspired Joans to share some of her views on the situation. She addressed what she saw as "ageist" rhetoric by the UK government, calling those over 70 "part of the vulnerable." She seemed to find it dismissive of their abilities and endurance. Ultimately, Collins opposed "bolstering the existing belief among the general public that the old should keep out of everyone's way."