Its description as being about stories and the people who drive them just brushes the surface of what made Fried Green Tomatoes such a unique hit. Through it all, a stellar cast kept the engaging momentum going from start to finish with nuanced acting and believable dynamics. One key player was Mary Stuart Masterson, who played Imogene "Idgie" Threadgoode. Where did she go after participating in this '90s hit?
Born on June 28, 1966, Mary Stuart Masterson comes from a family of entertainment talents. So, that gave her a great background to carry so much of this 1991 movie in such an important role. Masterson cultivated her own talent early on thanks to this background, performing alongside her dad in The Stepford Wives at the age of nine. In upstate New York, she crossed paths with none other than Iron Man himself, Tony Stark — or, rather, Robert Downy Jr. — and Two and a Half Men's Jon Cryer. Prepare for a cast reunion shortly.
A story of success
In 1989, she and RDJ crossed paths again in the romantic comedy Chances Are. Two years later proved especially rewarding for Masterson when she played the lil bit bee charmer herself, Imogene "Idgie" Threadgoode. As part of the cast of Fried Green Tomatoes, Masterson won praise from Pulitzer Prize-winning critic Roger Ebert. Ebert actually claimed he'd already been a fan of Mary Stuart Masterson to begin with. She won a lot of people over, especially with her Idgie-inspired bravery; the scene with the bees? Entirely real. The stunt double backed out, so Masterson let herself get covered in bees.
RELATED: The Cast Of 'Fried Green Tomatoes' Then And Now 2020
Masterson and Jessica Tandy drew a lot of praise for their performances in Fried Green Tomatoes. In total, the film earned two Oscar nominations — one for Tandy for Best Supporting Actress and the other in the category of Best Adapted Screenplay — and won at the BMI and GLAAD Media Awards. Soon after, Masterson found herself continuing to be cast in big roles alongside big stars,  because she herself had become one. A career highlight came soon after Fried Green Tomatoes in the form of Benny & Joon (1993) alongside Johnny Depp.
What is Mary Stuart Masterson doing today?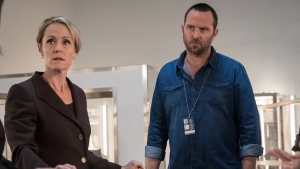 The 2000s marked a shift to television for Masterson and along with it came a branching out in new directions, like directing.  But she stayed involved with acting quite a bit. Crime drama fans may recognize her from season two of Blindspot as FBI director Eleanor Hirst. Additionally, she had recurring roles in Law & Order: Special Victims Unit, Waterfront, Mercy and NCIS, and had starring roles in the series Kate Brasher as well as the current For Life.  In 2003, she earned more awards in the form of a Tony for Broadway's Nine: The Musical.
Indulge in any literature and you'll hear her voice narrating the book, as she has been heavily involved with audiobooks. In her personal life, Mary Stuart Masterson divorced twice, married thrice and became the mother of three children. Expect to see Idgie on screen again in a Fried Green Tomatoes show, but this time, Reba McEntire plays Masterson's present-day bee charmer. Will you watch it?