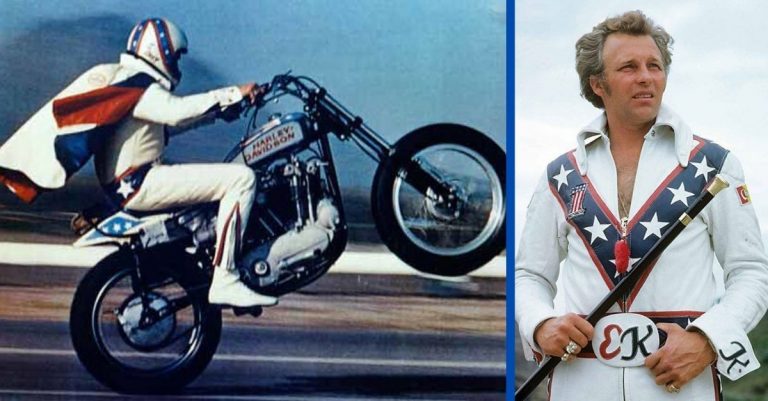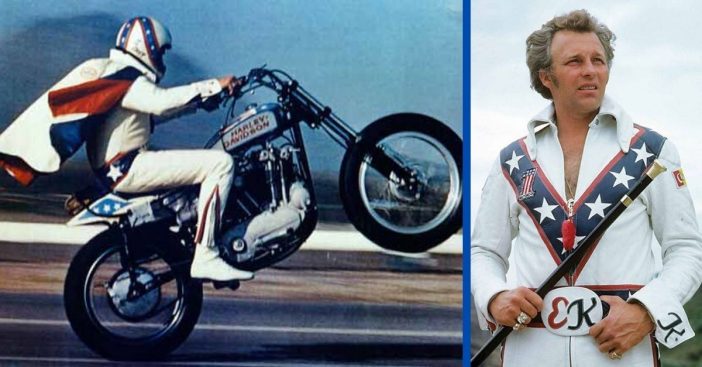 UPDATED 10/27/2021
Evel Knievel has become somewhat of a legendary figure for his death-defying stunts. In the '60s and '70s, he captured the public eye, performing one crazy feat after another. But of course, Evel Knievel didn't start off with his famous name and status. He was born Robert Craig Knievel in 1938 in Butte, Montana.
In the '50s Knievel served some jail time for recklessly driving his motorcycle. In the jail cell next to Knievel was a man named William Knofel, who one jailor referred to as "Awful Knofel." Upon Knievel's arrival, he was given a nickname to match: "Evil Knievel." Knievel apparently loved the name. Years later he would legally change his name to "Evel Knievel" altering the spelling so he wouldn't be thought of as evil. Thus the iconic name was born.
Early Life
Of course, Knievel lived a long life before becoming a famous stuntman. At the age of eight, he attended a Joie Chitwood Auto Daredevil Show. Much later in life, he credited this as his inspiration for his daredevil career. But before this Knievel worked in many different fields. He served a stint in the Army and, after his return, married Linda Bork. In 1960 their first child Kelly was born.
RELATED: Evel Knievel And The World's Greatest Retro Daredevils 
From there Knieval had many different professions over the years in an attempt to provide for his family. He worked in the copper mines with the Anaconda Mining Company, started a hunting-outfitting service called Sure-Kill, and sold insurance for the Combined Insurance Company of America. Eventually, Knievel moved his family to Moses Lake, Washington, where he opened a Honda motorcycle dealership and promoted racing. When his dealership eventually closed, Knievel went to work for Don Pomeroy at his motorcycle shop in Sunnyside, Washington. During this time a well-known motorcycle racer named Jim Pomeroy taught Knievel to do a "wheelie" and ride standing on the seat of his bike.
Daredevil Career
In 1965 Knievel decided to perform his first public stunt in Moses Lake. He jumped a 20-foot-long box of rattlesnakes and two mountain lions on his motorcycle and managed to land safely. After this Knievel found a sponsor named Bob Blair, owner of ZDS Motors, Inc. in the hopes of making some real money. Blair offered to provide motorcycles for the stunts but wanted the name changed from Knievel and His Motorcycle Daredevils Thrill Show to Evil Knievel and His Motorcycle Daredevils. Knievel agreed, with the exception of the spelling change to Evel.
Knievel's daredevil show eventually broke up and he began to travel as a solo act. Instead of jumping animals or pools of water like most stuntmen were, Knievel began jumping cars. He soon became famous, making more money and getting more recognition than ever before.
Famous Stunts And Injuries
Over the years Knievel became known for dozens of grand motorcycle jumps. But it wasn't just his successful jumps that gained him fame. Knievel also became known for narrowly avoiding death. In 1967 Knievel decided to jump the fountains at Caesar's Palace. He managed the feat, but the landing was a disaster. The handlebars were ripped out of Knievel's hands and he crashed onto the pavement, suffering a crushed pelvis and femur, fractures to his hip, wrist, and both ankles, and a concussion that kept him in a coma for 29 days.
Knievel got back up, one injury after another. When he was not allowed to jump the Grand Canyon, he opted to jump the Snake River Canyon instead. He narrowly avoided landing in the river and drowning. Despite the broken bones and near-death experiences, Knievel survived each stunt and showed fearlessness and determination to do the jumps he had promised. He died in 2007 at the age of 69, after suffering from diabetes and idiopathic pulmonary fibrosis for many years, but we'll always remember him as an American icon. Check out the video below to watch Evel Knievel's jump at Caesar's Palace.