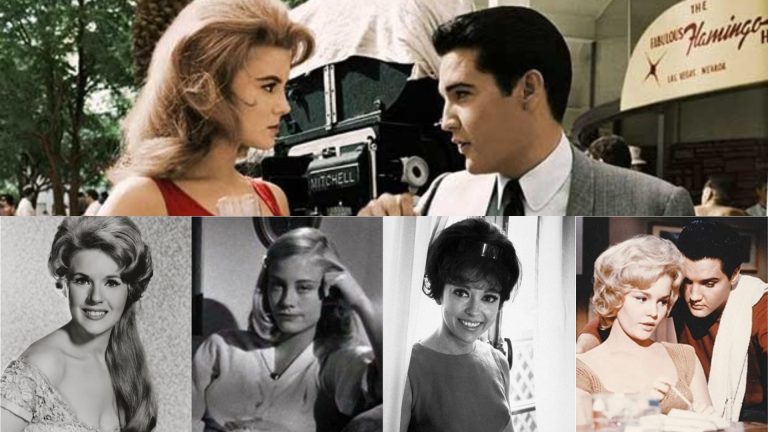 *FAQs at the bottom of article*
UPDATED 3/8/2023
Women couldn't help falling in love with Elvis and Elvis … well, he couldn't help falling in love with them…  even if they were married. And if wise men say that only fools rush in, then Elvis Presley made fools of us all, because who couldn't help falling in love with the king of Rock 'n Roll? With his jet black hair, swaying hips, and sultry croon, Elvis was the biggest sex symbol in the world for more than two decades.
In the introduction of her book, Baby, Let's Play House: Elvis Presley and the Women Who Loved Him, biographer Alanna Nash observes, "No matter if he were young and thin, a vision in gold lamé, or middle-aged and paunch, stretching the physical limits of his gabardine jumpsuit, Elvis Presley never failed to affect his female audiences the same way: He drove them crazy. The mere sight and sound of him made women around the world drop all inhibitions, and to publicly behave as they never would otherwise, giving in to screams, fainting and wild exhibitions of frenzy."
The ladies found him irresistible and he struggled to resist them, too. Over the course of his tragically short life and career, Elvis dated numerous women, including some of the biggest names in Hollywood, but he married only once — to Priscilla Ann Presley — and even that had a limited shelf life.
Noted Alana in developing the idea for her book, "I thought of the millions of women who had loved him from afar, the hundreds who had physically known that embrace, and how he had died alone at home on the bathroom floor, a woman sleeping in his bed as the life ebbed out of him at the age of 42. How could Elvis Presley, one of the most romantic icons of his time, never have enjoyed a long-lasting, meaningful relationship with a woman? … The answer, of course, is that it was simply easier for a man as complex as Elvis to have a relationship with the masses, who asked nothing of him and provided unconditional positive regard."
What follows is a look at 10 of the women he was in a relationship with at one time or another, who represent only a small number of the total he had gotten involved with over the years.
1 of 10. Priscilla Presley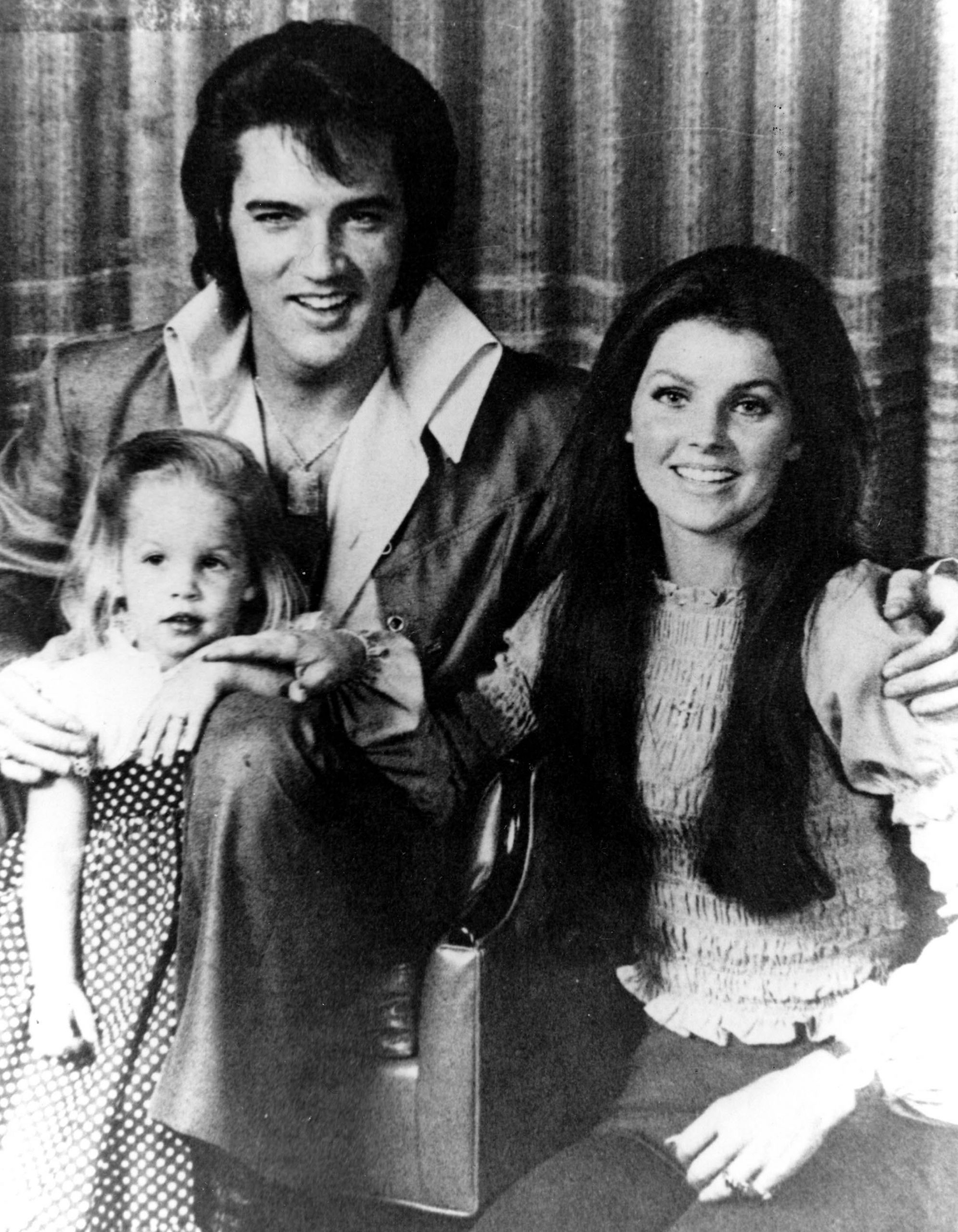 Elvis was only formally tied down to one person, his wife Priscilla Presley. The two met in Germany in 1959 when the world-famous rock star was 24 and Priscilla was a startlingly young 14. Elvis was immediately enamored by the youthful beauty, and the couple began dating despite the understandable objections of her parents. The relationship lasted after Elvis left Germany, and Priscilla moved into the King's Graceland complex in Memphis when she was 17. Despite Elvis' numerous infidelities during this period, the two made it official and tied the knot in 1967. While Priscilla was still a virgin on their wedding night, she wrote in her autobiography that the couple did "everything else" starting when she was only 14 years old. Which, you know … gross. And very illegal.
Elvis and Priscilla's Complicated Marriage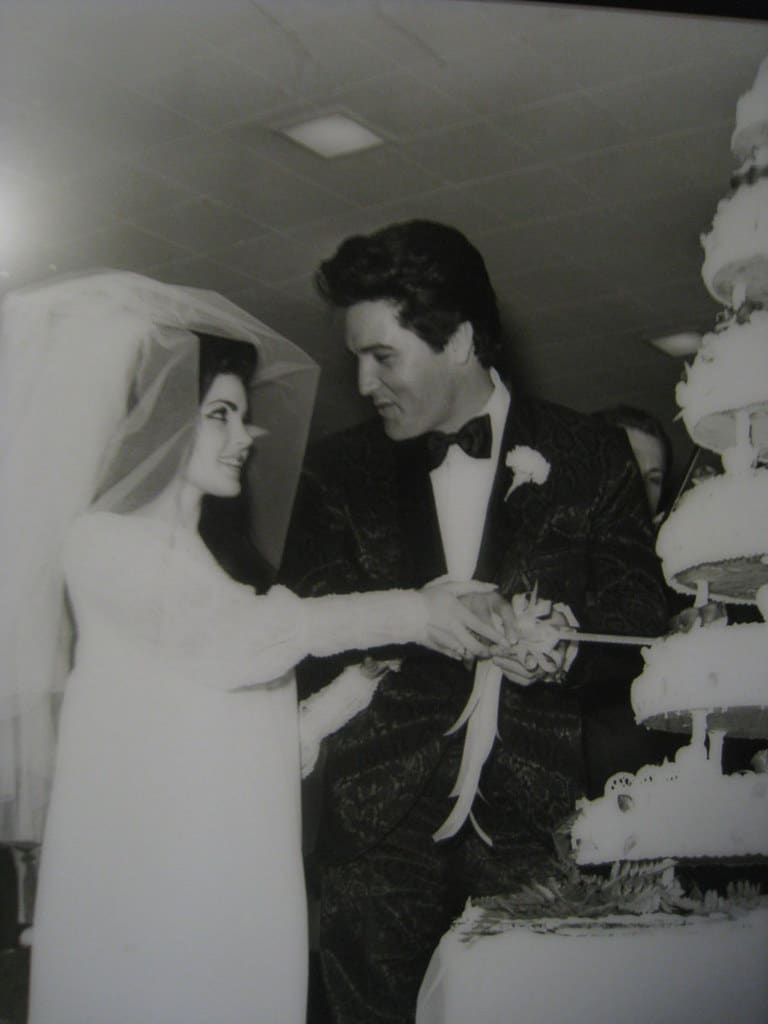 Despite the sordid start to their relationship, the first years of their marriage were happy, and the couple's only child, Lisa Marie Presley, was born in 1968. Elvis' constant touring, drug use, and affairs by both parties — though, to be fair, Priscilla's came about in response to Elvis' numerous dalliances — ultimately led to the relationship breaking down and the couple divorcing in 1974.
In many ways, their breakup was essentially inevitable, with Alanna observing, "One week after he and Priscilla tied the knot … already Elvis knew his marriage had been a mistake — that he and Priscilla had never truly been compatible, and that they had tragically outgrown their dreams. He had fallen for a 14-year-old girl, and she, as an 11-year-old, for the flickering image of a bad boy dancing suggestively on TV. Neither of them was the same person now. They had married ghosts."
2 of 10. Gael Greene

Born December 22, 1933, Gael Greene is a restaurant critic, author and novelist, who, in 1968, became the restaurant critic for New York magazine. She's written a pair of erotic novels, a number of books, including Delicious Sex, Sex and the College Girl, Bite: A New York Restaurant Strategy for Hedonics, Masochists, Selective Penny Pinchers and the Upwardly mobile; and her memoir, Insatiable: Tales from a Life of Delicious Excess, which includes revelations about famous affairs she had, including with Elvis.
Gael helped usher in America's obsession with culinary culture, even coining the term "foodie" in the early 80's. But in 1956, she was just a 21-year-old reporter trying to get an interview with the king of rock 'n' roll. She had written to Elvis' manager, Colonel Parker, asking for a meeting, and after a press conference for the new film Blue Hawaii, she was invited up to his hotel room. As Elvis grabbed her hand and led her to the bedroom, Gael remembers being excited. "Oh my God," she thought, "this is Elvis. I'm about to do it with Elvis!" As befits America's future food critic queen, Greene's most vivid memory of their encounter was that after sex she described as "certainly good enough," Elvis asked her to order him a fried egg sandwich and promptly fell asleep.
In an interview with 27east.com, she elaborated a bit, "I was a huge, mad Elvis fan. I dreamed I would have sex with Elvis. He invited me to come back between shows to 'have a Coke and read the funny papers.' I didn't do this to get a story, I did this because it was my wildest dreams."
3 of 10. Peggy Lipton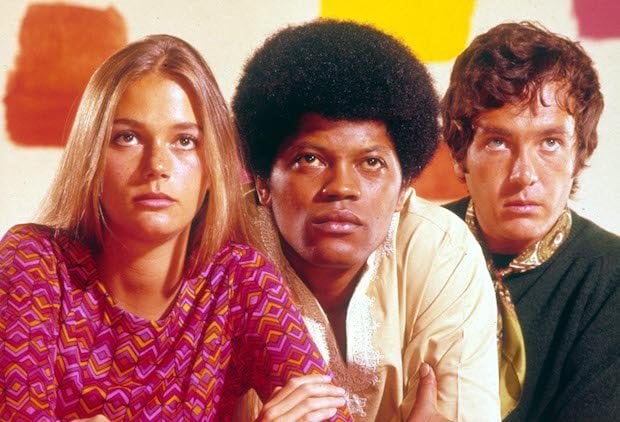 Hippie icon Peggy Lipton (born Margaret Ann "Peggy" Lipton on August 30, 1946) was starring in ABC's The Mod Squad when she came to Elvis' attention and they briefly dated.  The relationship started off hot and heavy, with Lipton stating that Elvis "kissed like a god" — apparently the king of rock "n" roll was also the king of smooching!
In her memoir Breathing Out, Peggy wrote of their time together, "He took me away on his plane and brought me up to Tahoe, I believe. We tried to go to bed right away. There was nothing to talk about with Elvis. He was either doing his karate thing or eating. There was really no dialogue there, so we went to bed right away and it just didn't happen for him. We tried a few more times and nothing ever happened, so I just let it go. He didn't feel like a man next to me, but more like a boy who'd never matured.
For Elvis, It Was Karate … Or Food!
She attributed Elvis' impotency with her to his rampant drug and alcohol abuse. Stuck between a rock and a not-so-hard place, the relationship broke down and the couple quickly split up.  Remember kids, just say no to drugs!
And for her part, before her death, Peggy reflected more charitably of him, "It wasn't the most important thing to say that I had really done something with Elvis. I kind of was interested in his heart and his soul. He was very persistent in getting to know me, which I found interesting, so I saw him a number of times. But I did like him as a person. I thought he was kind of a beautiful person."
4 of 10. Ann-Margret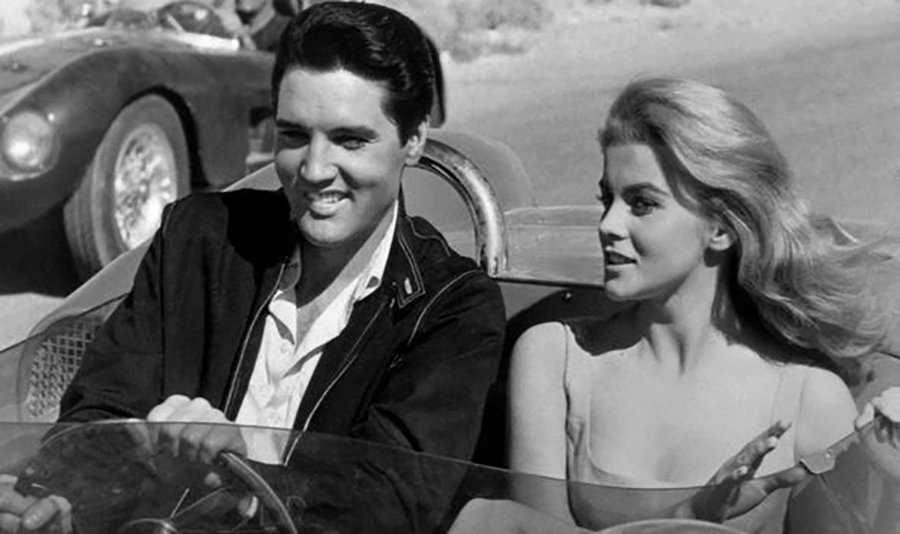 Sometimes the on-screen chemistry between a couple is so fantastic that you start to suspect that they might not be acting at all, but might, instead, be living out their real-life romance on film. This was exactly the case with Elvis and his Viva Las Vegas co-star, Ann-Margret.
When Elvis first met the young star of Bye Bye Birdie — who was born Ann-Margret Olsson on April 28, 1941 —he was blown away by her overwhelming charisma. When Elvis asked his bodyguard what he thought made his young co-star so special, he replied, "She's the female you." The two soon began what Ann called "a very strong, intense relationship." It must have been, because it lasted for the better part of two years. The couple took long romantic motorcycle rides around Los Angeles, and Elvis famously bought her a round, pink bed for the two to use … to sleep, of course.
Reel Wedding That Could Never Be Real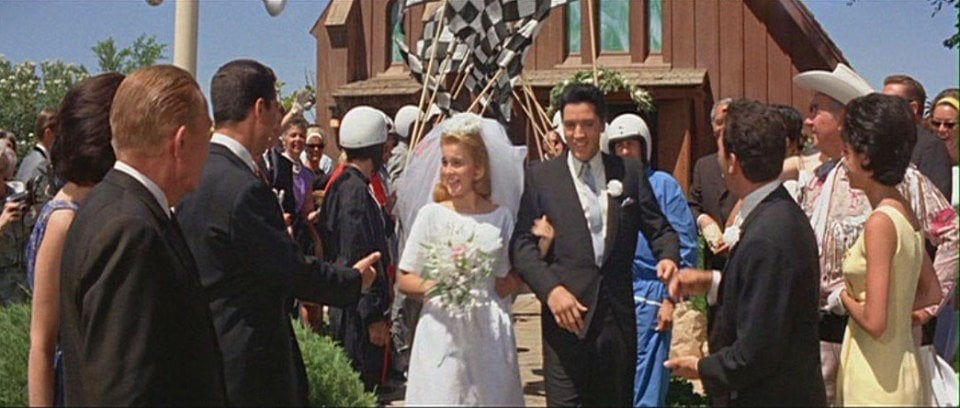 At the same time, Elvis had a young fiancée back home in Memphis, who was not happy when news of the affair was published in the tabloids. Comments Elvis.comAustralia, "The one, who for obvious reasons, feared the couple's hot romance more than anyone else was Priscilla Ann Beaulieu, then a schoolgirl who had just turned 18, who lived 'secretly' at Graceland, who had just left high-school. Ann-Margret was the opposite of Priscilla. She sparkled. She could dance, she could sing, she could be sexy, but also shy and family loving. You could joke with her and she joked back. A hot and gorgeous thing with pizazz, she was both smart and humble. And she rode a bike! No wonder Elvis fell for her."
Ann Finds Her Soulmate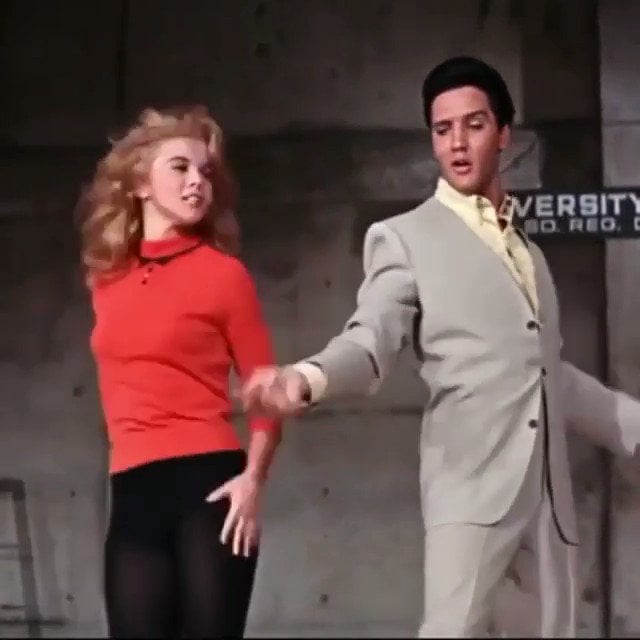 In her autobiography My Story, Ann writes that "We were quiet, polite and careful. But I knew what was going to happen once we got to know each other. Elvis did, too. We both felt a current that went straight through us. It would become a force we couldn't control … It was like discovering a long-lost relative, a soulmate. Shy on the outside, but unbridled within … In many ways, both of us, despite fame and whatever else we'd achieved so quickly, had remained very childlike and emotionally dependent. We wanted to find that same non-judgmental, unqualified love that our parents gave us … He had touched something deep within my psyche."
Things Had To Come To An End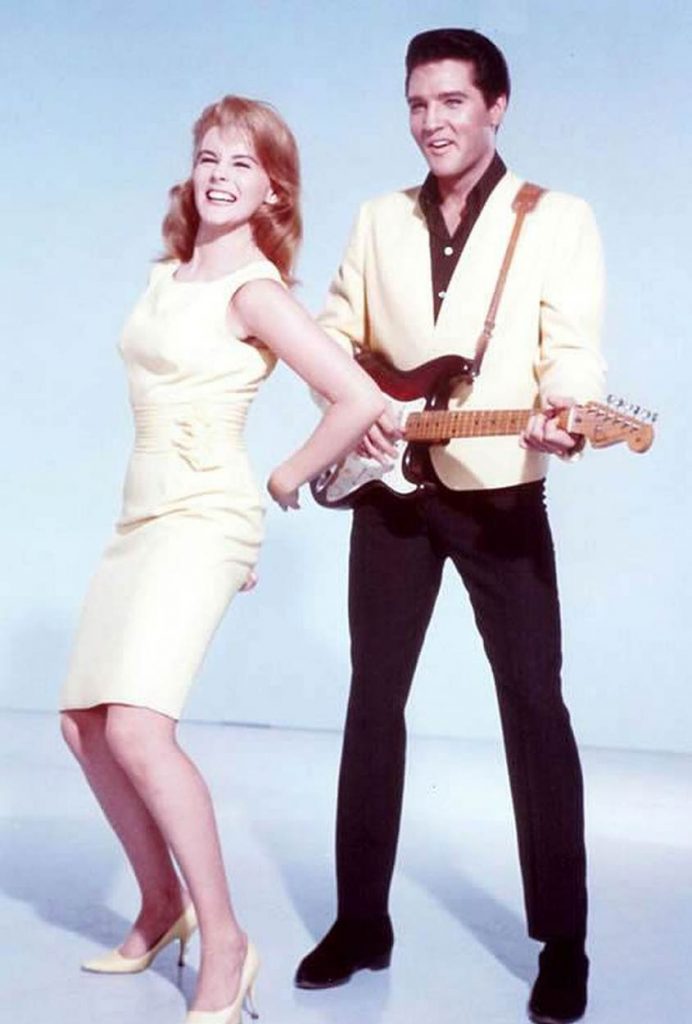 Priscilla confronted him about Ann-Margret, particularly after the media reported them sneaking off together between takes on Viva Las Vegas. Elvis insisted there was nothing to it, but then Ann gave a syndicated interview to UPI stating that she was in love with Elvis, though she wasn't sure they would marry. In her own memoir, Priscilla wrote about her anger over the situation, to which Elvis responded with, "I didn't know this was going to get out of hand. I want a woman who's going to understand that things like this just happen. Are you going to be her or not?"
Friends Until the End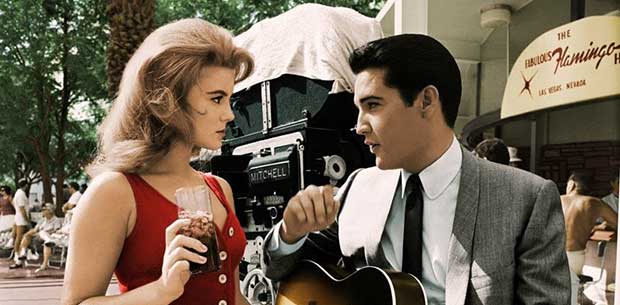 One story is that, because of Priscilla and pressure from her father, Colonel Parker and his own father, Vernon, to marry Priscilla as she was about to turn 21, he cut off all further communication with Ann-Margret (though they would end up seeing each other as friends over the years). Eventually, Ann came to grips with it and assumed an understanding that she was likely too independent for what Elvis demanded in a wife. She summed up in her autobiography, "Both of us knew that no matter how much we loved each other, we weren't going to last."
5 of 10. Rita Moreno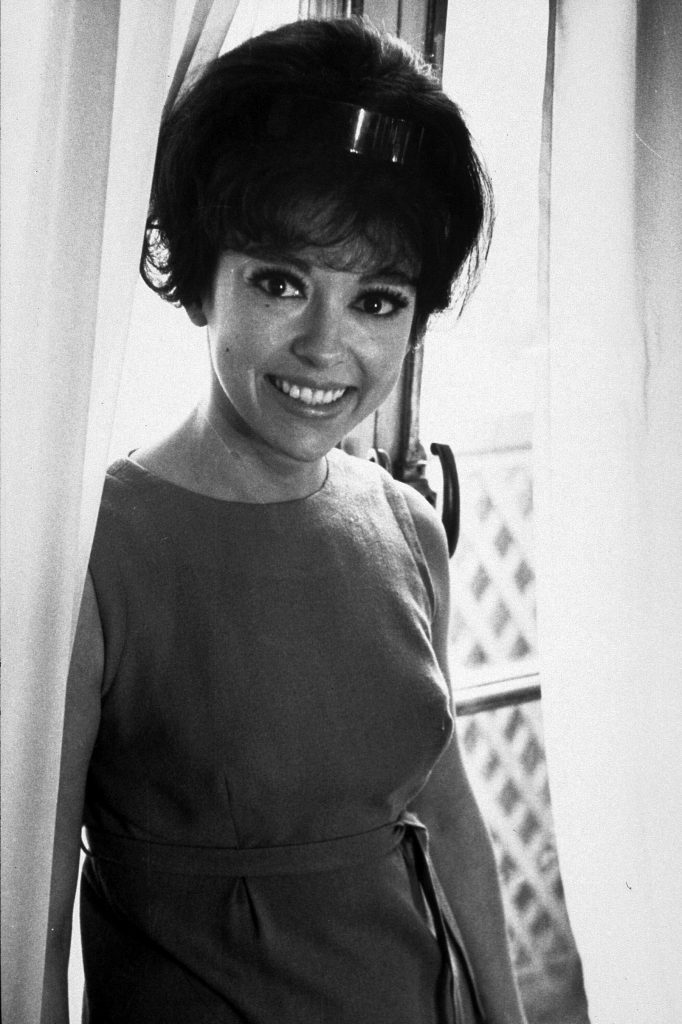 How do you make superstar sex-symbol Marlon Brando jealous? Start dating the King of rock and roll, of course! In the late 1950s, the sultry Rita Moreno was one of Hollywood's biggest stars and very publicly involved in a tumultuous eight-year relationship with Marlon Brando. After finding lingerie that wasn't hers at Brando's house, a heartbroken Rita went home to find a message from Elvis requesting a date. She readily agreed, because, as she said, "I knew no one could possibly make Marlon Brando more jealous."
Brando He Wasn't!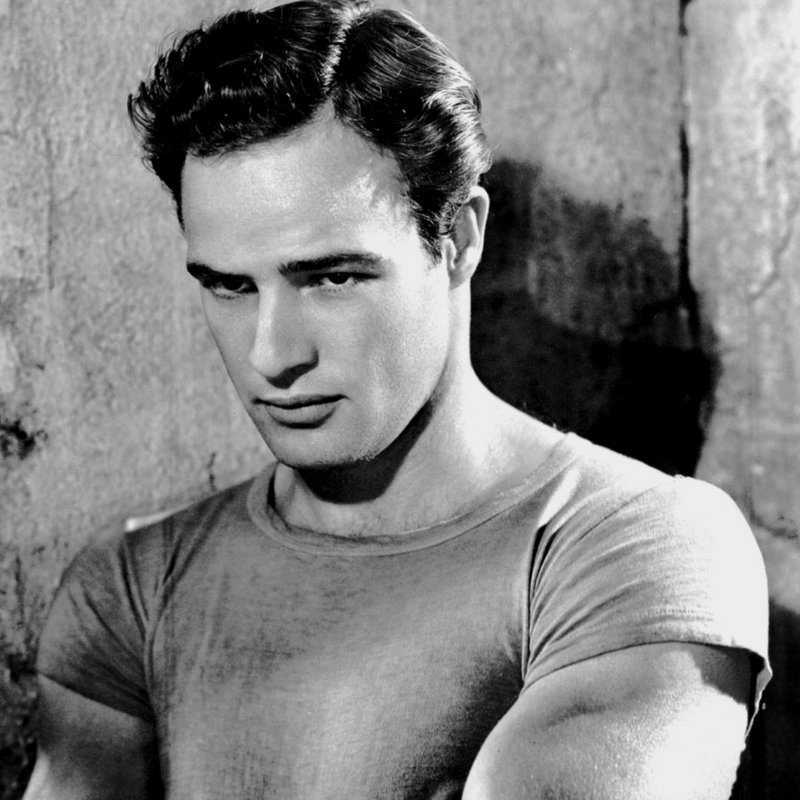 Born Rose Dolores Alverio Marcano on December 11, 1931, and with early credits including Singin' in the Rain (1952), The King and I (1956), and West Side Story (1961), Rita dated Elvis for some time, but the sexual chemistry just wasn't there and the relationship fizzled.  Left sexually frustrated by Elvis' pelvis? After watching his gyrations on TV, it would seem that millions of women in the '50s and '60s could relate. In her memoir, Moreno wrote, "Whatever put the brakes on that famous pelvis, it ground to a halt at a certain point and that was it."
'Amateur Night'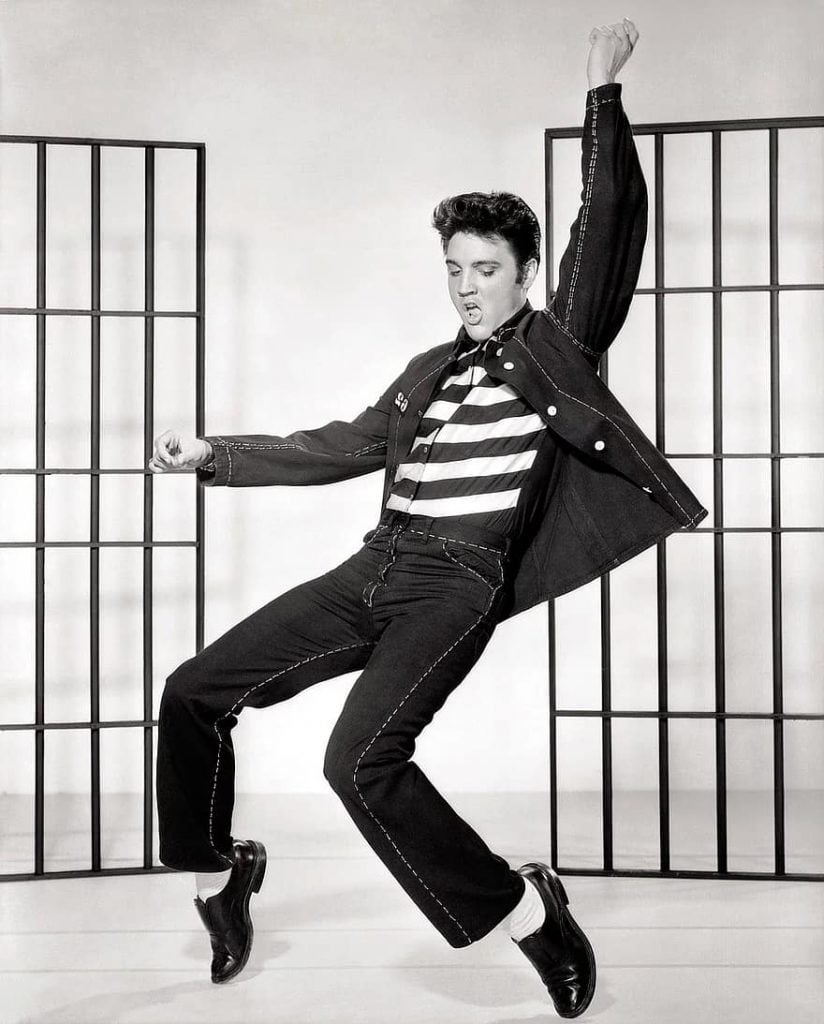 In an interview on The Wendy Williams Show she added on comparing Elvis to Brando, "Oh, honey, that's like a 2-year-old and the king. Elvis was really a sweet fellow. He was very shy, a handsome boy, but, you know, Elvis Presley and Marlon Brando? C'mon! Amateur night."
6 of 10. Cybill Shepherd
Turns out being a famous sex symbol doesn't automatically make you a perfect lover. Everybody has room to learn and grow, and in Cybill Shepherd (a beauty pageant winner who had scored on the big screen in 1971's The Last Picture Show), Elvis found a willing teacher. In the early '70s, Shepherd was embarking on a fantastic career when she received a call that could have changed her life — it was Elvis, and he wanted a date. The two soon began a relationship, with Cybill describing the King as wonderful, sexy, and incredible.
But, writes Alanna Nash, "Just as Elvis and Priscilla had fallen in love with myths, he and Cybill were attracted to each other for all the wrong reasons. He was entranced with a celluloid image that reminded him of his youth, and she had grown up in Memphis hoping to catch sight of the hometown boy who became a God. If Cybill had been interested enough in Elvis, Linda Thompson [more on her later] might never been anything but a two-night date."
Lover With Limitations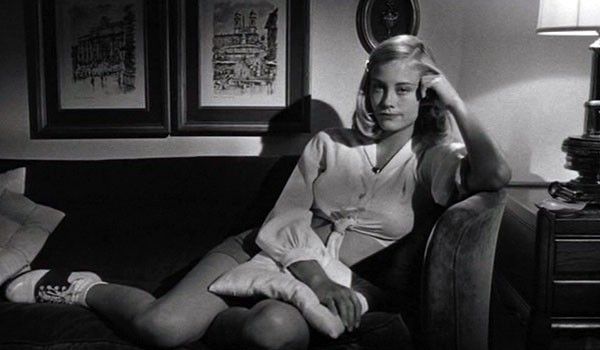 Besides the control he had tried to wield over her — which, as it turns out, was a major turn-off to Cybill — one of the big problems between them was in the bedroom. Elvis wasn't the greatest lover ever, and had to be coached by her. Without going into specifics, the Elvis chapter in Cybill Shepherd's autobiography (Cybill Disobedience) is entitled "White Men Can't Eat," so leave the rest up to your imagination. Eventually, Elvis' drug-use and partying became too much to handle and the couple split up. But Elvis' future lovers certainly had a lot to thank Shepherd for! As she writes, "Let's put it this way: I think before I met him he was [sexually] conservative, trapped in a stupid macho thing."
7 of 10. Connie Stevens
In the same way that women would look at Elvis on TV and develop feelings for him, Elvis would watch actress Connie Stevens on the detective series Hawaiian Eye and develop a desire to meet her. And as it worked out, during the filming of Kid Galahad, he and Connie dated. While speaking to talk show host Larry King, Connie reflected on her relationship with Elvis: "He made me very comfortable and he loved my voice, the sound of my voice. He had me singing a song every five minutes, and he'd say, 'Ohhh,' and all the boys would go, 'Oh my God, oh my God.' He said, 'Did ya hear that, did ya hear that? Do it again, do it again.' He'd play and sing.  So those are the nice memories that you harbor in your heart for a long time."
A Rare Night Out On The Town
As to her description of a typical date between the two of them, she added, "They were crazy. I think I was one of the few girls who said, 'I don't care, I wanna go to the movies tonight.' I know this is going to sound very strange, but he was afraid of a large crowd being there by himself. And so we finally went, he listened to me long enough. And we went to Grauman's Chinese. We went out in the car and he wore his favorite cap and we ran out of gas, too, by the way. And he was just panic-stricken. I said, 'Don't worry, we'll push this car.' We pushed the car into the gas station.'"
Owning A Piece Of His Heart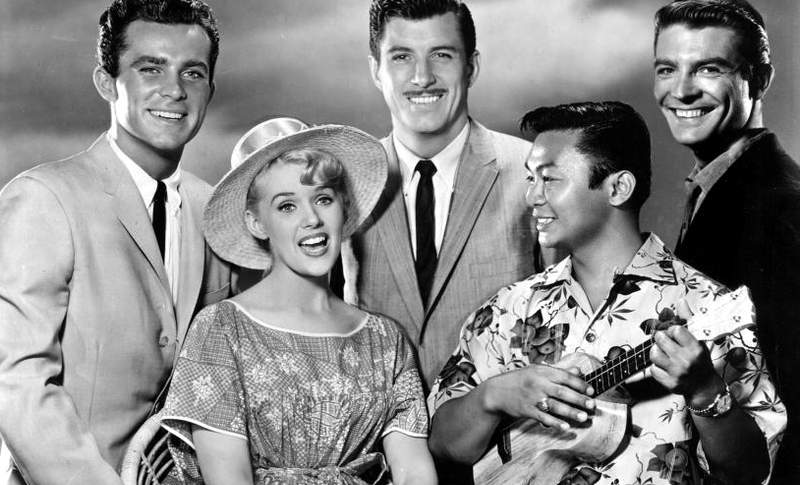 "I can't remember the picture," she added, "but, that's why I can't remember it: I didn't see the beginning and I didn't see the end, because we left early to avoid the crowd. And I thought, 'I'm never gonna put him through this again.' And sure enough, we got out, we got into the car and we were going home, laughing about the whole night and everything and he went to reach for his favorite cap and it was gone. So it was typical of, you know, people wanting a piece of him all the time. And those of us who didn't want a piece of him, we wanted a part of his heart. You know, a part of him. And even though I didn't see him for a lot of years, I think we saw each other on and off for maybe about two years. He was one of the loves of my life. I could have spent a lifetime with him, but I knew it was never to be. I was content to have that little part in his heart that was real."
8 of 10. Linda Thompson
Imagine this: you're sitting in a movie theater waiting for a private screening, when, Bam! The doors fly open and in strolls Elvis Presley, dressed in flared pants, black cape with a red lining, and outrageous sunglasses. He walks down the line of patrons with a flashlight before stopping in front of you and saying, "Oh, hello, Honey." How do you not fall in love?
Who Is Linda Thompson?
That is exactly what happened to Linda Thompson in 1972. Elvis was immediately enamored by the recently crowned Miss Teen Tennessee, and future Hee Haw Honey, and the two shortly thereafter began dating. Something obviously clicked, as the couple had a loving relationship for more than four years. Eventually, though, Linda decided that she wanted a normal life, an impossible dream given Elvis' massive fame and prescription drug abuse, and the two split up in 1976 a mere eight months before the singer's death.
Linda — born May 23, 1950 — is a songwriter, lyricist actress and, as noted, a beauty pageant winner. She appeared on the Elvis tribute artist's The Dean Z show, where she said, "Any year we shared sort of equates to 10 or 12 years in normal life. In a normal relationship, you go to work, you come back, you meet for a few hours, you have dinner, you go to sleep, the next day you're both off doing your thing. With Elvis it was so intense, it was so 24/7. There was such togetherness that it really did feel like it equated to about 10 years."
'I Think I'm A Little Self-Destructive'
At a public speaking event, she added, "I asked him one time when we were sitting and having a philosophical talk, 'What do you think is your worst flaw?' And he thought for a minute and he said, 'Well, I'm probably only gonna say this once, but I think I'm a little bit self-destructive.' That stuck with me in later years. He recognized it, but he had already started the downward spiral and I don't think he could stop it.
"Once I realized that Elvis took sleeping medication, and sometimes some other things that maybe interacted with that, it was like having a newborn baby," Linda expressed. "I wouldn't sleep. I wanted to know he was okay. I would sit and watch him until he fell asleep and then I would get up all through the night. I had a pattern pf wakefulness to check on his breathing and make sure he was okay because sometimes he wasn't. It was exhausting, I have to admit. I was a young girl, but it was still exhausting when you're not sleeping. And also just emotionally exhausting, because this is a person that I loved more than my own life and I was watching him slowly self-destruct and not being able to do anything about it." This ultimately resulted in the end of the relationship, though they were together for over four years.
9 of 10. Tuesday Weld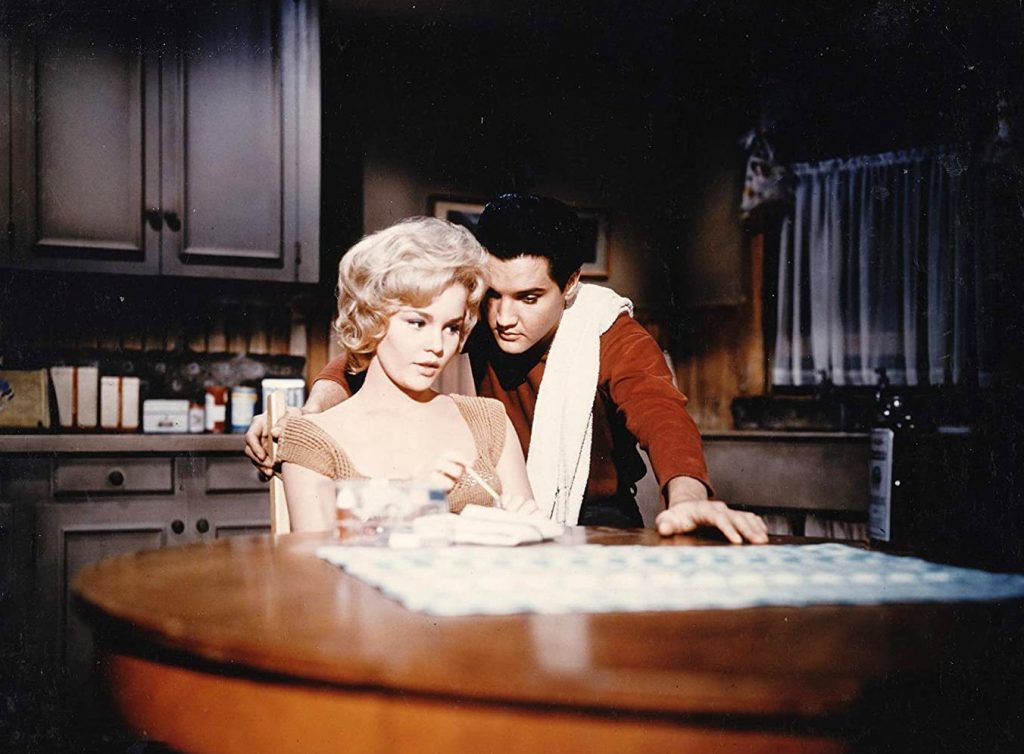 Elvis worked with actress Tuesday Weld on Wild in the Country and the two of them embarked on a short-lived romantic relationship. Datebook magazine said of her in 1961, "Eyebrows have been lifting and tongues wagging since petite blond Tuesday Weld came to movieland in 1958, a full-blown 15. Gossips have chronicled romance after romance, one with an actor nearly three times her age. They picture her as no stranger to liquor, tobacco, parties, and late hours. She gets more publicity than most of the screen's senior sirens — just about all of it bad."
Tuesday Breaks In and Breaks Down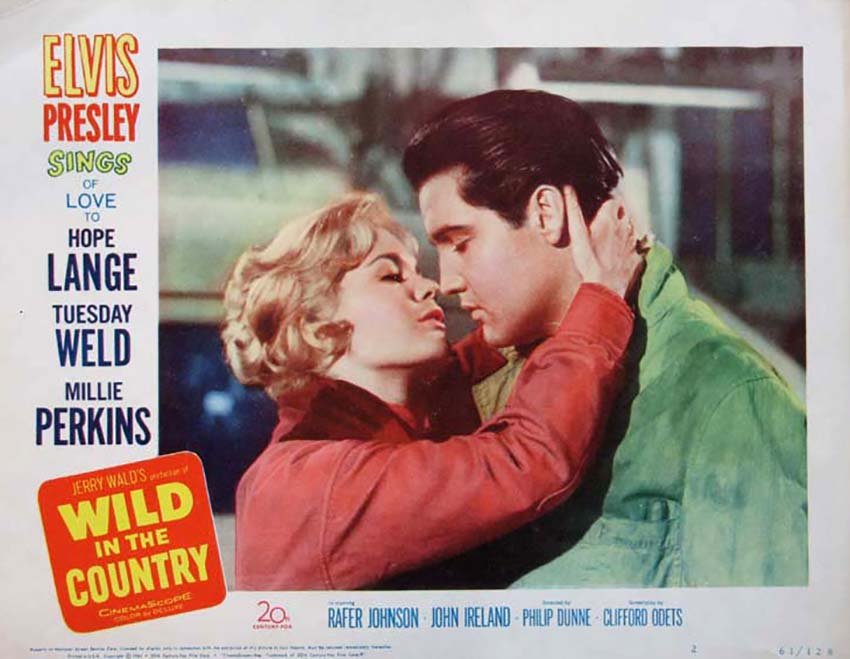 Born Susan Ker Weld on August 27, 1943, her early days were spent modeling. She shifted over to acting in the mid-1950s and kicked things off with a small part in Alfred Hitchcock's The Wrong Man (1956). But her youth was crazed: she suffered a nervous breakdown at age nine, was an alcoholic by age 12 which was the same age she attempted suicide. Yet somehow she pushed forward, appearing in films like Rock, Rock, Rock (1956), Rally Round the Flag, Boys! (1958), The Five Pennies (1959), a number of TV guest appearances, and even as an understudy for the Broadway show The Dark at the Top of the Stairs. Actor Danny Kaye, who worked with her in The Five Pennies, had commented, "She's 15 going on 27."
She Gave As Good As She Got
Author Alanna Nash describes the relationship in her book this way: "Their romance was apparently hot — Tuesday called him 'dynamite, real dynamite' — but harried. 'She thought Elvis was very emotionally immature,' says Kevin Eggers, a friend from the early days in Hollywood. 'He lost his temper and physically came at her one day, and she just looked back at him and said, 'You make the mistake of touching me and I'll put you in the hospital.' … He didn't have lovers. He had playmates. Once Elvis realized the girl had a mind of her own, it was over. Tuesday had the nerve to talk back.'"
Adds Joe Esposito, Elvis' road manager and author of 1994 book Good Rockin' Tonight, "Elvis and Tuesday hit it off immediately, but their affair lasted only a short while before it mellowed into a friendship. Tuesday was a free spirit; she would never have put up with Elvis, who liked to control his women. 'You stay here, I'm going out tonight' or 'Do this for me, I want it done right now' typified his attitude. Tuesday would never fall in with that program."
10 out of 10. Natalie Wood
Sometimes love seems like fate. As if the stars aligned perfectly to bring together two people destined to share eternity with each other. But in Hollywood sometimes people just want some good press. In 1956 Natalie Wood had just starred in Rebel Without A Cause and was one of Hollywood's brightest young actors. Can you imagine if she dated Elvis Presley, who was fast becoming the face of rock 'n' roll? Elvis' manager Colonel Parker certainly could. Parker arranged to have the two young starlets go on several conspicuous dates in order to attract publicity for the release of Elvis' first album. The stunt worked, and the press went nuts over the beautiful couple. Unfortunately, you can't manufacture chemistry, and the unconsummated relationship went nowhere. Wood famously stormed out of Elvis' hotel room while asking his bodyguards, "What's wrong with your boss? All hands, no action." Looks like it just wasn't in the cards for these two stars.
Mom Ruined Everything!
Natalie's sister, Lana Wood, wrote in her book Natalie: A Memoir by Her Sister, "They met and Elvis flew Natalie to his family in Memphis. They were to be gone almost a week, but just two days into the great adventure, Natalie called. 'Gladys has wrecked everything,' Natalie said, referring to Elvis' domineering, jealous mother. 'I don't have a chance. Get me out of this and fast,' Natalie said. It was agreed that Mother would call Natalie back and ask her to come home, because of some family emergency. Natalie's romance with the king of rock fizzled out. 'God, it was awful,' she told me later. 'He can sing, but he can't do much else.'"
At one point Natalie was asked by a reporter if her relationship with Elvis was serious, to which she offered the matter-of-fact response, "Not right now."
FAQs
How old was elvis when he met Priscilla
Elvis was 24 when he met Priscilla. Priscilla was 14 at the time.
how many children did elvis presley have
Elvis Presley only had one child. He had Lisa Marie Presley with wife Priscilla Presley.
how old was elvis when he married priscilla
Elvis was 32 years old when he married Priscilla. Priscilla was 21 years old when they wed.