Paparazzi and movies often portray a different person from the actors fans love. These people get an exaggerated presentation for better and worse. For Demi Moore, she used her book Inside Out to show people her true self. It also included candid pictures, one of which she shared again to celebrate the book's anniversary.
The "Little Demi" picture is as uplifting as it is adorable and insightful. Though it has no specific date, it shows a moment of fun, relatable childhood innocence everyone passed through themselves. This picture is consistent with her goal: for the book to show the public another side of her.
"Little Demi" helps turn people's perceptions 'Inside Out'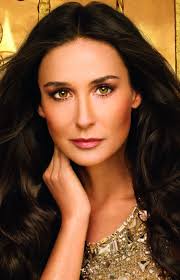 When David Itzkoff interviewed Demi Moore for New York Times, he did not meet any of the characters she played in her movies. Instead, he met a woman determined to remember who she was at her core. Itzkoff spoke with Tallulah Willis who emphasized the point, "My mom was not raised, she was forged." Moore took deliberate actions to remember herself beneath the posters and characters so she did not lose herself. She wanted to help others do the same through her book Inside Out, a year old this September.
RELATED: Demi Moore Shares Racy Throwback Photo To Celebrate Daughter's Birthday
To accomplish this, to bridge the gap, she filled her book with openness and vulnerabilities. She explores topics that gossip outlets covered about her, but this time she tells it exclusively from her side. Marriage, career steps, lifestyle choices…and a childhood cut too short by the fame that helped get her an interview in the first place.
Finding a reason to celebrate wherever it exists
https://www.instagram.com/p/CE-RS26Hqm2/?utm_source=ig_web_copy_link
Despite Moore's complicated relationship with her own fame, the scrutiny it provoked, and the milestones it interrupted, she has ways of making the most of it. Her book allows her to take some of the power in publicity back. Throwback photos help with this – and they can be revisited to help others celebrate with her. That's exactly what Moore did yesterday with a throwback she actually shared a year earlier.
"Little Demi, moment of joy!" she wrote. She then ended with some tags, "@TBT from #insideoutbook." In 16 hours, it has so far accumulated over 25,000 likes, with comments declaring the picture itself adorable or else sharing how much they enjoyed reading her memoir.