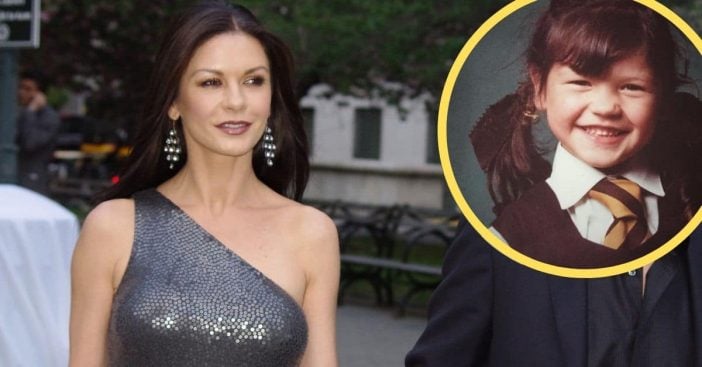 Today, we celebrate Catherine Zeta-Jones as a successful Chicago actress while also honoring her close marriage to Michael Douglas. But like the rest of us, she too was once a small, cute, sometimes unrecognizable kid. Fortunately, she shares plenty of memorable throwback photos to relive those moments from years ago. In one particularly adorable picture from when she was young, Catherine Zeta-Jones sports a thick mop of dark hair tied into pigtails. Her hair doesn't grab as much attention as her wide, beautiful smile, though!
Looking at the picture of her then and now is a remarkable experience. Though she looks adorable in this throwback photo, the 2018 caption sees the actress describing herself as a "ragamuffin." But her smile is positively contagious!
Catherine Zeta-Jones shares a throwback photo from when she was very young
https://www.instagram.com/p/BppyIQohLhp/?utm_source=ig_web_copy_link
Today, people see the Welsh actress as a remarkable beauty who bears a commanding presence whenever she's on-screen. But before that, she was just a kid going to school and enduring class portraits. In 2018, Catherine Zeta-Jones relived her young years with a picture of one such portrait. She dubbed this "probably the best official school portrait I have."
RELATED: Ozzy And Sharon Osbourne Share Sweet Throwback Photos To Celebrate 38 Years Of Marriage
Even so, she still dubbed her overall appearance in the portrait, "full on ragamuffin." She ended the caption with emojis tearful with laughter to highlight her sentiments. Her full head of dark brown hair is set in pigtails in the picture, framing a wide, contagious smile. Fans can't find a thing to fault in the picture though. "So cute and now so beautiful!!!" one comment reads. Another, though, could barely believe that picture depicted a much more young Catherine Zeta-Jones. "OMG !
is that really you ?" the comment writer asked.
Photogenic family
https://www.instagram.com/p/CBsar0IHg-5/?utm_source=ig_web_copy_link
Then and now Zeta-Jones showed an affinity for photography, whether she's the subject or the one sharing. Often, she shares meaningful throwback photos of herself and beloved family members. Sometimes those pictures show her husband or in-laws, including the late Kirk Douglas. Other times, they show her blood relatives. Always, they include an equally touching tribute in the caption section.
One such example stands out with a post dedicated to her father. Just in time for Father's Day, she wrote, "Happy Father's Day to my darling Daddy. You are the wind beneath my wings." Papa left her a powerful message to share with the rest of us: "'get out there in the world and do it' …your words to me since I was a wee lass. You have been with me every step of the way and I love you, with all my heart."