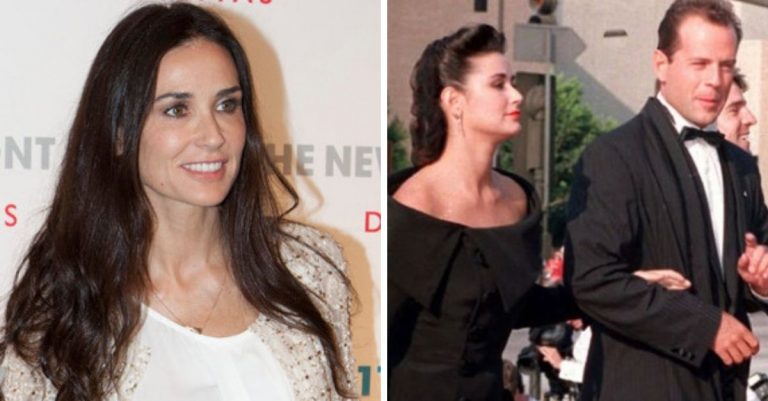 The 2020 Emmy Awards looked very different this year, with many celebrities accepting their awards from home. To celebrate and get a look back at when things were more normal, Demi Moore shared a throwback photo from the 1987 Emmy Awards. The photo included her ex-husband Bruce Willis.
Demi and Bruce were married back in 1987. She shared a photo of their arrival to the awards ceremony dressed in matching black outfits. Demi wore a tuxedo-inspired gown and Bruce wore a long black blazer with matching bowtie. She captioned the photo, "1987 #Emmys… arriving in style."
In honor of the Emmy Awards, Demi shared a throwback photo with ex Bruce Wilis from 1987
https://www.instagram.com/p/CFXZOg3nm5Z/
While many loved the throwback photo, including their daughter Scout, others were still sad about the beloved couple being broken up. Others remarked that Bruce's new wife must feel strange when Demi posts old photos with Bruce. However, they have both previously talked about how their families are blended together beautifully.
RELATED: Bruce Willis' Wife Celebrated Her Birthday With His Ex-Wife Demi Moore
Demi and Bruce share three daughters and Bruce ended up quarantined with Demi and the girls for a while. Bruce's wife Emma and their young daughters were stuck at home due to an incident and couldn't be with the entire family for a while. Later, they all hung out together which proves there is no bad blood.
https://www.instagram.com/p/CBs9h8GHyLX/?utm_source=ig_embed
In fact, they all celebrated Father's Day together this year. Demi shared a photo of the entire clan with the caption, "Happy Father's Day, Bruce! Your kids are so lucky to have you ❤️" What's your take on the throwback photo?