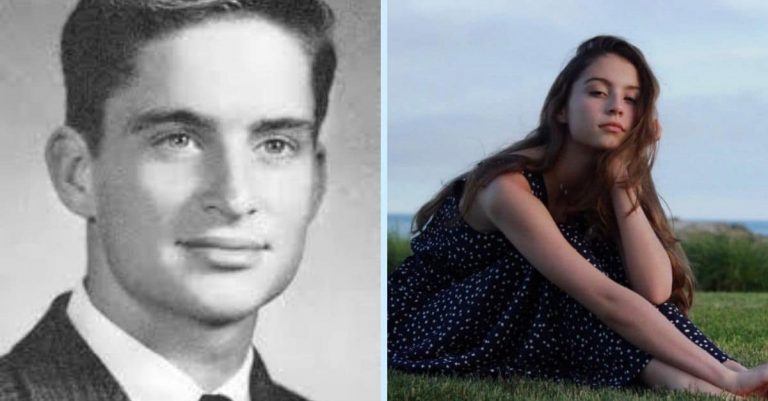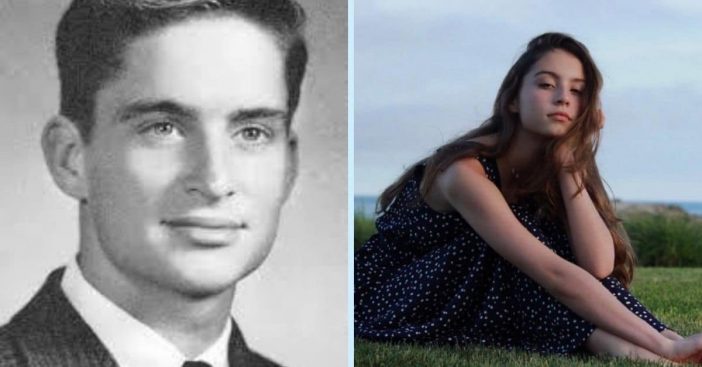 Michael Douglas and Catherine Zeta-Jones have two children together. They are Carys and Dylan. While it's difficult to determine some resemblances at Michael's age, a step back in time proves very illuminating.
In fact, looking into the past proves educational for all people involved. That's probably partly why services like Ancestry, 23andMe, and MyHeritage became so popular. The latter revealed an old school photo depicting Michael Douglas as a teenager. The colorized picture is exciting enough to behold – observe this clear look into the past it offers! – but comparing it to another picture makes it even more remarkable.
One picture is worth a thousand words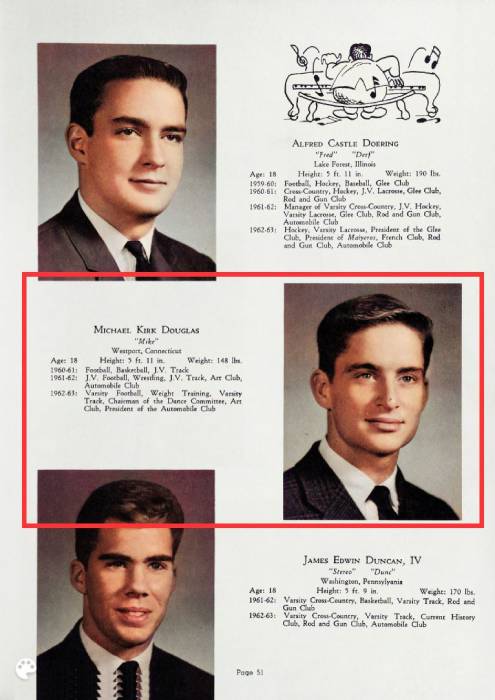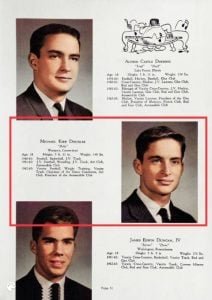 MyHeritage offers insightful documents chronicling people's lives. Recently, the service unearthed a photo of Michael Douglas. The catch? It's from a yearbook photo dating back to secondary school. The picture depicts Douglas as a teenager wearing a neat suit with his hair carefully done. At the age of 18, he stood just under six feet.
RELATED: Michael Douglas And Catherine Zeta-Jones Reflect On Memories Of Late Kirk Douglas
Per the yearbook's layout, viewers also learn a bit more about his hobbies. In those school years, Douglas got involved in track, football, dance, art, and automobiles. He's passed his interest in the arts onto his daughter, Carys, whose own well-composed pictures reflect his eye for art and even his appearance at that age.
Introducing the family of Carys Zeta-Douglas
View this post on Instagram
Carys was born on April 20, 2003 in Ridgewood, New Jersey. She's not just particular about her pictures; she has very particular taste in food too. "I'm picky about chocolate ice cream," she admitted. "It can't be too dark, can't be too creamy." By the time she was 15, Carys ended up doing fashion week appearances for both Michael Kors and Dolce & Gabbana. In this regard, she gets a lot of inspiration from her mother. Carys explained, "Fashion has been so important in my life, because my mom is like a fashion icon to me." However, mother Catherine Zeta-Jones added, Carys finds a way to be both unique and appropriate.
"She has her own individual style," she insisted. "She's modern but age-appropriate. I've never had to turn to Carys and say, 'I think that's a little inappropriate.' Once she said, 'Mom, I really like this romper.' I went, 'Mmm, but don't you think it's cut a little too long? Shouldn't it be shorter?' She went, 'Mom, you're the only mother in the world that would tell a 15-year-old girl that the romper should be shorter.'" Some of that might come from her distant exposure to the Hollywood limelight. She spent so much time in far-off Bermuda that she admitted, "I thought my dad was a pancake maker. I didn't know he was an actor. Honestly." Well, even if that revelation came later, she still carries a lot of her parents with her each day in intangible and visible ways!
View this post on Instagram
RELATED: Catherine Zeta-Jones And Michael Douglas Got A New Puppy