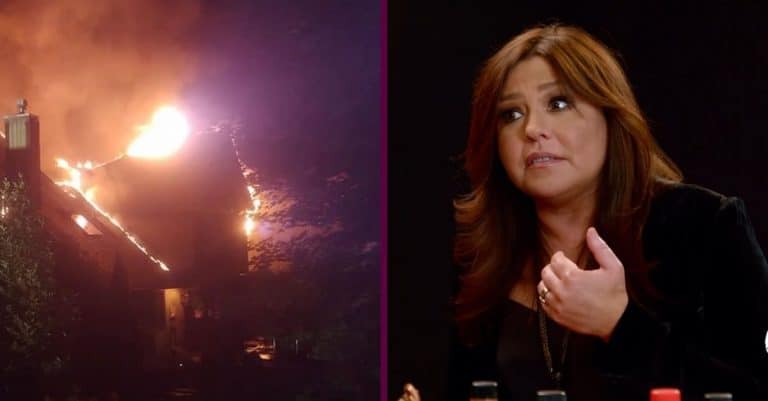 Rachael Ray's home suffered damage from a fire that began on Sunday. Video shows flames unfurling from the roof. She lives in the house with her husband John Cusimano and the couple's pet dog Bella Boo Blue.
All three inhabitants are safe. No one received injuries from the flames. Though everyone is safe, the fire apparently spread extensively enough to keep firefighters there for hours.
Rachael Ray's house damaged, family safe
The 30 Minute Meals Food Network star lives in a house on the Chuckwagon Trail. This, in turn, can be found in Lake Luzern, New York. That home houses Rachael Ray, her husband singer John M. Cusimano, and their new furry family member, Bella.
RELATED: Pit Bull Notices House Fire Before Owner So She Rushes Inside To Save 8-Month-Old Baby Girl
None of them received any injuries or came to any harm during a recent house fire, thankfully. It occurred on Sunday evening. Her home did experience some damage, though a full report on the extent is not currently available.
Is no news good news?
…I *did* lose my phone (posting through a team member) Thank you for all the well wishes, concern and outreach, but can't return texts and calls at the moment…!

— rachael ray (@rachaelray) August 10, 2020
Firefighters arrived in the evening and did not finish battling the flames until after 10 pm. "There were no injuries, which was good," said Brian LaFleure, director of emergency services. "Right now, we're in the process of determining what the cause may be. It's nothing suspicious, but we're looking to determine what the cause was."
Ray shared updates and offered thanks on social media. However, updates came from a different phone from hers, as that device remains one of the few casualties from the fire. "Grateful that my mom, my husband, my dog… we're all okay," she announced. Ray went on to advise what should be taken from this situation. "These are the days we all have to be grateful for what we have, not what we've lost."