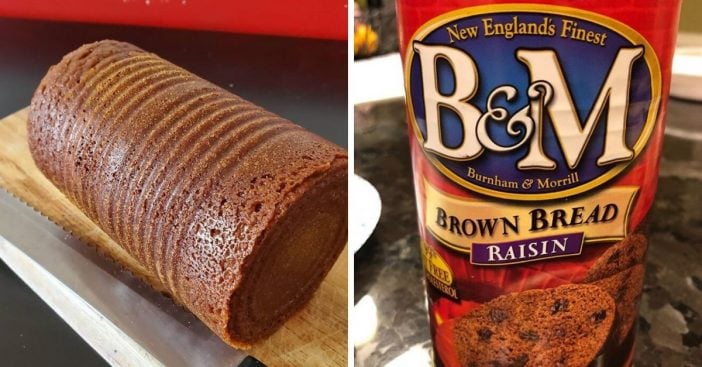 Many people who grew up in a New England area may remember B&M Brown Bread. It comes in plain and raisin bread flavors. The strange thing about this bread is that it comes in a can! If you've never heard of it, the company has been making it since the 1920s.
While almost all who remember it find it nostalgic, some love the taste and others despise it. One person wrote, "Growing up in New York and Connecticut, Thursday night New England dinner was baked beans and brown bread! We used to cram as much in our mouths as we could and then ask to be excused to the rest room so we could christen the commode with it!"
Do you remember canned bread?
https://www.instagram.com/p/B_QJW8ql48c/
Another loved it. They said, "I loved that! I remember as a little girl we didn't have a lot of sweet treats around the house, so this was a yummy sweet delight." While many people used to eat it with baked beans, you can add fruit, cream cheese, honey, or other ingredients. This is to make it more like a cake.
RELATED: As Quarantine Continues, Nostalgic Comfort Food Is Flying Off The Shelves
https://www.instagram.com/p/CAI8AjkpYNS/
Many people have been stockpiling canned goods during the coronavirus pandemic, so it is no surprise that another canned good is making the rounds online. Even though it is more of a New England product, one mom said she found it at a Publix in Florida, right next to the baked beans.
https://www.instagram.com/p/B_LlXtcBQjY/
A spokesperson from B&M said, "The canned bread category is very small and we're proud to create a product that's beloved by consumers who want to keep the one-of-a-kind New England tradition going. Brown bread is historically significant to New Englanders. They would put their ingredients for bread in a can and bake it in the oven as a way to preserve the food when the canning industry was booming."
https://www.instagram.com/p/B-IJvg9nOPz/
They continued, "Our product is a New England regional bread that offers a feeling of nostalgia for many consumers — we often hear about consumers stocking up on B&M Brown Bread when they are in the New England area and bringing it home to areas of the country where we are not distributed."