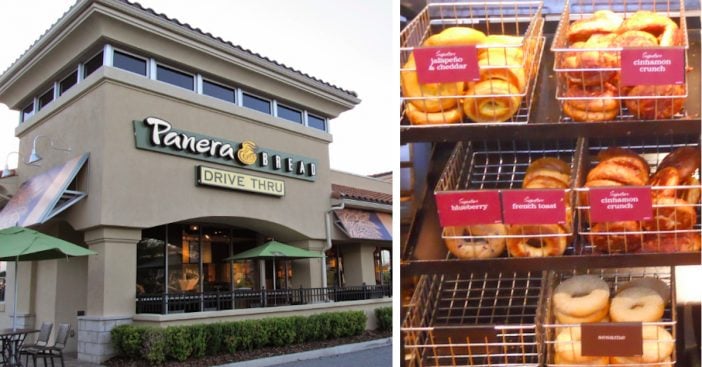 If you love soup in bread bowls, free Wifi, salads, and breakfast, you probably love Panera Bread. Known for healthier ingredients and of course, bread, Panera has been around for quite some time. Even if you eat there regularly, I bet you won't know at least a few things on this list.
Here are some secrets you may want to know about Panera Bread.
1. It used to have a different name
It was originally called St. Louis Bread Co. It is actually still called that in St. Louis. Regulars refer to it as Bread Co. They came up with the name Panera because it means "bread basket" in Latin.
2. Certain states are missing out
While Panera has over 2,000 restaurants in the United States, you won't find a Panera in Utah, Montana, Idaho, or Wyoming.
3. Everything really is fresh
Every night, fresh dough is delivered to every location. Bakers make the bread and baked goods at night so they are fresh and ready in the morning. Baked goods are only sold for one day to maintain freshness. Any remaining items are delivered to local hunger relief programs.
4. Everything is made with clean ingredients
If you are on a diet or looking to eat healthier, Panera is a great place to start. It was one of the first restaurants to put calorie counts on menus. Last year, they eliminated all artificial colors, flavors, sweeteners, and preservatives from all of their food items. However, that doesn't mean everything on the menu is super healthy. For example, their homemade mac and cheese is almost 1,000 calories. It also contains 15 grams of sugar and 61 grams of fat.
5. Does your child or grandchild like to bake? Panera wants to teach them!
Certain locations have a bakers-in-training program for kids ages 5-12. It is a two-hour program where they get a baking hat and apron, watch a baking demonstration, get a behind-the-scenes tour and sample the menu. They also get to decorate their own cookie. How cool is that? Would your child or grandchild be interested in this program?
Do you eat at Panera Bread regularly? What is your go-to order? If you enjoyed this article, please SHARE with a friend who loves Panera!