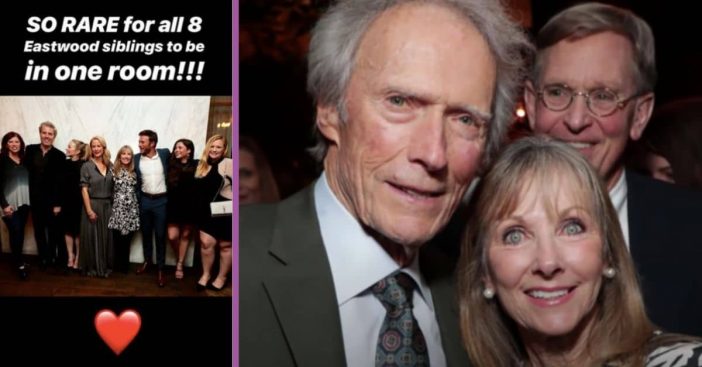 Everyone knows Clint Eastwood as he's been a household name since films like Fistful of Dollars, For a Few Dollars, and The Good, The Bad and the Ugly. As of May 31st, 2020, Eastwood is now 90 years old and his popularity never truly slowed down. From his acting to directorial credits, he's kept busy in the film industry. Additionally, he shows no signs of slowing down yet.
He has eight children and some of them have followed in his footsteps. Others have chosen a career outside of the Hollywood limelight. His children include Laurie Murray, Kimber, Kyle, Alison, Scott, Kathryn, Francesca, and Morgan.
Meeting Clint Eastwood and his daughter he once didn't know he had
The wild story of Clint Eastwood's eight kids https://t.co/X4hd8MaLNm pic.twitter.com/2o8dMoUmkK

— New York Post (@nypost) December 29, 2018
Laurie Murray was the result of an affair that Eastwood had no idea about. Eastwood was engaged to his first wife Maggie Johnson when he had an affair with a woman in Seattle. That woman became pregnant and put the baby up for adoption, and her adoptive parents named her Laurie. MSN notes that the actor had no idea this child was his until she found him 30 years ago.
RELATED: Clint Eastwood's 90th Birthday Plans Force His Kids To Sneak Him A Cake
This came about from pure curiosity as Laurie wanted to know who her real birth parents were. When she was able to finally track down her birth certificate, she noted that Eastwood was listed as her birth father. After tracking him down and finding him several years ago, they have maintained a very close relationship since. Laurie has also been able to maintain a great relationship with her birth mother and his ex-wife and all of Eastwood's children.
How Laurie Murray found out her father was Clint Eastwood https://t.co/FU7GIMwTTa pic.twitter.com/Rw4MIwnH6L

— HollywoodLife (@HollywoodLife) December 13, 2018
Laurie made her official red carpet debut walk in December 2018 with all of her siblings, Eastwood's other kids. She's long been a part of Eastwood's life, as photo evidence shows Laurie arm-in-arm with Clint's mother Ruth Wood at the 2004 Oscars. Eastwood was also there for the 2012 nuptials of Laurie's son and daughter-in-law. To see the blossoming relationship of Clint Eastwood and his daughter is truly beautiful after so many years of being apart!