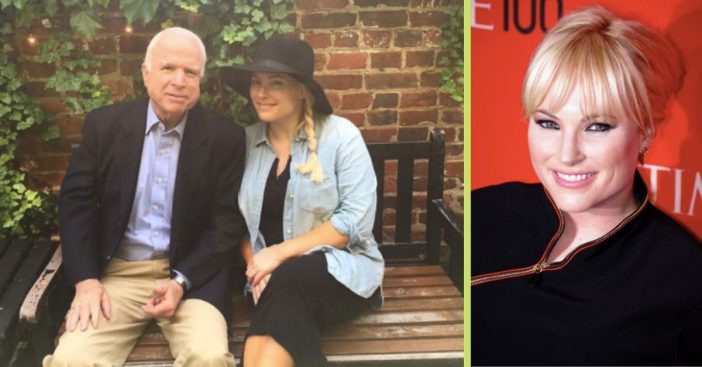 Meghan McCain revealed to the world earlier this year that she was pregnant after experiencing a miscarriage prior. Since then, she hasn't shared any details about her pregnancy and she recently revealed why that is. Meghan says that she doesn't want to expose her unborn child to the world of social media after people have left hateful words about her late father, John McCain.
"People keep asking and requesting I show pics & details of my pregnancy," she writes on social media.  "Given that people write on photos I put up of my family they are glad my Dad got cancer and he's in hell, I thought I would leave my unborn child out of the social media cess pool as much as is possible."
Meghan McCain reveals why she is keeping her pregnancy private
https://www.instagram.com/p/CAvrrzvHZp6/?utm_source=ig_embed
Meghan also says that she and husband, Ben Domenech, "have made the conscious decision to guard our (growing) families privacy as much as is possible." She continues, "I believe children have a right to privacy and hope you will all understand as we navigate this as much as possible going forward without sacrificing our comfort or safety."
RELATED: Meghan McCain Is Pregnant With Her First Child Following Miscarriage
"A bunch of inhumane jackasses have really ruined so much for so many on social media and I learned a lot of hard lessons about cruelty that comes with being open and vulnerable about my personal life during my Dads cancer fight."
Regardless, it seems she is doing very well!
https://www.instagram.com/p/CAS66DAH-73/
Meghan does acknowledge that some of her fans might view her decision as unorthodox considering she is a TV personality. "But I've always lived by the beat of my own drum," she adds. She also goes on to thank her fans who have been leaving words of positivity and support during her pregnancy.
A source close to Meghan has spoken to PEOPLE about how she's doing in light of the exciting news. "She and her family are very excited by the news. But right now, she's finding strength at her role at The View. She knows her most important responsibility is to inform Americans to stay home and minimize the spread of the coronavirus." Congrats again to Meghan on her pregnancy!