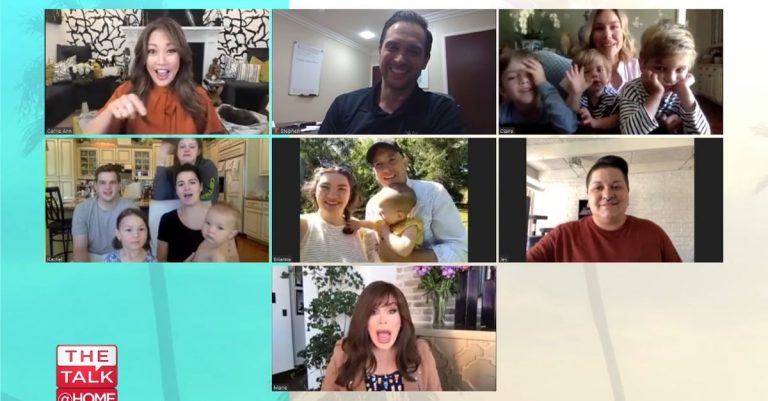 The coronavirus pandemic has changed the way we view some shows. A few titles stopped short of their official finale. Meanwhile, hosts turned their homes into their new stage. That's made for some fun experiences. Nothing quite beats the surprise Marie Osmond got on The Talk for Mother's Day, though.
Cohost Carrie Ann Inaba helped orchestrate the whole thing. And Marie's family found a way to bridge the gap and safely celebrate their beloved woman. To Marie, the brief interruption was due to technical difficulties. In reality, though, it just provided some time for all the pieces to fall into place. When she saw her surprise, her tearful reaction was enough to make others tear up as well.
Marie Osmond got a Mother's Day surprise on The Talk
https://www.instagram.com/p/B9XJLqCHBnI/?utm_source=ig_web_copy_link
Separation has been difficult for countless families. Even the simple act of hugging feels like it would mean the world to people. But people are connecting in creative and meaningful ways however they can. While Marie Osmond seemed set to spend the day before Mother's Day just hosting The Talk, Carrie Ann Inaba and Osmond's family had entirely different plans.
RELATED: Tallulah Willis Opens Up About Estrangement From Demi Moore In Mother's Day Post
While Marie dropped out – she thought from technical difficulties – Inaba made the big announcement. "Marie thinks she left the show for technical difficulties and she's been trying to log back in," she explained. She went on, "So let's bring [Marie] in now." Then, on that Friday, May 8 episode, Marie reentered the video feed to a wonderful surprise. Videos of her family filled the screen. Shocked, Marie could only blurt out "What!?!?" In response, the family members cried, "Happy Mother's Day!"
Bridge the gap
https://www.instagram.com/p/B_xL3uDH4n2/?utm_source=ig_web_copy_link
"Since your family couldn't be there with you on Mother's Day this year, we thought this was the best next thing to bring everyone here," Inaba explained to the stunned and tearful Marie. All the while, her children, Rachel, Jes, Stephen, Matthew, Brianna, and Abigail beamed from their screens. Closer Weekly writes that while Marie was stunned with joy, her kids were equally grateful. "Thank you for always being a great example of what a mom should be," said Stephen, 37.
Rachel, 30, shared similar sentiments. "Thanks for always being a wonderful mom and showing us by example what it is to be a great wife and mother. You're a wonderful grandmother to my children," she added. The praises weren't over yet as Jes threw in her input. "I'm just so grateful you're my mom. I couldn't have asked for one better … I'm glad you adopted me." For all these kind words, though, Marie was determined to show her own gratitude. She collected herself and replied, "Thank you so much, my angels … I'm just the most blessed woman on the planet. I love all my children. They are the happiest things in my existence. And my grandkids, it's like my kids on steroids. It's just so amazing and I love you all … it's the happiest thing I've ever experienced in my life."
.@MarieOsmond becomes emotional after her children and grandchildren surprise her for Mother's Day on "The [email protected]" 💕 pic.twitter.com/ADpBPE0vj7

— The Talk (@TheTalkCBS) May 8, 2020