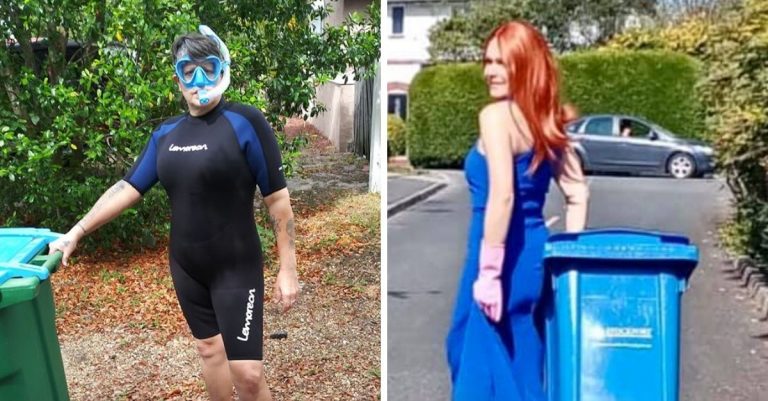 While many people are not leaving the house during quarantine, it can seem like a big deal to do something as simple as taking out the trash! Many are making the best of this situation by spreading a little joy. Danielle Askew created the Facebook group called Bin Isolation Outing. She started dressing up to take out the trash and invited others to share photos of themselves doing the same.
Many people are sharing photos of themselves in their wedding dresses, prom dresses, and even fun costumes! The Facebook group has thousands of members from all over the world. Danielle says it helps people make new friends and have a laugh during this scary time.
People are dressing up to take out the trash during the quarantine
One photo is of a couple named John and Patricia, all dressed up and toasting with champagne glasses. They captioned the photo, "John and Patricia have 'bin' married for 65 years today!" Others use this time to dress up as pirates, superheroes and other fun characters.
RELATED: 'Full House' Stars Create New Show Intro During Quarantine
https://www.facebook.com/LoraLFC/videos/10223010965207735/
A mom and her son used this as a break from homeschooling. Her son dressed up as a taco and danced as he took out the trash! He's thinking of dressing up as a pizza box next. Some photos are just of people in regular clothes taking out the trash, but it still helps them connect with others.
What a fun idea! Check out another one of the videos below:
https://www.facebook.com/BarbaraDuboisRealtor/videos/1788307801311452/