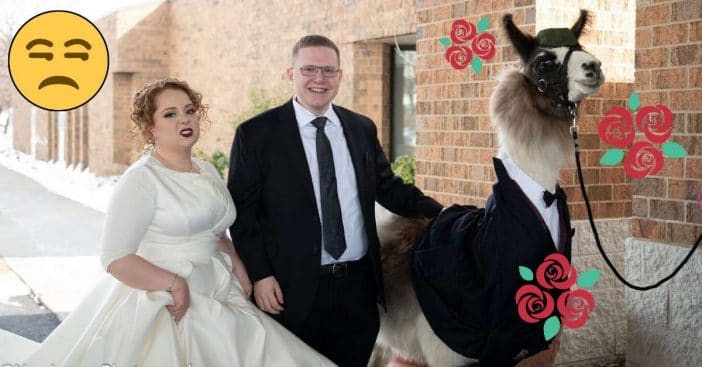 Everyone needs a good laugh sometimes. Laughing helps us relax and feel more at ease even in the most stressful situation. But other times, it's important to let a serious moment have its place as a quiet, dignified affair. One man didn't really think along these lines when he brought a llama wearing a tuxedo to his sister's wedding.
That image alone is enough to get anyone doing a doubletake, maybe even breaking out into laughter. But the sister's expression really finishes the deal. For those looking for a laugh, her obvious unamused attitude is so vivid it's comical. But those who sympathize with her situation probably see their own expression reflected on her face. Either way, this wedding setup provides something for everyone.
This man's +1 was a llama in a very sharp tuxedo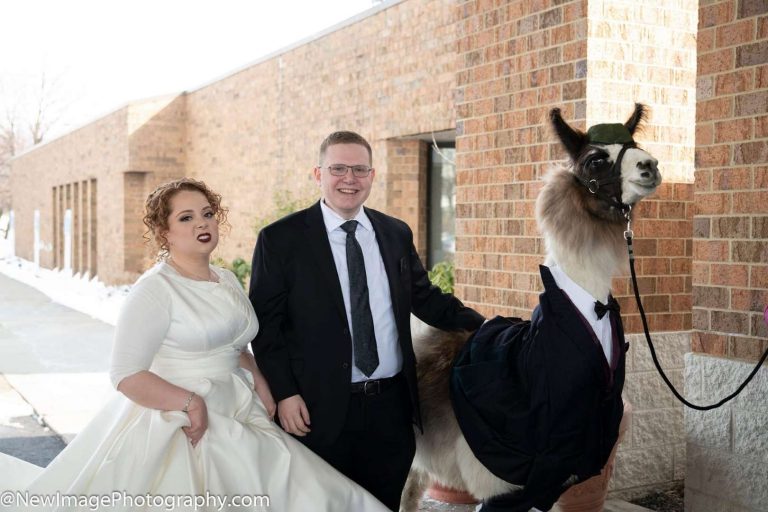 It started as something of a joke between brother and sister. Though, Mendl's older sister was not really joking when she discussed her future wedding in great detail whenever possible. She even talked about it when she wasn't seeing anyone. Mendl decided to make light of the situation for his older sister, Riva.
RELATED: Sadie Robertson Shares Adorable Clip From Her Wedding Video
"Just to make her mad and get a reaction, I told her if she makes me come to the wedding, I am bringing a llama with me," he told Insider. "After a few minutes of arguing, she tried to use reverse psychology on me and said, 'OK, the llama is invited to the wedding.'" Riva might have moved on to more important matters regarding her wedding, but Mendl never forgot.
Riva made it clear what she thought about this unorthodox wedding guest
5 years ago I promised my sister I would bring a llama to her wedding from pics
Ideally, all guests are beloved friends and family members. But weddings are notoriously complicated affairs. Fortunately, in the case of Riva and Mendl, everything is taken in stride and with good humor. MSN further reports that the two have always had a strong sense of sibling rivalry and teasing. So when Mendl showed up with a llama wearing a tuxedo, Riva made a deal. "I promised him that I would take one picture." She had some conditions, though. "I said, 'I will not stand next to the llama, I will not touch the llama, but I will take one picture.' My friends can attest that I went outside, I took exactly one picture, and then I went right back inside and was not having any more of it."
Mendl only needed one picture, which he promptly posted on Reddit where it gained major traction. This came as a surprise to Riva, who did not expect how popular the picture would become, but has some ideas as to why. "I think it's my facial expression, because I really don't look particularly thrilled with the situation, but I think that's what got people's attention," she said. "That was my face from the moment I walked outside, and it was completely intentional. That's pretty much my face constantly when I look at my brother." The whole scenario is relatable to anyone in outrageous situations like hers. Classy llamas are popular; the llama at Riva's wedding got a lot of fanfare. He posed in multiple pictures and friends spotted inflatable around the wedding hall. All this means for Mendl, though, is that his sister is ready for revenge.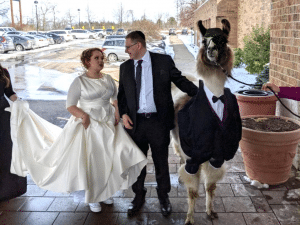 RELATED: Man Sets Out On Secret Search For Wife's Lost Wedding Ring — And He Finds It!