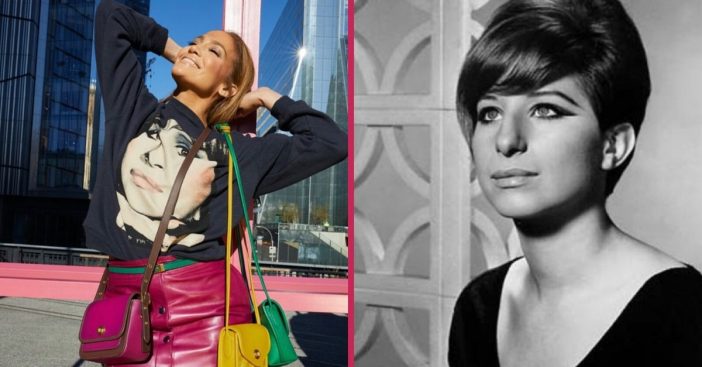 Even in such a big industry, it's natural for actors and actresses to cross paths. In fact, it happens more times than not. Sometimes we hear of hookups and sad breakups. Other times, we try to learn the complicated family tree of Hollywood's brightest stars. But these famous people also end up crossing paths outside of movies and dating. Recently, Barbra Streisand and Jennifer Lopez found themselves interacting in a surprising but adorably funny way.
Jennifer Lopez's introduction to acting started with a bang and presented countless successes ever since. When she is not on the big screen, she captivates listeners with her catchy songs. Recently, she also became the new face of Coach. That partnership helped the stars align for this hilarious exchange between her and Streisand.
A picture is worth a thousand words
https://www.instagram.com/p/B7qvZFaAQQ-/
Recently, Coach named Jennifer Lopez the new face for the luxury accessories company. Not long after, word spread of their upcoming "Originals Go Their Own Way" Spring/Summer 2020 line. On Tuesday, Coach explained the motivations behind the newest line's design via Facebook. Ultimately, Coach wants the line to capture "the spirit of the new season and the energy of NYC" and hopes it "celebrates individuality, optimism and self-expression."
RELATED: Perfect Response To 'The Parent Trap' Co-Star Dennis Quaid, 65, Engagement to a 26 Year Old
She also readily threw herself into her work and shared promotional images for the line. She shared images on Instagram with herself showcasing some of the brand's new stuff. Lopez has dedicated herself to her partnership with Coach and is maintaining a new campaign with Michael B. Jordan and Koki. Followers on her social media page can look forward to these sunny promotional images as she shows off the new collection.
And that's how Jennifer Lopez ended up wearing Barbra Streisand's face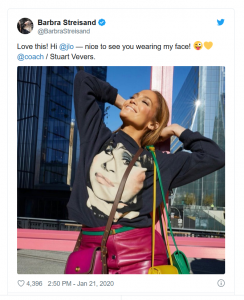 Actress, singer, and filmmaker Barbra Streisand saw Jennifer Lopez's pictures. Herself a legend among Broadway, Streisand still felt flattered to see one particular shirt featuring her very own face on it worn by Lopez. Naturally, she had to respond to this revelation. She wrote, "Love this! Hi @jlo — nice to see you wearing my face!" Capping off her message: a silly face and yellow heart of affection.
Not wanting to leave entertainment royalty hanging, Lopez responded enthusiastically. "OMG!!!!! Love youuuuu," she wrote back on Twitter. She, too, included a heart – this one red. Flattery, kindness, and humility one this day on social media between two icons, and we can only hope we'll see them together again in future projects!

RELATED: Internet Reacts To US Space Force's Camouflage Uniforms