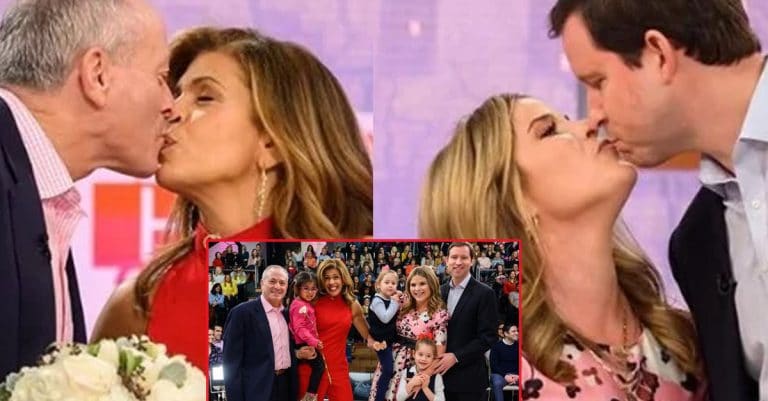 TODAY debuted a new live show featuring Hoda Kotb and Jenna Bush Hager. To celebrate, Jenna's husband Henry and Hoda's fiancé Joel Schiffman showed up for the first taping. The men even surprised the women with flowers, handed to them by their children. What a sweet surprise by their families!
Hoda talked about how Joel cleared his busy schedule to attend the show. She said, "You know when everyone's busy in life, they're busy and Joel had a really, really, really super busy day at work, so I didn't even ask him to come."
Hoda and Jenna's families appear on their first new show
She continued, "I said, you know what, I'm just gonna say, you know, I'm not gonna bring it up 'cause I don't want him to feel bad and have him say he can't come, so I didn't bring it up. And then I sent him a text 'cause he was at work. I said, 'Hey, if you wanna come any Thursday' and he said, 'How about this Thursday? I'm so glad you asked.'"
RELATED: Hoda Kotb And Jenna Bush Hager Discuss The Challenges Of Being A Caregiver
Jenna made sure to thank her husband Henry as well. She said, "Henry, you came, too, and you know what? My mom calls Henry the saint, which that sort of implies that I'm not easy to be married to, but Hank, I love ya. So thanks for coming."
Henry and Joel walked up to the table and gave the women flowers. As the episode came to an end, Hoda and Jenna got a surprise from their children. They all ran up and gave their mothers a flower too! How sweet is that?
Sadly, we did not get an appearance by baby Hal, Jenna's son and Hoda's daughter, baby Hope. Maybe next time!