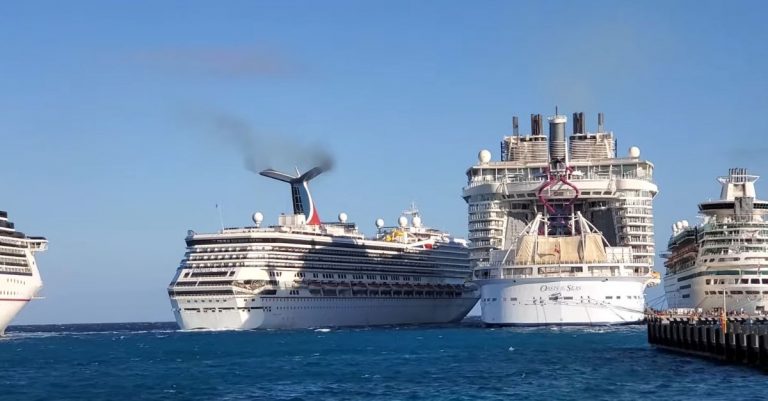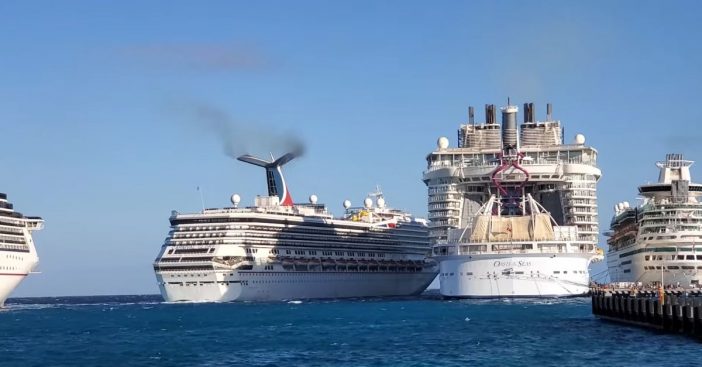 Six injuries occurred today when two Carnival cruise ships collided at the port in Cozumel, Mexico. Carnival Glory ocean liner collided with Carnival Legend. Another collision nearly took place between the vessels and Oasis of the Sea.
The cruise company reported no ships' itineraries affected by the impact. By 1:30 p.m. ET, half a dozen individuals reported to the Carnival Glory medical center for evaluation. The company states it is taking swift action to investigate what occurred and ensure safety aboard the vessels.
Videos of the Carnival Glory and Carnival Legend collision are spreading
Firsthand accounts are readily available. Videos are already spreading via Twitter, offering close-up footage of the two cruise ships hitting. Each video provides new angles and information to take in while waiting for any further statements from the cruise company.
RELATED: The Tragic End Of SS Edmund Fitzgerald Freighter Traced To One Day In 1975
There is also footage that reveals a person's strong desire to capture the moment on video. While watching events unfold, one passenger yelled, "He's gonna hit us next" before demanding his friends record the incident. They, in turn, advise him to remain calm.
A simple procedure had a damaging domino effect
Carnival Glory just crashed into Carnival Legend and almost crashed into Oasis of the Seas at the Cozumel cruise port. #FoxNews #RoyalCaribbean #CarnivalLegend #CarnivalGlory #OasisoftheSeas pic.twitter.com/5ITBCfz99L

— Matthew Bruin (@MatthewBruin) December 20, 2019
The crash occurred when Carnival Glory moved to dock at around 8:50 a.m. at the Cozumel port. According to a statement, the ship was moving into port when it made contact with Carnival legend, "which was already alongside." Evacuations of the dining room on Decks 3 and 4 took place, at which point at least one of the injuries occurred.
A representative fully outlined what unfolded during the Carnival Glory collision. "Carnival Glory had an allision with Carnival Legend this morning in Cozumel. Carnival Glory was in the process of docking when it made contact with Carnival Legend which was already docked," the representative stated. "We are assessing the damage but there are no issues that impact the seaworthiness of either ship. We have advised guests from both ships to enjoy their day ashore in Cozumel."
More angles from the Carnival Glory in Cozumel… #carnival #cruise #carnivalglory pic.twitter.com/hbihxU70w6

— cm (@cmaxcmax1) December 20, 2019