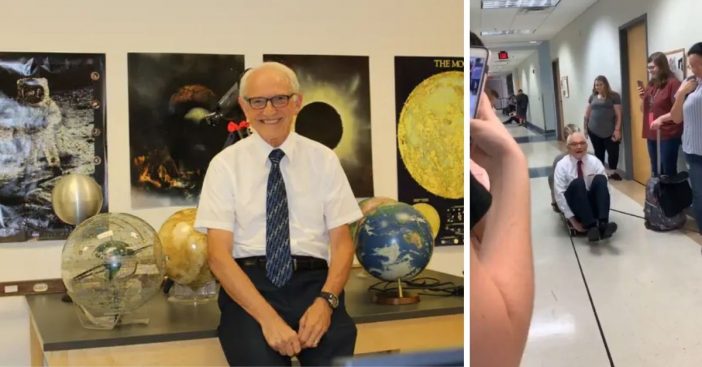 They say when you love your job, you never work a day in your life. The same is equally true when you're a student confronted by the intricate world of science. Fortunately for students at Tidewater Community College, Professor David Wright loves science and teaching. And he wants students to be just as excited about learning. To achieve this goal, this science professor is using engaging classroom stunts to keep students engaged and asking questions.
"It keeps them focused," Professor Wright explained about his way to teach. First, he discusses the possibilities with students to get them thinking. Then, he lets them observe what goes on. "We'll do the demonstration. We'll talk about why it happened the way it did. I'm trying to show them how physics applies in the real world. They really appreciate being able to do that and see the applications of that." He joined the Virginia college in 1974. For 45 years, he still calls this routine his dream job.
This science teacher performs stunts to really show what's happening
Y'all need to see this video collage of all the crazy things my Physics Professor did this semester😭. He's in his 70s and is still doing all of this for us🥺💛 pic.twitter.com/JaICjzVB5I

— Erica🌱 (@its_riccaa) December 11, 2019
Educators and policymakers everywhere have debated the best methods of teaching for ages. Ultimately, one agreement has been the importance of showing firsthand how topics apply to the real world. Some subjects have fallen in and out of use, but teachers try to show students how a subject works in real life. This is very important in science and math courses. Memorizing the equation for momentum and friction is fine. But seeing live demonstrations helps students finally see what is happening. The equations are simply the why to a demonstration's what. This will help get more people excited about his favorite subject: science.
RELATED: A Texas School Is Reintroducing Cursive Writing To Elementary Curriculum
Professor Wright, therefore, tries to always show students what is happening with each lesson. Activities are sometimes whimsical and practical, such as making ice cream from liquid nitrogen. Other times he carefully makes fire burst to life before their eyes. On another occasion, he even walked on a bed of glass. That initially drew the skepticism of some students, who wondered if Professor Wright wasn't entirely right in doing such stunts. "I was a little worried going in," said 18-year-old Erica Church. "I was like, this is a little crazy. I've never seen a professor doing this before." Perplexed but intrigued, Church decided to film her science professor's stunts throughout the semester. She shared the compilation on Twitter, and that's when she witnessed a reaction catalyzed by the enzyme of good teaching.
Millions appreciate what Professor Wright does for his students
man I appreciate teachers like this SO much; the ones who really work hard to make things fun and interactive, these are the ones you never forget✨ https://t.co/MiDMV9Vaaa

— Anna (@AnnaSeavey) December 12, 2019
Church expected a hundred likes and retweets at most. But her video compilation ended up gaining momentum like an object accelerating to the earth. It's reached maximum velocity – for now – at 1.74 million likes and 467,000 retweets. "My phone is just blowing up constantly," she inevitably realized. Fans didn't just view and share in silence. They expressed their appreciation for Professor Wright's engaging teaching method.
Church told her professor about his immense impact on so many people. He responded by attributing the semester's success to the greatness of his students. "Thank you very much for sharing that with me," he wrote to her. "It was an amazing semester, because I had amazing students." He is as happy about everyone's reaction as he is when demonstrating science concepts. "I see my mission in life as to get people excited about science, so it really remains relevant, exciting, and fun. I've always tried to do that in my class, but I never expected to do that on this scale," he admitted. His students are equally grateful at the end of the day. "I would just thank him for showing us that learning does not have to be boring and some teachers really do care about you," Church said. "It feels good to have a professor so passionate about what he does."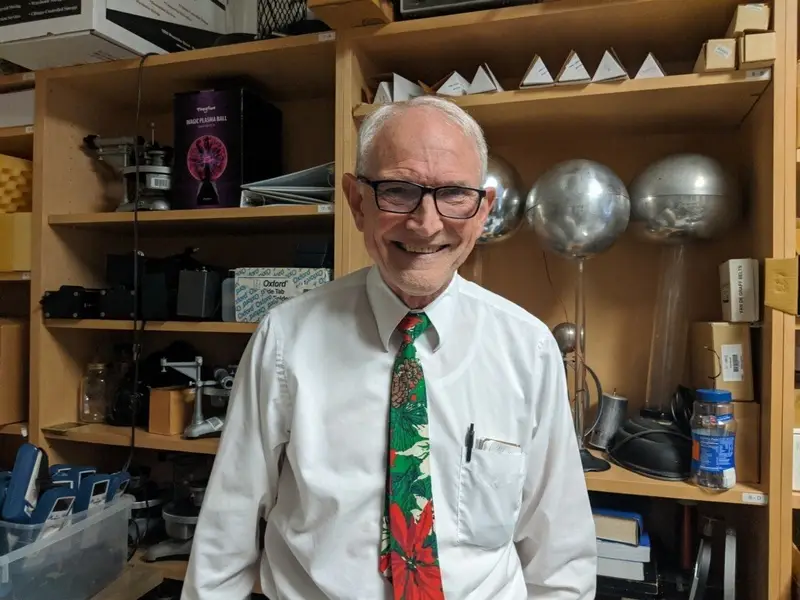 RELATED: High School Football Coach Teaches Kids Valuable Life Lessons