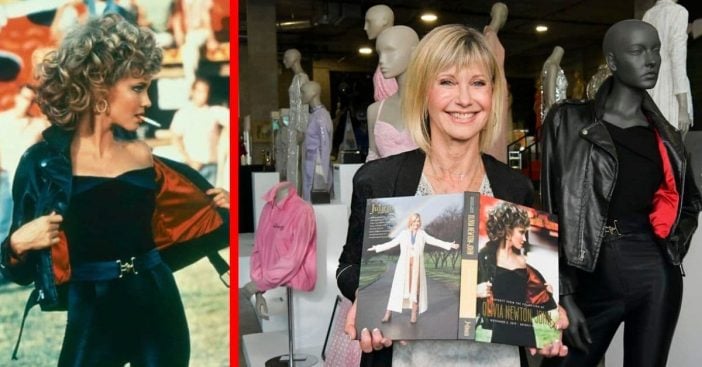 The anonymous buyer of Olivia Newton-John's leather jacket from the musical movie Grease has regifted it back to her. Moreover, the buyer has donated the $243,000 he spent to Newton-John's cancer treatment center in Australia. "It should not sit in a billionaire's closet for country club bragging rights," the buyer tells Newton-John.
He continues, "The odds of beating a recurring cancer using the newest emerging therapies is 1,000-fold greater than someone appearing out of the blue, buying your most famous and cherished icon, and returning it to you."
Leather jacket from 'Grease' regifted to its original owner/wearer
Newton-John wears the iconic leather jacket, along with an entirely black ensemble, for the ending scene in Grease ("You're The One That I Want"). The rest of the outfit ensemble sells separately to other buyers at the auction last month. It fetches more than double the price it was going for!
RELATED: Olivia Newton-John Is "Feeling Great" As She Discusses Her Close Bond With Daughter Chloe
Included in the auction were many other costume pieces and ensembles from throughout Newton-John's time touring through the years. The buyer of the leather jacket calls himself Newton-John's #1 fan and wishes the actress/singer "God speed for a quick recovery." The 71-year-old is currently battling cancer for the third time.
Newton-John is extremely grateful for this generous gift
Newton-John says the jacket will be on display at the cancer center. "That is the most incredibly generous thing to do for me," Newton-John tells the buyer. "I am so grateful, and I am just blown away."
Check out the video below of Olivia Newton-John sitting down for an interview with Julien's Auctions. Julien's Auctions is the CA-based auction house where her auction took place. She talks about the significance of the leather jacket, how John Travolta convinced her to play Sandy in the first place, and much more!