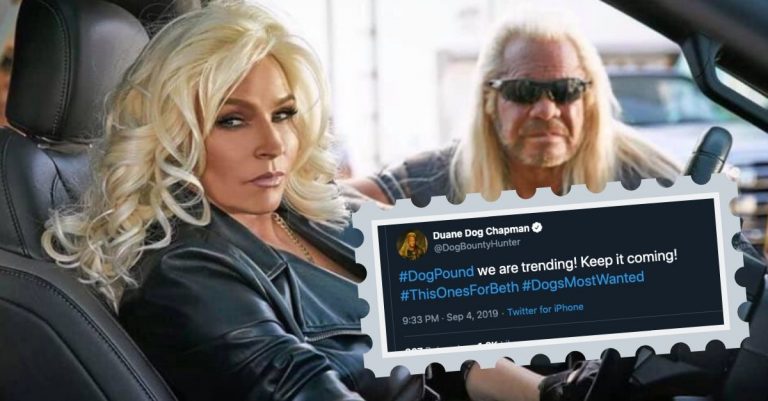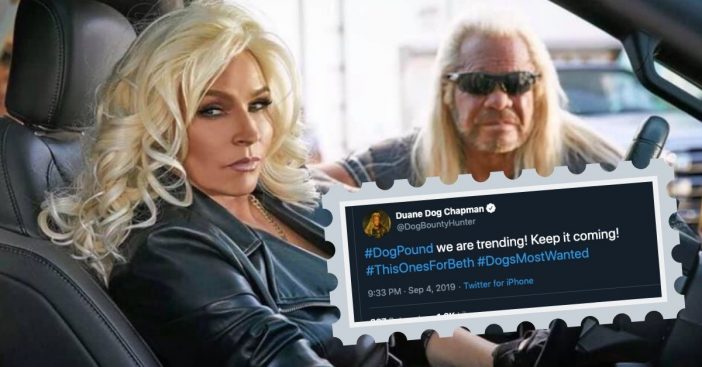 Dog Chapman's new show 'Dog's Most Wanted' premiered last night.

Dog starts a new hashtag on Twitter and it starts trending along with #DogsMostWanted.

The first episode opens to a difficult scene of the late Beth Chapman receiving bad news about her cancer.
Dog the Bounty Hunter's new show Dog's Most Wanted premiered last night and emotions were running wild. Duane 'Dog' Chapman takes to Twitter to live-tweet and watch along with all the fans. He started a movement on Twitter in the form of a hashtag called #ThisOneIsForBeth. Additionally the hashtag #DogsMostWanted started trending on Twitter last night!
Definitely a successful night for the premiere of the show that we all have been waiting for. It was a very classic Dog the Bounty Hunter style episode with a touch of Beth's cancer journey.
#ThisOneIsForBeth
#DogsMostWanted is trending 🎉 @OfficialDOGNews @DogBountyHunter @icEciLy @Bonniejoc @theRealJaneBond @DogWgna @wgnamerica pic.twitter.com/107RXKIQdj

— 𝓶𝓮𝓮𝓰𝓪𝓷 (@_ItsMegan) September 5, 2019
The episode opens with a pretty hard scene to get through. In the scene, Beth gets a call from her doctor who tells her that her tumor is not improving and that he advises she begin chemotherapy treatments. This, of course, puts her in tears along with her daughter Cecily. Dog can't even comprehend the prognosis.
The episode continues with Beth announcing her official diagnosis of terminal stage four lung cancer. It also documents her use of CBD, which is proven to treat pain and also has a powerful anti-tumor effect.
Beth Chapman back on the hunt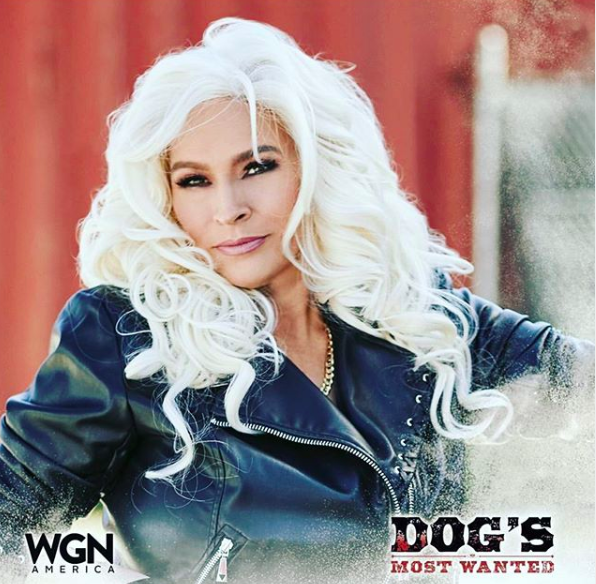 As a result of the grim prognosis, this leaves Beth not feeling the best she could be. She says she doesn't want to be in a vegetative state on bedrest like the doctor advises. This is when Dog decides to test the waters and take Beth out on another hunt with him and the crew to make sure she can still handle it. And she definitely can!
In true badass Beth Chapman style, she joins the hunt for a father-son duo who are wanted for multiple criminal charges. The dad has 68 criminal charges alone!
It wouldn't be a true Chapman bounty hunt without a catch!
These two criminals were known for taking off as soon as a sign of law enforcement comes for them. This has the Chapmans and their crew on a wild goose chase all over trying to catch at least one of the two. The episode ends with catching the dad, who Dog believes is a much bigger prize due to the number of criminal charges he has.
It is definitely a great episode to ring in the bounty hunters back on the hunt once more. The next episode airs next Wednesday, September 11th, at 9/8c on WGN. We're very excited to see what this episode brings! #ThisOneIsForBeth!
Watch the opening scene from Dog's Most Wanted's first episode where Beth finds out her cancer is returning: