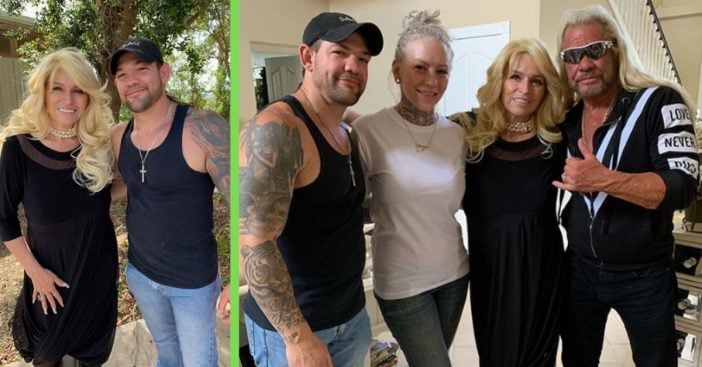 Cancer is no simple feat for anyone it affects and the same can be said for Beth Chapman, who has been dealing with a recurring bout of cancer for several months now. Now trying to overcome stage four lung cancer, Beth and her husband Duane 'Dog' Chapman have been very transparent with their following about how difficult it's been.
On Sunday, May 12, 2019, Beth gave a Mother's Day speech at the Source Church in Bradenton, Florida. While there, she addressed her current health status and she has confessed that her diagnosis this time around (the second time, actually) has been the ultimate test of faith.
https://www.instagram.com/p/BxapiKBF2KL/?utm_source=ig_embed
She said, "I don't go to God and go, 'Why did I get cancer?' He'll roll his eyes at me again, because I know why; because this is the ultimate test of faith… It is the evidence of things hoped for and it is the substance of things not known."
She was also open about the kind of treatments she has been involved with, saying specifically that chemotherapy was not something she had been doing. "Chemotherapy is not my bag, people. Sorry, that's not for me. So for me, this is the ultimate test of faith. This is my ultimate lesson." She continues, "It will either be taught to me or to you, and I am fine with taking the hit for everyone else… Because I think I know another guy who did the same thing."
https://www.instagram.com/p/Bxc52GmH9p1/?utm_source=ig_embed
Mother's Day for Beth appeared to be full of love and family closeness. She posted some photos from the day on her social media looking beautiful as ever, surrounded by family. She posted a photo beside her son, saying, "This guy had [me] laughing all weekend, what a joy to be around, thank you [God] for blessing me with such a kind young man."
https://www.instagram.com/p/BwP6Z94nRnz/
According to Beth's own social media, he had begun chemotherapy treatments in the beginning of this year when she posted the hashtags to a photo saying #cancersucks, #stayhumblepray, and #itsonlyhair. If she did indeed stop chemotherapy treatments, this wouldn't be the first time she strayed from professional medical advice.
When she was rushed to the hospital in November 2018 for emergency surgery, she returned home faster than medical professionals would advise. "She was adamant, she just wanted to be home," her husband said of the situation. We don't blame her!
https://www.instagram.com/p/Brjz_t6hmhS/
Be sure to SHARE this article with your friends and family!
Check out Beth Chapman's full speech below: