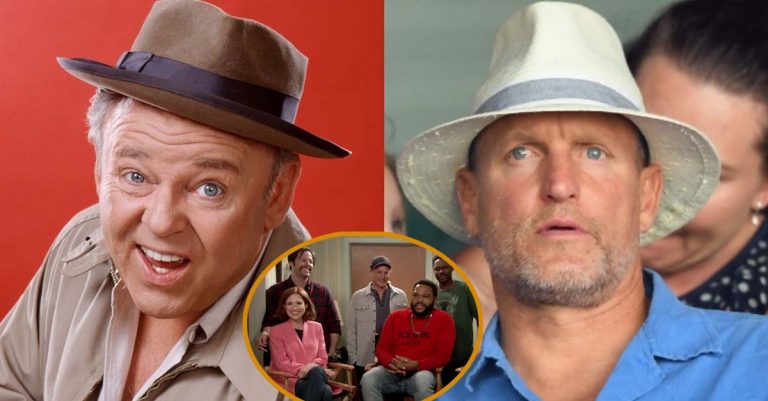 The live reboot of All in the Family and The Jeffersons airs in just a few short days! We are so excited to watch it. If you're excited too, check out the promo video below that was recently released. You get a sneak peek of the new actors who will play the characters you love and how crazy it could get because the show will be live.
Live in Front of a Studio Audience: Norman Lear's All in the Family and The Jeffersons will air on ABC on May 22, 2019, at 8 p.m. It was produced by the original creator of the shows Norman Lear and late-night talk show host Jimmy Kimmel. We are so glad that the original creator is involved in this project.
Here is a list of the cast members
https://www.instagram.com/p/BxlouxrFImf/
The cast includes Woody Harrelson, Marisa Tomei, Jamie Foxx, Wanda Sykes, Ike Barinholtz, Kerry Washington, Ellie Kemper, and more. It appears the cast is gearing up to play these iconic characters. Ike is shown with a very '70s mustache in the promo!
https://www.instagram.com/p/Bxmi1V4hl62/
Norman Lear has said that he is very excited for the reboot and that he encouraged the cast to make the characters their own. They will not be aiming to recreate these incredible characters just like the original cast did, because well, that would be impossible! We hope that they do the characters justice though!
Learn what a producer has to say about the special
https://www.instagram.com/p/Bwcw5BggQ0n/
According to Entertainment Weekly, Brent Miller (Norman Lear's producing partner and executive producer of the special) said, "Norman and Jimmy have been very clear to the cast that they understand that these are big shoes to fill, and they want them to feel comfortable creatively. They have really, over and over again, insisted that they do not try and replicate these roles or become Jean Stapleton or Carroll O'Connor. That they take on these roles as who they feel Archie and Edith are, or George and Weezy."
https://www.instagram.com/p/Bxf9i-khadF/
What do you think about the actors that they cast to play the characters from All in the Family and The Jeffersons? Will you be watching it live in a few days?
If you enjoyed this update and promo video, please SHARE with your friends and family who grew up watching those shows and will be excited to watch the special!
WATCH the promo video below and get excited to watch the special in a few days! Remember, it airs on ABC on May 22 at 8 p.m.