We love when actors age like a nice fine wine. Pierce Brosnan is one of the many with his full-blown silver fox look and we are loving it! The actor, who is now 65 years old, was always a heartthrob but now he's a heartthrob pulling off a much more mature look and natural look. He doesn't seem to care about going all-natural with the grays!
The actor has been spending a lot of time in New York while filming a thriller called False Positive, so he's still active as ever in the industry and looks like he has no plans of stopping. However, fans are unsure if this new totally silver fox look is related to the role of that film, but we love it either way! In the past, the actor was known to dye his hair and beard.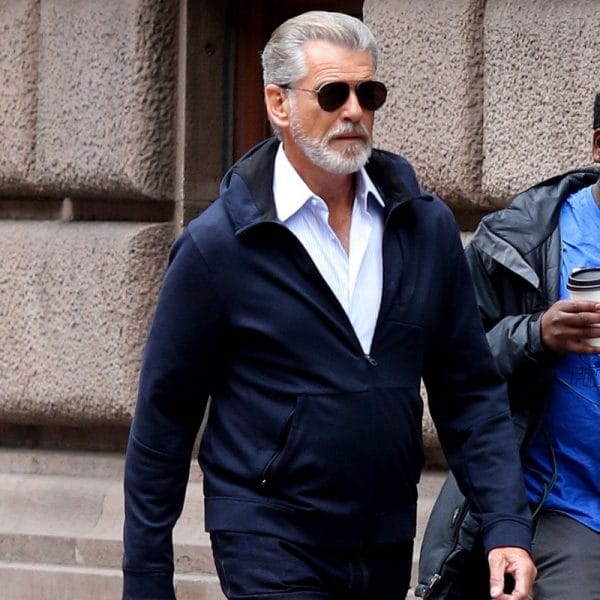 Brosnan is an Irish-American actor and film producer. He describes his childhood as "fairly solitary." According to Brosnan, "I grew up in a very small town called Navan in County Meath. I never knew my father. He left when I was an infant and I was left in the care of my mother and my grandparents.'
He left school at 16 years old to pursue painting and to enroll in Saint Martin's School of Art. He also trained in drama at the Drama London Centre for three years. "When I found acting, or when acting found me, it was a liberation. It was a stepping stone into another life, away from a life that I had, and acting was something I was good at, something which was appreciated. That was a great satisfaction in my life," he said.
Check out the video below of Pierce Brosnan out and about sporting his new full gray beard:
He would begin to appear in a number of stage plays such as Wait Until Dark and The Red Devil Battery Sign. Brosnan would not receive the utmost commercial success until his role as James Bond. The film GoldenEye in 1995 did exceptionally well, grossing the US $350 million worldwide, which was the fourth-highest worldwide gross of any film in that year.
Brosnan not only took part in several James Bond films but also lent his voice as Bond for video games as well. Pierce currently has several films in both pre-production and post-production and his film, False Positive, is slated for a 2020 release. We're happy to hear he's doing well these days!
Be sure to SHARE this article if you love Pierce Brosnan's movies.. And for all you Bond fans… here's our TOP 10 BOND FLICKS of all-time… did your favorite make the cut??
For more of these throwback videos, check out our YouTube Channel!