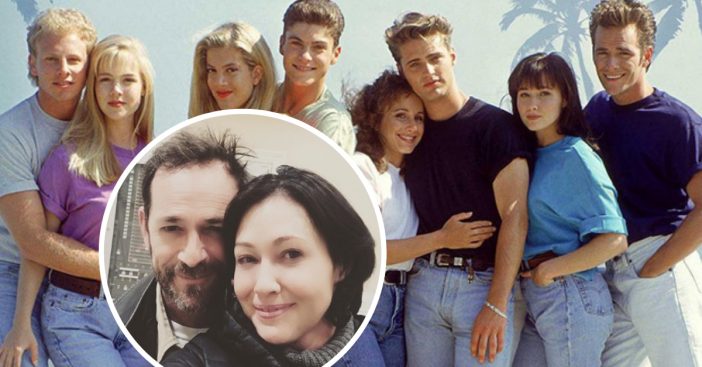 Amid the devastating news of Luke Perry's death, many of his Beverly Hills, 90210 co-stars among other celebrities have been extending their condolences and paying tribute during this time of loss. Luke Perry had suffered a major stroke at the end of February and had been hospitalized until he passed away on March 4, 2019. He was 52 years old at the time of his death.
Luke Perry is best-remembered for his role as Dylan on Beverly Hills, 90210 and for his role as Fred Andrews on The CW's Riverdale. Check out the loving tributes and messages friends of Luke have been posting all over the Internet in his memory.
https://www.instagram.com/p/BumLbVqAiGy/
Ian Ziering, a 90210 co-star, posted that he will "forever bask in the loving memories we've shared over the last thirty years".
https://www.instagram.com/p/BuokFQVgoUz/
90210 co-star Shannen Doherty posted a collage of photos on Instagram of recent photos mixed with photos from the set of Beverly Hills, 90210. "I'm struggling with this loss and am having a hard time with my thoughts. But, my heart goes out to his family and friends who were blessed by his light in their (and mine) lives," she wrote in a post.
https://www.instagram.com/p/BumlUuAH-xq/
Rebecca Gayheart, another 90210 co-star who played Luke's on-screen wife in season 6, posted a photo collage on Instagram as well. She was obviously hurting as she wrote, "Just heartbroken. I Need some time before commenting further."
As a young girl from Hamilton Ontario coming onto the biggest show in the world mid stream, Luke welcomed me from day one. My heart breaks. ❤️ #lukeperry #90210 pic.twitter.com/8QA4SEipqB

— kathleen robertson (@kathleenrobert7) March 4, 2019
Kathleen Robertson played the role of Clare Arnold from seasons 4 to 7 on 90210. She credits Luke for being the most welcoming person on-set from day 1.
Oh God. I'm heart sick. I love you Luke. You were an angel and a friend to me. Loss for words. #LukePerry

— emmacaulfieldofficial (@emmacaulfield) March 4, 2019
In a series of tweets, Emma Caulfield who joined the cast of 90210 as Susan Keats in 1995, talked about her own experiences with Luke. "My first day on 90210 Luke brought me under his wings & made me feel welcome. His first words to me were 'so how are the bitches treating you?' It made me laugh & I felt like I had an ally in my corner," she wrote.
https://www.instagram.com/p/BumH6OqgO17/?utm_source=ig_embed
Christine Elise McCarty posted a throwback photo of co-stars Jason Priestley and Luke Perry kissing her on the cheek. "I am still in shock and I have no words beyond saying he was a truly kind gentleman. He will be mourned and missed by everyone who knew him and the millions who love him," she wrote.
https://www.instagram.com/p/BuszCmInJbA/
Jason Priestley wrote a heartbreaking yet beautiful message to his co-star, saying, "Luke was not only a star, he was an incredibly bright light that was extinguished far too soon… and that is why I, and so many others, are in so much pain today… If you had the good fortune to know Luke, or to have ever crossed his path, I know you are sad today as well…"
Luke Perry… you were a joyful and vibrant soul. You will be missed but most certainly your legacy will be remembered forever. Rest in love and peace, friend. #Riverdale

— Riverdale Writers Room (@RiverdaleWriter) March 4, 2019
Even the writers over at Riverdale extended their deepest condolences and gratitude towards having Luke be a large part of their team. As a result of Luke's death, it's also been reported that Riverdale will be shutting down production.
In addition to these beautiful photo posts and messages, 90210 co-stars Jennie Garth and Tori Spelling have released their own statements to People in light of Luke's passing.
Jennie Garth:  "My heart is broken. He meant so much to so many. Such a very special person. I share my deep sadness with his family and all who loved him. Such a terrible loss."
Tori Spelling: "I'm in utter shock and heartbroken… I'm saddened for his kids whom he adored beyond words. He was so proud of Jack and Sophie [his children.]"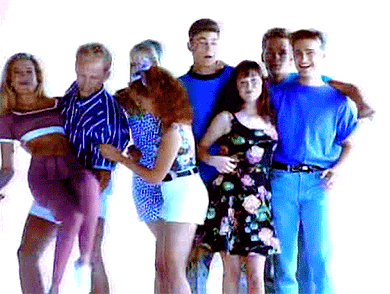 Please SHARE this article in memory of Luke and his legacy in TV and film. This story will be updated with more tributes as they become available.